ASCE OC Branch Luncheon/Tour - Mission San Juan Capistrano

Friday, August 25, 2017 from 12:30 PM to 3:35 PM
Event Details
TOPIC -  Mission San Juan Capistrano

The ASCE Orange County Branch would like to invite you to attend the August Luncheon and Tour of the historical Mission San Juan Capistrano. This exclusive, private tour gives guests the complete story of the "Jewel of the Missions" starting from its founding in 1776 to its demise in the mid-1800s to its dramatic rebirth in the early 1900s.  Hoffy will take guests on a chronological and visual journey focusing on Spain's efforts to Christianize a native population and build a viable colony.  We will study how Spain adapted their architectural ideas to a new environment, and how adobe and rock construction provided benefits and also tragedy to the Mission.  Guests will also see California's oldest chapel where Saint Junipero Serra gave Mass and explore the Sacristy - only available on this private tour.  We will also explore the expansive Mission working grounds and the Treasure Room with beautiful artifacts of the founding period.  We will learn how two determined men and a determined species of bird saved a California treasure.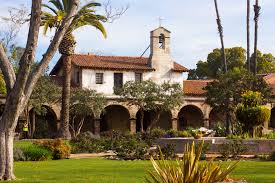 Mission San Juan Capistrano, became the seventh of twenty-one missions to be founded in Alta California. Like the previous six missions, San Juan Capistrano was established to expand the territorial boundaries of Spain, and to spread Christianity to the Native peoples of California. Unlike the British colonies on the East Coast of North America, who brought people from their homeland to form colonies, the Spanish believed they could transform the Native peoples into good Spanish citizens. The idea was to make colonial outposts called missions, led by Franciscan padres and Spanish soldiers. The missions would be a center of learning and training of Native peoples. The Spanish government and Catholic Church wanted to convert the people to Christianity, train them in Spanish or European lifestyle, so that the Native peoples would eventually live in towns and pay taxes, like good Spanish citizens.
Presenter:  
Bill Hoffy, Ph.D
"Hoffy", as he is called by his friends, has been giving architectural and historical tours since 1981.  With a Masters in Urban Planning (UCLA) and Ph.D. in Social Ecology (UCI), Bill loves to uncover interesting patterns in the urban environment and invite his guests to take a second and deeper look at places people rarely notice.  He formed his company - Hoffy Tours, LLC - in 2012 and has given over 60 different types of tours - from architectural appreciation to craft beer to Day of the Dead celebrations in colonial Mexico.  Hoffy is the Mission San Juan Capistrano's official private tour guide with a special bond to cherished landmark.  He was married there in 1983!  Bill retired from high school classroom in 2012 after 37 years of service and has found that being a tour guide is simply a different form of teaching.
Bill has been fascinated with cities ever since he spent time in college abroad in Madrid, Spain. Bill noticed that European cities had the advantage of higher density to create lively public spaces. Then in the 1970s, he saw that American cities were beginning to get serious about preserving historically significant buildings. His first planning project in the 1980s was to help designate LA's first residential historic district – South Carthay – in the Fairfax District. Now there are 28 and counting!
From 1984 to 2011, Bill completed his high school teaching career in economics, psychology, and government while working as a planning consultant during the summer. He also lectured in urban planning and urban studies at UCLA and, most recently, at UCI's School of Planning, Policy and Design. All the while, he continued to give tours for his colleagues, friends and students.
When he officially retired from high school teaching in June of 2012, he decided to launch Hoffy Tours as a true business. For Bill, it's the perfect marriage of teaching, planning, creativity and fun. His business goal is to continue to explore new and exciting urban places, and to show people interesting features of cities that they wouldn't normally have noticed. It's a life-long passion of his!
Agenda:  
12:30 - 1:30pm  Registration and Lunch at Sundried Tomato Restaurant 
1:45 - 3:45pm    Tour of the Mission San Juan Capistrano 
Mission Address: 26801 Ortega Hwy, San Juan Capistrano, CA 92675
Please plan to arrive at the Sundried Tomato Restaurant promptly at 12:30 pm for lunch before the tour. We will walk to the Mission San Juan Capistrano together as a group at 1:30 pm.
 Contact marketing@asceoc.org for sponsorship opportunities.
When & Where

Sundried Tomato Restaurant
31781 Camino Capistrano
San Juan Capistrano, CA 92675


Friday, August 25, 2017 from 12:30 PM to 3:35 PM
Add to my calendar
Organizer
This Branch was created in 1952 to allow civil engineers to network, exchange ideas, build leadership skills, create lifelong professional connections, and improve the quality of life on Orange County.