ASCE OC Branch Luncheon - Giant Magellan Telescope

Thursday, October 22, 2015 from 11:30 AM to 1:30 PM
Event Details
TOPIC -  Giant Magellan Telescope

The ASCE Orange County Branch would like to invite you to attend the October Luncheon Meeting with a presentation on the Giant Magellan Telecope (GMT) being constructed in Chile's Atacama Desert. Amy Carlson from the construction managment team will provide an update on this amazing telescope that will have power 10 times greater than the Hubble Space Telescope. The GMT has a unique design that offers several advantages. It is a segmented mirror telescope that employs seven of today's largest stiff monolith mirrors as segments. Six off-axis 8.4 meter or 27-foot segments surround a central on-axis segment, forming a single optical surface 24.5 meters, or 80 feet, in diameter with a total collecting area of 368 square meters.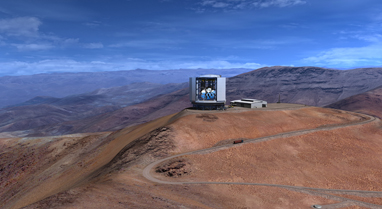 Las Campanas Observatory in Chile
Speakers:
Patrick J. McCarthy
As Director for the Giant Magellan Telescope Project from 2008 onward Patrick helped define the science mission, build the project office and work with the Project Management team to lead the organization through the PDR and cost reviews in 2014. This then helped lay the foundation for the construction start. He has been involved in technical and scientific management of the Hubble Space Telescope and other NASA missions.
In addition to Giant Magellan Telescope Project, Patrick serves as a staff astronomer for Observatories of the Carnegie Institution and served as a Fellow for Hubble and Carnegie.  Patrick holds B.A. degrees in Physics and Astornomy from University of Arizona and M.A. and Ph.D. degress in Astronomy from University of California, Berkeley.  Patrick also has written several noteworthy publications in the astronomy field.
 Amy Carlson
Amy is a construction professional with experience in Program and Project Management with an emphasis on projects requiring complex controls. She has executed projects for clients including Sempra Energy, General Services Administration, Department of Homeland Security, University of Colorado, Union Pacific Railroad, Publix, and McDonald's Corporation.
Amy is currently part of the Project Management team for the Giant Magellan Telescope. The GMT project team is headquartered in Pasadena and the telescope will be located at the Las Campanas Observatory, which is in the Atacama Region of Chile.
Amy has a Bachelor of Science from the University of Auburn and a Master of Science in Civil Engineering from the University of Colorado.  She is a certified construction manager from CMAA.
Contact marketing@asceoc.org for sponsorship opportunities.
Organizer
ASCE Orange County Branch
This Branch was created in 1952 to allow civil engineers to network, exchange ideas, build leadership skills, create lifelong professional connections, and improve the quality of life on Orange County.
ASCE OC Branch Luncheon - Giant Magellan Telescope