ASCE March 2014 Membership Meeting

Thursday, March 20, 2014 from 5:30 PM to 7:30 PM (EDT)
Event Details
 Title: Roller Coaster Design
Speakers: Brian Kosmac - The Gravity Group; Daniel Peak, P.E. - Schaefer

The Dayton Section ASCE Younger Member Group (YMG) and UD Student Chapter are co-hosting this month's membership meeting. All members and guests are invited to attend! This presentation will be provided by two engineers who work directly with the amusement park industry. Mr. Kosmac will discuss the design of modern wooden coasters in both local and international markets. Mr. Peak will discuss the design of ride foundations and stations, including the new Banshee roller coaster at Kings Island.   
Dinner: House salad; rolls; fried chicken; baked whitefish with fresh herbs; mashed potatoes; roasted red skin potatoes; butter broccoli; sweet corn with red peppers; apple pie; layered double chocolate torte 
A PDH certificate will be provided to attendees.
If you have any questions, please contact Amy Moore, the Dayton Section YMG chair at (937)259-6358 or at DaytonASCE.ymg@gmail.com.
Directions: From Brown Street, follow Kiefaber Street to its end (T-intersection... you'll be facing the university RecPlex) and turn left on to Evanston... drive about 100 feet and turn left at beige guard shack into Lot C.
Map From Lot C to VWK Meeting Rooms
For Handicap Accessible: Follow red dashed lines. From C Lot, go north towards building 17 (Founders Hall).   Then, go East Past building 3 (Marianist Hall). There will be a hill on your right, follow this past building 20 (Gosiger Hall). Building 25 is where the meeting is located (VWK). Do not go to in the first main entrance, but keep going up the hill to the second main entrance. The meeting room will be on your left once you enter the building.
Alternate Route: Follow the blue dashed lines. There will be a sidewalk between buildings 3 (Marianist Hall) and 4 (RecPlex). You will come to a parking lot, follow the crosswalk through the parking lot. This will lead you to steps (about two flights), take these steps. Then, go to your right and proceed to the entrance. The meeting room will be on your left once you enter the building.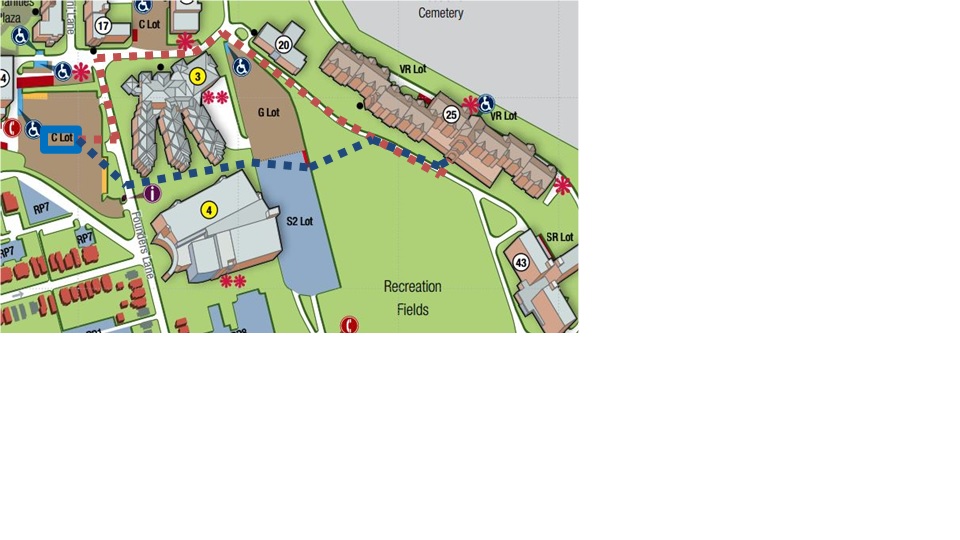 When & Where

VWK Meeting Rooms
Virginia W. Kettering Hall
University of Dayton's Campus
Dayton, OH 45409


Thursday, March 20, 2014 from 5:30 PM to 7:30 PM (EDT)
Add to my calendar
ASCE March 2014 Membership Meeting