Revealing Our History During an Age of Suppression and Denial of the African Past
About this event
-Bringing the BRICKS necessary to BUILD for ETERNITY!
Friday Evening Welcome: 6pm PST
Saturday Session: 10am - 5pm PST
Conference Highlights:
-The "Ra-birth" of the "New Jack Scholars"
-Beyond Critical Race Theory Discussion Panel
-Red, Black and Green Report
-Mtr Ntr Presentations
-Film Screening "Momma, I Can't Breathe"
-Representative for the Dalits of India
Confirmed Participants:
Dr. Greg Carr -Howard University
Dr. Salim Faraji -California State University Dominguez Hills
Dr. Valethia Watkins -Howard University
Dr. David Horne -California state University Northridge
Legrand Clegg Esq. -Retired City Attorney of Compton
Dr. Joye Hardiman -Evergreen State College, Tacoma Campus
Rev. Erica Byrd -KRST Unity Center
Dr. Oba T'Shaka -San Francisco State University
Rev. Abut Smsut Sa-T Beset -KRST Unity Center
Suzan Flagg -ASCAC Member
Enoch Hankerson -ASCAC Western Region Vice President / KRST Unity Center
Makeda Kumasi -ASCAC Western Region President / University of California, Riverside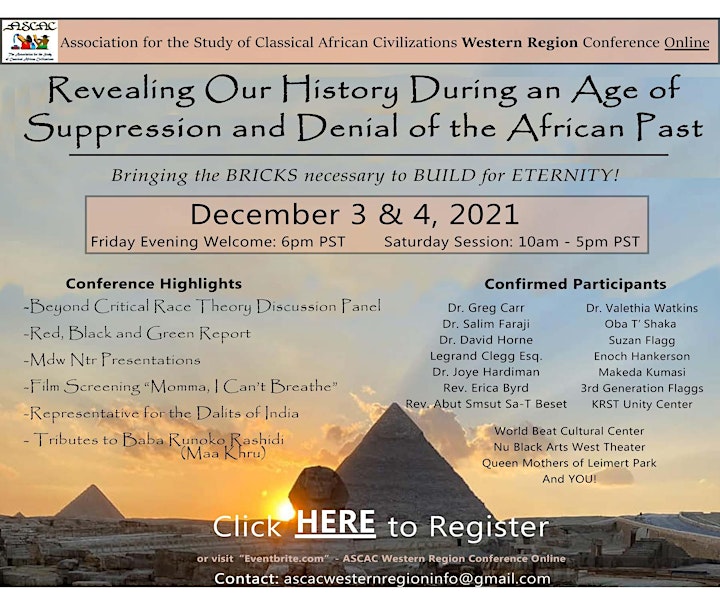 Organizer of ASCAC Western Region Conference Online
Our Purpose
ASCAC provides a body of knowledge that continuously contributes to the rescue, reconstruction, and restoration of African history and culture. Our purpose is to promote the study of African civilizations for the development of an African world view. Our aim is to build African centered study groups and strengthen existing institutions. Our goal is to provide excellence in all dimensions of our association. Our strategy is to use our accumulated knowledge for the liberation of African people wherever they may be. Our commitment is to the truth. Our achievements and accomplishments will provide the resources necessary for ASCAC to grow and be recognized.