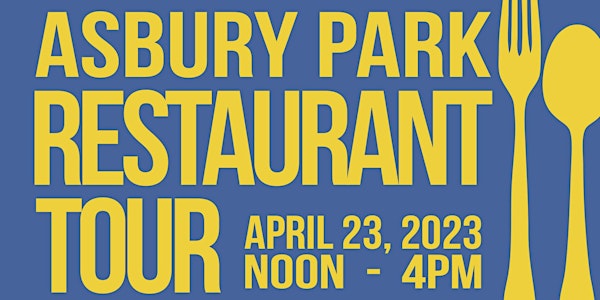 Asbury Park Restaurant Tour
Join us for the 10th Annual Asbury Park Restaurant Tour! Don't miss Asbury Park's most popular single day tasting event!
By The Asbury Park Chamber of Commerce
Date and time
Sunday, April 23 · 12 - 4pm EDT
Location
Asbury Park 104 Grand Avenue Asbury Park, NJ 07712
About this event
Asbury Park once again showcases our culinary scene with the 10th Annual Restaurant Tour scheduled for Sunday, April 23, 2023!
Hosted by the Asbury Park Chamber of Commerce, this event features small "bites", samplings and demos at restaurants, lounges, cafes, juice bars, and other uniquely Asbury Park locations. Foodies will be treated to some of the classic restaurant pioneers of Asbury Park as well as recent newcomers to the blooming Asbury Park culinary landscape.
Participating Restaurants will be announced soon.
Some FAQs Asbury Park Restaurant Tour
How's this thing work?
You arrive at our registration station located in Kennedy Park, which is at the intersection of Cookman Ave. and Grand Ave. (use 104 Grand Ave. for your GPS). Once registered, you'll receive your official Restaurant Tour wristband, map of participating restaurants including,  and your "Secret Word" contest entry form (more about that later) and pencil.
From there, you're off on your culinary adventure. This is a self guided tour, so feel free to start wherever you'd like.  Many of the restaurants are within a quick walk of registration. There are also participating restaurants all over town, giving you a great opportunity to see all of the cool things Asbury Park has to offer! We have complimentary shuttles running the duration of the tour. The shuttle stop locations are marked on your map. 
Is it ok to go back to the same restaurant several times during the tour?
The short answer is no. This is a great opportunity to try many different locations and types of cuisine.  Plus, we want to make sure that all 1500 guests have an opportunity to try everything. You can always go back another time, and we really hope you do!
What is the "Secret Word" contest? 
At registration, you'll receive a contest form with the names of all of the restaurants on the Tour. Each restaurant will have a "secret word" posted at their place. If you collect a minimum of 15 words, and return the form to us at the registration table at the end of the day, you will be entered to win the "Top Taster" prize, which is a 2023 Asbury Park Beach Badge! 
Is there a group sale price? 
We do not have a group rate. 
Is there alcohol on this tour? 
Adult beverages (our way of saying alcohol) are not included. That said, many of our participating restaurants may choose to have drink specials available at their bars for purchase. Please make sure you have your proof of age with you.   
What are my transportation/parking options for getting to and from the event? 
If you've been to Asbury Park lately, you probably have noticed two things. 1. It's awesome. 2. It's not always easy to find parking. There is metered street parking and you have the choice of either paying at the meter, or by mobile app. The app is called AsburyPark and can be found in the app store on your smartphone. There are several private lots as well.  We recommend using public transportation whenever possible.  Please check with NJ Transit for train and bus schedules. Walking time is approximately 5 minutes from the Transportation Station to registration. If it's feasible for you, depending on where you're coming from, perhaps you'd like to ride your bike into town. We're really big on bike riding in AP.  While you're on the tour, you may even want to rent a scooter to move about the city. There are scooter stations conveniently located throughout the city. To learn more about the Superpedestrian LINK app, click here.
How can I contact the organizer with any questions?
Feel free to call us at 732-775-7676 or email info@asburyparkchamber.com
What's the refund policy?
There are no refunds. This is a rain or shine event. 
Do I have to bring my printed ticket to the event? 
Registration does go much faster if you have your ticket on your phone or printed out.  But, don't get worried if you left without it, we can look your ID up on our guest list. 
By the way, what do you do with my email address once you have it? 
Great question! The Asbury Park Chamber of Commerce absolutely does not sell email addresses. End of story. 
PLEASE BE AWARE OF DISCOUNT TICKET SCAMMERS!  Always be cautious of offers for "discount" tickets on social media for any event, whether it is an Asbury Park Chamber event or any other event organizer.  There's a good chance that those "discounted" tickets are counterfeit.  We do not have any authorized ticket resale agents. If you see one, it's a scam. Please help us prevent any consumer from being swindled by reporting any posts on social media that are not made specifically by the Asbury Park Chamber of Commerce. You may do so by emailing info@asburyparkchamber.com or call 732-775-7676. Thanks!
About the organizer
The Asbury Park Chamber of Commerce is a not for profit 501-c(6) association organized for the purpose of advancing business, civic and general interest of Asbury Park, New Jersey and its trade area. Currently The Asbury Park Chamber of Commerce has 300 members. Business listings for our members can be found on The Chamber of Commerce website at www.AsburyParkChamber.com