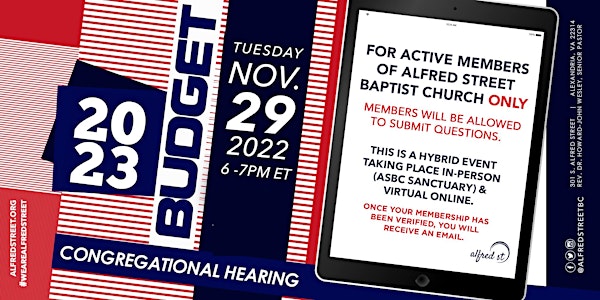 ASBC 2023 BUDGET CONGREGATIONAL HEARING
ASBC 2023 BUDGET CONGREGATIONAL HEARING FOR ACTIVE MEMBERS OF ALFRED STREET BAPTIST CHURCH ONLY BOTH VIRTUAL AND IN PERSON
About this event
This meeting will be held virtually as well as in person in the Alfred Street Baptist Church sanctuary. Please select the appropriate ticket for how you'd like to attend by 12PM ET on Monday, November 28, 2022.
If you plan to attend virtually, you will receive your link to gain access to the meeting once your membership is verified.
If you plan to attend in-person, you will receive an email indicating your membership has been verified and you are cleared to attend.
Members will be allowed to submit questions.
If you have any questions, contact churchcouncil@alfredstreet.org.