Event Information
Location
Renaissance Barcelona Hotel
Carrer de Pau Claris, 122
Barcelona
Spain
Description
Thanksgiving Dinner
Thursday, November 23, 2017, Renaissance Barcelona Hotel, Carrer de Pau Claris, 122

We are delighted to invite you to join us for our annual Thanksgiving Dinner! The chefs at the Renaissance are preparing another fantastic, traditional Thanksgiving Dinner especially for the ASB. Our evening begins with a cava reception, then the traditional Thanksgiving dinner buffet.

The buffet, with all the traditional dishes and then some, begins with soup and a selection of salads followed by:

Main Course:
- Slow Roasted Whole Turkey with Traditional Herb Au Jus Gravy
- Cranberry Sauce
- Stuffing with Sausage, Chestnut & Sage
- Honey Glazed Ham
- Oven Roasted Sweet Potatoes, Onions & Brussel Sprouts
- Mashed Potatoes with Gravy

Dessert:
- Pumpkin Pie
- Apple Pie
- Pecan Pie
- Fresh, Seasonal Fruit
- Degustation of Sweets & Chocolates

Drinks:
- White Wine
- Red Wine
- Cava
- Mineral Water
- Coffee or Tea

For vegetarians, please send us your request at least 72 hours in advance and the hotel will arrange a vegetarian meal for you.
Thanksgiving Raffle
We'll be having another Thanksgiving raffle and first prize is the traditional holiday "lote" filled with a selection of Spanish holiday treats.

Each ticket is only 5.00 EUR each, and all raffle ticket sales will be donated to Judith, a girl staying at the Casa Ronald McDonald Barcelona. She needs a new wheelchair and we're going to help her get it! (Read a letter from Judith below.)
Tickets: Early-Bird Discount!



For those who purchase their tickets before November 15th, there is a 5.00 EUR discount.
For EARLY registration, ticket pricing is as follows:
ASB Members: 52.00 EUR*
ASB Friends: 62.00 EUR*
ALL Children aged 6-15: 20.00 EUR
ALL Children aged 0-5: free

Since seating is limited on this very special occasion, advance registration and payment is required, so if you haven't already signed up, please do so today!

Every year our Thanksgiving Dinner sells out and, unfortunately, we've had to turn people away– the last thing we want to do on such a special occasion! So, please sign up right away to reserve your place.

Late Registrations

After November 15, 2017, ticket pricing is as follows:
ASB Members: 57.00 EUR*
ASB Friends: 67.00 EUR*
ALL Children aged 6-15: 20.00 EUR
ALL Children aged 0-5: free

Reservations close on November 20, 2017. After November 20th we cannot guarantee there will be seats available; any reservations requests taken after November 20tht will be put on a waiting list.

If you are having difficulty purchasing your tickets online please do not hestiate to contact us, we'll be more than happy to assist you.

We're looking forward to celebrating another beautiful Thanksgiving Dinner with you!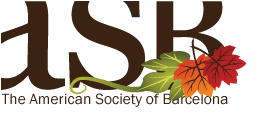 The American Society of Barcelona
www.amersoc.com
600.586.675

Date and Time
Location
Renaissance Barcelona Hotel
Carrer de Pau Claris, 122
Barcelona
Spain