ASB Independence Day Celebration

Sunday, July 3, 2016 at 4:00 PM (CEST)
Event Details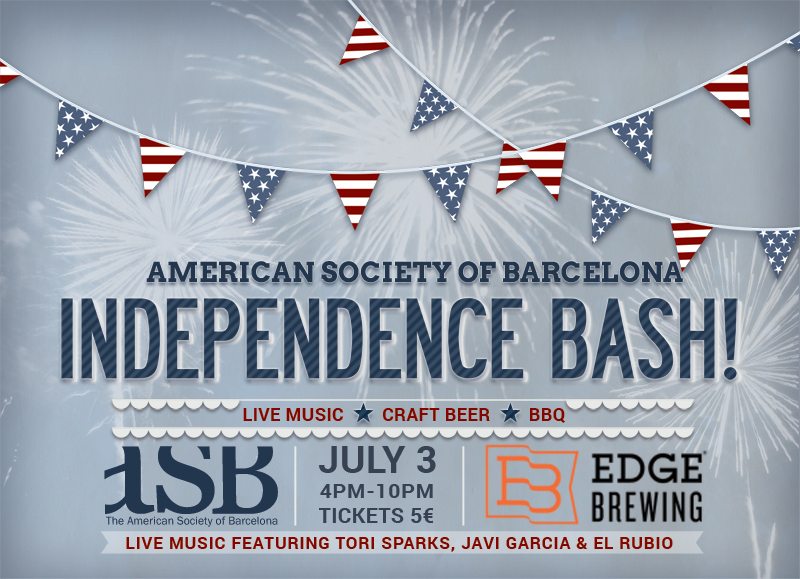 Celebrate Independence Day with us!

Sunday, July 3, 2016, 16:00-20:00, Edge Brewing, Carrer de Llull, 62

American Craft Beer, Live Music & More...

Join us for a classic American 4th of July celebration at Edge Brewing! If you haven't visited Edge Brewing yet, this is the perfect time! Voted best new brewery in the world in 2014, Edge Brewing was founded by two Americans, Scott Vanover and Alan Sheppard; they packed up an American Craft Brewery and shipped it to Barcelona. Using American equipment, ingredients and brewing techniques, they produce unabashedly American style beers.

Free Beer
There will be a delicious, fresh-brewed, free craft beer for the first 200 Independence Day party-goers - you just have to show up before 5:30 pm.
Beers on tap for the evening include:
 - HOPTIMISTA India Pale Ale 6.6% ABV 47 IBUs
 - APASSIONADA Sour Ale 4% ABV 3 IBUS tart, refreshing and fruity
 - FLOR DE LA VIDA American Pale Ale 4.7% ABV 33 IBUs
 - MOLAWEISS Hefeweizen with a citrus twist 5% ABV 12 IBUs
 - SOY RODRÍGUEZ Rye Ale 5.3% ABV 55 IBUs
 - Melon Bomb Session IPA 4.9% ABV 32 IBUs collaboration brew with BIIR

Live Music

Chicago born American singer-songwriter and American Society sweetheart, Tori Sparks, together with Javi Garcia and El Rubio, will rock the night with her own blend of folk, rock, blues and flamenco. AND, her rendition of the National Anthem is not to be missed!
BBQ

Chivuo's will be on-site with their finger-lickin'-good, all-American, classic pulled pork and pulled beef sandwiches!
TICKETS

This is an ALL CASH event - the venue does not accept credit cards - so be sure to bring cash to pay for your tickets at the door and some extra for the fantastic beer & bbq sandwiches!
ADVANCED REGISTRATION REQUIRED
Be sure reserve your tickets! Our Independence Day Party sold out last year and we had to turn people away at the door... so be sure to register online before they are gone! 
Once your have made your reservation oline, you will receive confirmation and your tickets via email. Please remember to print them out and bring them to the event!

ASB Members: 5.00€
ASB Friends: 5.00€
Kids 12-17: 3.00€
Kids 0-11: FREE
We look forward to seeing you there!
Sponsored by: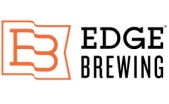 The American Society of Barcelona
www.amersoc.com
tel: 93.368.4689

__________________________________________________________________________

Proud Partners with: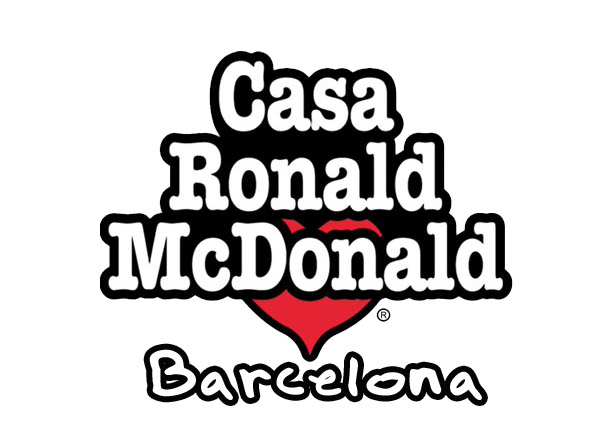 Save
Save
Save
Save
Save
Save
Save
Save
Save
Save
Save
Save
Save
Save
Save
Save
Save
Save
Save
Save
Save
Save
Save
Save
<span style="border-radius: 2px; text-indent: 20px; width: auto; padding: 0px 4px 0px 0px; text-align: center; font: bold 11px/20px 'Helvetica Neue',Helvetica,sans-serif; color: #ffffff; background: #bd081c url('data:image/svg+xml;base64,PHN2ZyB4bWxucz0iaHR0cDovL3d3dy53My5vcmcvMjAwMC9zdmciIGhlaWdodD0iMzBweCIgd2lkdGg9IjMwcHgiIHZpZXdCb3g9Ii0xIC0xIDMxIDMxIj48Zz48cGF0aCBkPSJNMjkuNDQ5LDE0LjY2MiBDMjkuNDQ5LDIyLjcyMiAyMi44NjgsMjkuMjU2IDE0Ljc1LDI5LjI1NiBDNi42MzIsMjkuMjU2IDAuMDUxLDIyLjcyMiAwLjA1MSwxNC42NjIgQzAuMDUxLDYuNjAxIDYuNjMyLDAuMDY3IDE0Ljc1LDAuMDY3IEMyMi44NjgsMC4wNjcgMjkuNDQ5LDYuNjAxIDI5LjQ0OSwxNC42NjIiIGZpbGw9IiNmZmYiIHN0cm9rZT0iI2ZmZiIgc3Ryb2tlLXdpZHRoPSIxIj48L3BhdGg+PHBhdGggZD0iTTE0LjczMywxLjY4NiBDNy41MTYsMS42ODYgMS42NjUsNy40OTUgMS42NjUsMTQuNjYyIEMxLjY2NSwyMC4xNTkgNS4xMDksMjQuODU0IDkuOTcsMjYuNzQ0IEM5Ljg1NiwyNS43MTggOS43NTMsMjQuMTQzIDEwLjAxNiwyMy4wMjIgQzEwLjI1MywyMi4wMSAxMS41NDgsMTYuNTcyIDExLjU0OCwxNi41NzIgQzExLjU0OCwxNi41NzIgMTEuMTU3LDE1Ljc5NSAxMS4xNTcsMTQuNjQ2IEMxMS4xNTcsMTIuODQyIDEyLjIxMSwxMS40OTUgMTMuNTIyLDExLjQ5NSBDMTQuNjM3LDExLjQ5NSAxNS4xNzUsMTIuMzI2IDE1LjE3NSwxMy4zMjMgQzE1LjE3NSwxNC40MzYgMTQuNDYyLDE2LjEgMTQuMDkzLDE3LjY0MyBDMTMuNzg1LDE4LjkzNSAxNC43NDUsMTkuOTg4IDE2LjAyOCwxOS45ODggQzE4LjM1MSwxOS45ODggMjAuMTM2LDE3LjU1NiAyMC4xMzYsMTQuMDQ2IEMyMC4xMzYsMTAuOTM5IDE3Ljg4OCw4Ljc2NyAxNC42NzgsOC43NjcgQzEwLjk1OSw4Ljc2NyA4Ljc3NywxMS41MzYgOC43NzcsMTQuMzk4IEM4Ljc3NywxNS41MTMgOS4yMSwxNi43MDkgOS43NDksMTcuMzU5IEM5Ljg1NiwxNy40ODggOS44NzIsMTcuNiA5Ljg0LDE3LjczMSBDOS43NDEsMTguMTQxIDkuNTIsMTkuMDIzIDkuNDc3LDE5LjIwMyBDOS40MiwxOS40NCA5LjI4OCwxOS40OTEgOS4wNCwxOS4zNzYgQzcuNDA4LDE4LjYyMiA2LjM4NywxNi4yNTIgNi4zODcsMTQuMzQ5IEM2LjM4NywxMC4yNTYgOS4zODMsNi40OTcgMTUuMDIyLDYuNDk3IEMxOS
When & Where

Edge Brewing
Carrer de Llull, 62
Barcelona
Spain


Sunday, July 3, 2016 at 4:00 PM (CEST)
Add to my calendar
Organizer
American Society of Barcelona
The American Society of Barcelona (ASB) functions as a non-political and non-profit organization and strives to be the focal point for people who are interested in developing and maintaining business and social relationships in an international environment.
The membership of the American Society of Barcelona is a wonderful mixture of nationalities; we are about half American and half European, the largest group of Europeans being Catalan. What draws most people to our organization is a desire to be involved in the English speaking community of Barcelona, both for social interaction and business networking. We sponsor a variety of gatherings throughout the year such as business networking, cultural outings, traditional American and local events and celebrations, informative speeches and much more.


ASB Independence Day Celebration