ASB Hike: Serra dels Bufadors; 17 km

Sunday, September 25, 2016 at 7:25 AM (CEST)
Event Details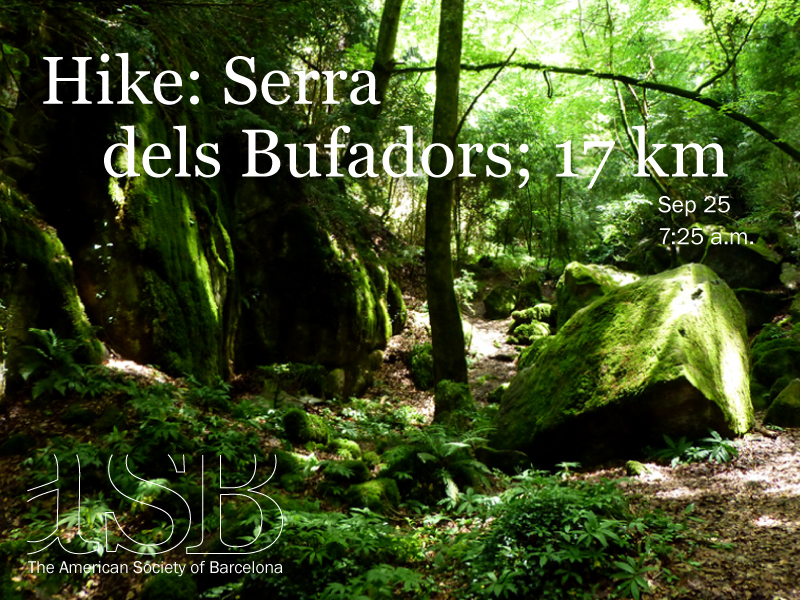 Hike: Serra dels Bufadors; 17 km
Sunday, September 25, 2016, 7:25 a.m., Meet in front of Cafe Zurich, Plaça de Catalunya, 1
Are you ready to start hiking again?

We've taken some time off during the hottest days of summer, but we're ready to get back out there! How about you?

Rain or shine we'll be meeting at 7:25 a.m. in front of Cafe Zurich at Plaza Catalunya where we'll catch the train to Sant Quirze de Besora. We follow a footpath through the forest to La Farga de Bebié and then up to Els Bufadors which is a fabulous, cool, tree-lined oasis in the summer.
Then, we'll walk along the ridge of Els Bufadors, descend to the Solana River which brings us to the Castell de Montesquiu (1285) and back to Sant Quirze de Besora.

This is a moderate hike, but be sure to read the full hike description and download the trail from Wikiloc.

Trail Technical Data:
• Trail Type: Circular
• Difficulty level: Moderate
• Condition required: Fit
• Distance: 17.3 km
• Estimated Duration: 5-6 hours hiking time
• Highest Point: 991 meters
• Lowest Point: 563 meters
• Accumulated Elevation: 697 meters

Hike Schedule:
• 7:25-> Meet in front of Cafe Zurich at Plaza Catalunya
• 7:35–7:45-> Purchase train tickets
• 7:54–9:35-> Train from Plaza Catalunya to Sant Quirze de Besora (R3)
• 9:35–12:00-> Hike first 8 km to els Bufadors
• 12:00–12:15-> Short break in a cool, refreshing spot in the forest
• 13:00–13:45-> Hike 2 km to Coll del Beví
• 13:45–14:30-> Picnic lunch at Coll del Beví
• 14:30–16:30-> Hike 6 km to Castell de Montesquiu
• 16:30–17:15-> Break & opportunity to visit the Castell de Montesquiu
• 17:15–17:45-> Hike last 1.3 km to Sant Quirze de Besora
• 18:19–19:52-> Train from Sant Quirze de Besora to Barcelona (If we run late there is a nice bar in town where we can enjoy some claras while we wait for the next train!)
Tickets:
This is a pay-as-you-go event so don't forget to bring cash. This event is free for members and the ASB is collecting only 3.00 euros per person for non-members to help defray the cost of scouting the trails and organizing the hike. Train tickets are purchased separately and will cost about 12 euros total.
ASB Members 0.00 EUR
ASB Friends 3.00 EUR (pay at event)
What to Bring:
• water – 2 liters is recommended
• lunch/snacks – we'll be eating a picnic lunch on the trail
• cash – for train ticket (& attendance fees for ASB Friends: 3 euros)
• clothing appropriate for hiking
• hat, sunglasses & sunscreen
• waterproof jacket - as the weather can change in a moment
• hiking boots
• hiking poles
• first aid kit
• camera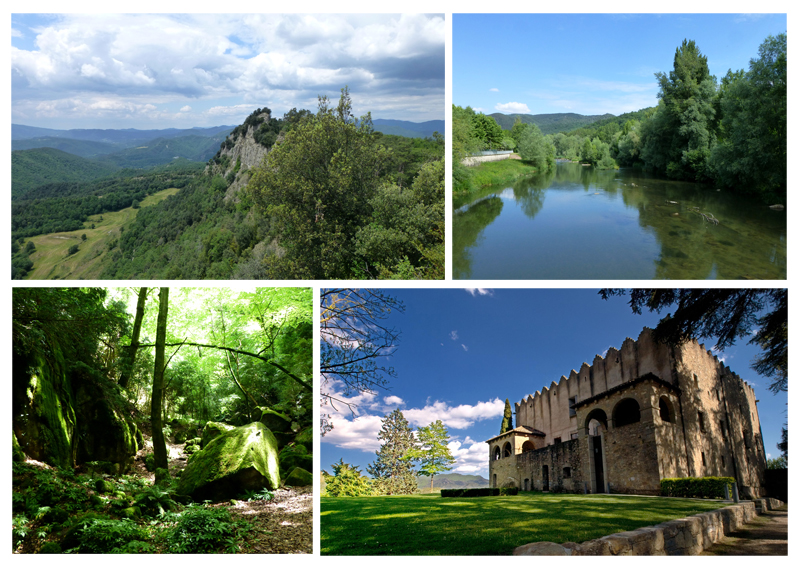 Personal Safety
You are wholly responsible for your health and safety at all times. You must be physically capable of participating in and completing this activity in order to attend. If you are for any reason doubtful of your ability to participate in this event you should NOT attend.

The American Society of Barcelona (ASB) does not provide liability or personal injury insurance for the protection of individuals, groups, organizations, business or others that participate in this, or any other ASB activity.

You should be aware that this event requires a high level of physical fitness and is physically testing. Be aware also that there is a risk of injury while participating in outdoor activities, such as hiking. In the unlikely event of an accident the ASB is not responsible for injury, loss or damage.

Attending this event signifies that you understand fully that you may be exposed to a variety of hazards and risks, foreseen or unforeseen, which are inherent in outdoor activities, such as hiking. You must exercise extra care for your own personal safety and for the safety of others around you in the face of such hazards.

By attending this event you are acknowledging that you understand the various risks involved in participating in this event and accept full responsibility for your safety, and the safety of any minors accompanying you, at all times and you agree to hold the ASB harmless for any accident, injury, loss or damage.
The American Society of Barcelona
www.amersoc.com
___________________________________________________________

Proud Partners with:
Save
Save
Save
Save
When & Where

Meet in front of Cafe Zurich
1 Plaça de Catalunya
08002 Barcelona
Spain


Sunday, September 25, 2016 at 7:25 AM (CEST)
Add to my calendar
Organizer
American Society of Barcelona
The American Society of Barcelona (ASB) functions as a non-political and non-profit organization and strives to be the focal point for people who are interested in developing and maintaining business and social relationships in an international environment.
The membership of the American Society of Barcelona is a wonderful mixture of nationalities; we are about half American and half European, the largest group of Europeans being Catalan. What draws most people to our organization is a desire to be involved in the English speaking community of Barcelona, both for social interaction and business networking. We sponsor a variety of gatherings throughout the year such as business networking, cultural outings, traditional American and local events and celebrations, informative speeches and much more.


ASB Hike: Serra dels Bufadors; 17 km