ASB Hike: Santuari de Bellmunt; 19 km

Sunday, November 20, 2016 at 7:25 AM (CET)
Event Details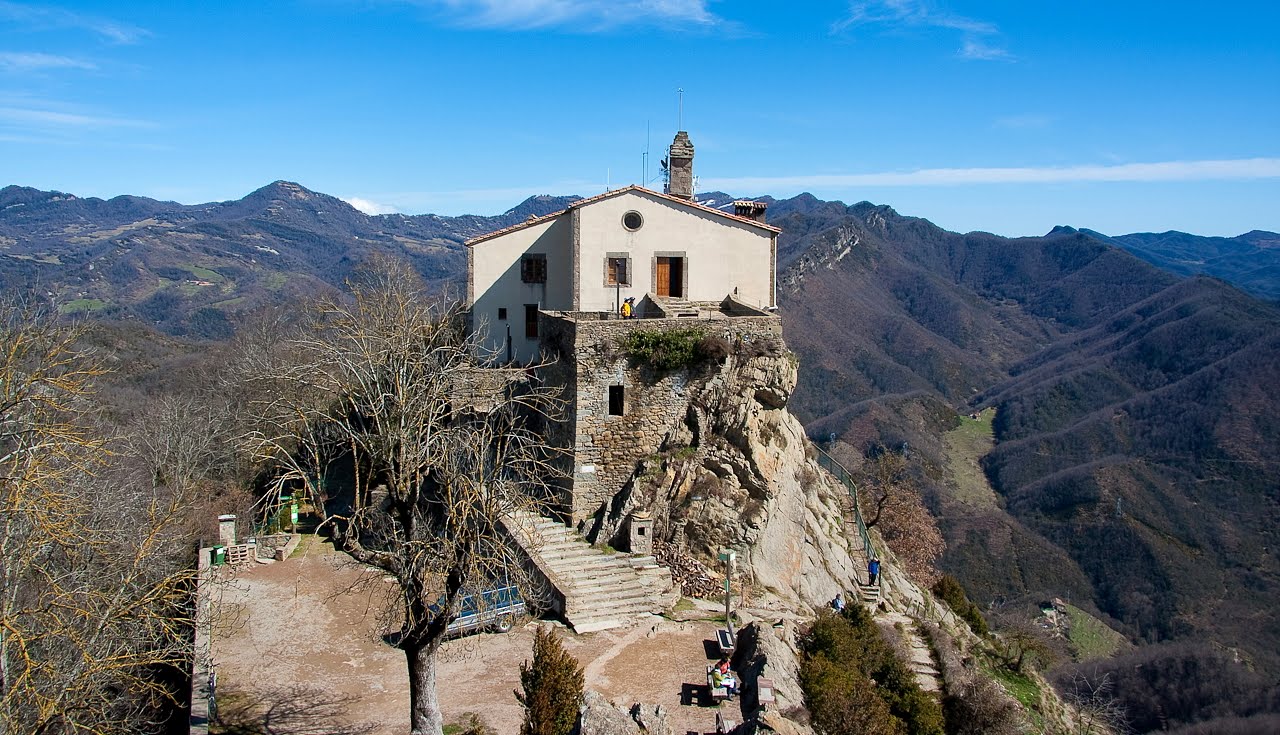 Hike: Santuari de Bellmunt; 19 km
Sunday, November 20, 2016, 7:25 a.m., Meet in front of Cafe Zurich, Plaça de Catalunya, 1
Join us for a beautiful autumn hike!

Rain or shine we'll be meeting at 7:25 a.m. Sunday in front of Cafe Zurich at Plaça Catalunya and from there we'll catch the R3 train to Sant Quirze de Besora. Our hike brings us through the village and follows along several ridges with panormaic views of the valleys below. This area is beautiful in the fall and we're hoping we've timed it just right to see the changing leaves...
Hike Description
Leaving Sant Quirze de Besora, we pick up the GR3. Our trail is a rocky footpath that winds its way up behind the Bac del Serrat and continues up to the Serra de la Cogullera. We'll walk along its rocky ridge, skirt the Collet de Bosquetell and climb up the Carena de Bosquetell and Coll d'Hi-era-de-massa, finally reaching the highest point of our hike at the Santuari de Bellmunt. Perfectly located in the middle of our hike, we'll break for lunch at the Santuari's restaurant surrounded by beautiful views.

The hardest part over, the second half of our hike descends gradually along the ridge of the Serra Grenyada and then more steeply beginning at the Collet de la Balma d'en Micó, with a 250 meter descent over two kilometers. Continuing along the Serrat Alt, our trail rises and falls along the ridge, bringing us to the Castell de Torelló before a final, gradual descent into Torelló.

This is a moderate hike that poses no technical challenges, but be sure to read the full hike description and download the trail from Wikiloc so you can folow the trail on your phone or GPS device.

Trail Technical Data:
• Trail Type: Linear
• Difficulty level: Moderate
• Condition required: Very Fit
• Distance: 19 km
• Estimated Duration: 6-7 hours hiking time
• Highest Point: 1,223 meters
• Lowest Point: 522 meters
• Accumulated Elevation: 1135 meters

Hike Schedule:
• 7:25-> Meet in front of Cafe Zurich at Plaça de Catalunya
• 7:35–7:45-> Purchase train tickets
• 7:54–9:35-> Train from Plaça de Catalunya to Sant Quirze de Besora (R3)
• 9:35–11:45-> Hike first 6 km to Serra de la Cogullera
• 11:45–12:00-> 15 minute *snack* break
• 12:00–13:15-> Hike Remaining 3 km to Santuari de Bellmunt
• 13:15–14:15-> Lunch break at Santuari de Bellmunt
• 14:15–18:00-> Hike 10 km to Torelló
• 18:28–19:52-> Train from Torelló to Plaça de Catalunya (R3) (Next train 19:39)

Tickets:
This is a pay-as-you-go event so don't forget to bring cash. This event is free for members and the ASB is collecting only 3.00 euros per person for non-members to help defray the cost of scouting the trails and organizing the hike. Train tickets are purchased separately and will cost about 13 euros total, and remember to bring additinal cash to buy lunch.

ASB Members 0.00 EUR
ASB Friends 3.00 EUR (pay at event)
What to Bring:
• water – 2 liters is recommended
• snacks – we'll be eating lunch in the Sanctuary restaurant
• cash – for train ticket, lunch (& attendance fees for ASB Friends: 3 euros)
• clothing appropriate for hiking
• hat, sunglasses & sunscreen
• waterproof jacket - as the weather can change in a moment
• hiking boots
• hiking poles
• first aid kit
• camera  
Personal Safety
You are wholly responsible for your health and safety at all times. You must be physically capable of participating in and completing this activity in order to attend. If you are for any reason doubtful of your ability to participate in this event you should NOT attend.

The American Society of Barcelona (ASB) does not provide liability or personal injury insurance for the protection of individuals, groups, organizations, business or others that participate in this, or any other ASB activity.

You should be aware that this event requires a high level of physical fitness and is physically testing. Be aware also that there is a risk of injury while participating in outdoor activities, such as hiking. In the unlikely event of an accident the ASB is not responsible for injury, loss or damage.

Attending this event signifies that you understand fully that you may be exposed to a variety of hazards and risks, foreseen or unforeseen, which are inherent in outdoor activities, such as hiking. You must exercise extra care for your own personal safety and for the safety of others around you in the face of such hazards.

By attending this event you are acknowledging that you understand the various risks involved in participating in this event and accept full responsibility for your safety, and the safety of any minors accompanying you, at all times and you agree to hold the ASB harmless for any accident, injury, loss or damage.
The American Society of Barcelona
www.amersoc.com
___________________________________________________________

Proud Partners with:
Save
Save
Save
Save
Save
Save
Save
Save
Save
When & Where

Meet in front of Cafe Zurich
1 Plaça de Catalunya
08002 Barcelona
Spain


Sunday, November 20, 2016 at 7:25 AM (CET)
Add to my calendar
Organizer
American Society of Barcelona
The American Society of Barcelona (ASB) functions as a non-political and non-profit organization and strives to be the focal point for people who are interested in developing and maintaining business and social relationships in an international environment.
The membership of the American Society of Barcelona is a wonderful mixture of nationalities; we are about half American and half European, the largest group of Europeans being Catalan. What draws most people to our organization is a desire to be involved in the English speaking community of Barcelona, both for social interaction and business networking. We sponsor a variety of gatherings throughout the year such as business networking, cultural outings, traditional American and local events and celebrations, informative speeches and much more.


ASB Hike: Santuari de Bellmunt; 19 km