ASB Hike: Aeri de Montserrat to Monistrol de Montserrat; 13 km

Sunday, April 24, 2016 at 8:05 AM (CEST)
Event Details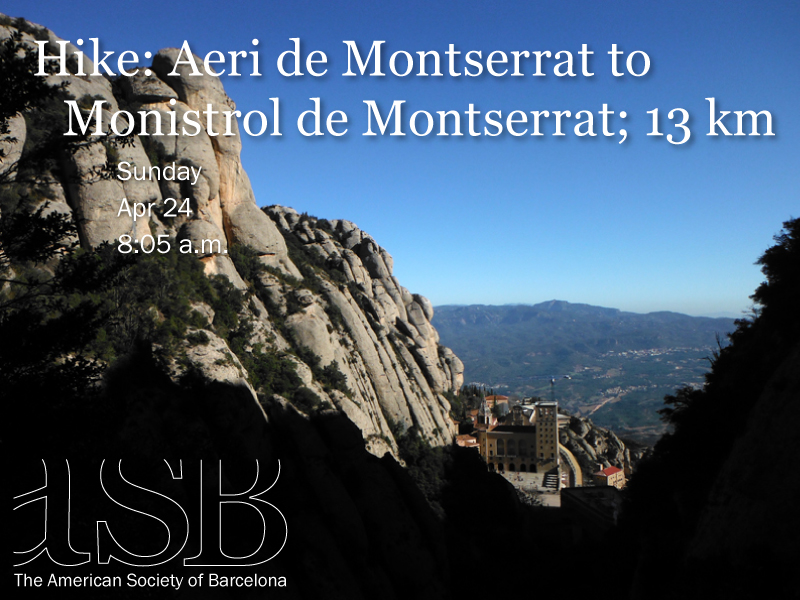 ASB Hiking Series, Exploring Montserrat: Part 3, Aeri de Montserrat to Monistrol de Montserrat; 13 km

Sunday, Apr 24, 2016, 8:05 a.m., Meet at Plaça Espanya FGC station, in front of ticket machines

Join us along the ASB Hiking Series: Exploring Montserrat!
This month we'll be hiking the third leg of the ASB Hiking Series: Exploring Montserrat. We'll pick up where we left off at the foot of Montserrat Mountain, from there we'll climb up to the monastery and explore the north-east area of the park before descending again.

In May, the fourth hike in the series will bring us from Monistrol de Montserrat back to our starting point in February to Sant Vicenç de Castellet. In it we'll climb the Serra del Franc and around the Serrat del Moro and follow the GR4 which will bring us full circle back to Sant Vicenç de Castellet. Once we've completed the series we'll have hiked about 70 km!

Hike Description
Our trail is a narrow footpath that winds it way up to the Montserrat Moastery and beyond. Then it wraps around to the north-east side of the mountain before descending again. On the way down, we'll pass by Santa Cecília de Montserrat and the Monasterio de Sant Benet, Montserrat before arriving at Monistrol de Montserrat.

Though this is not a technically difficult hike, we've classified it as challenging because there are some areas where you will be required to use your hands to climb over rocks and boulders; additionally, the last segment has areas with rough terrain and the descent at the end is quite steep. Please read carefully the full hike details & description and make sure you are ready for it.

Also, please take the time to download the trail on Wikiloc so you can follow the trail on your phone/device.

Not sure you're up for it?

Don't worry, for those who aren't ready for the steep climb at the beginning of the hike, we've got something easier planned: you can ride the Aeri de Montserrat up to the monastery instead of climbing all the way up. This shortens the hike by 3km, making it only 10 km long (without the hardest part!), and you'll have time to visit Montserrat Monastery before meeting up with the group hiking up from the foot of the mountain. At our meet-up point the two groups will converge and continue together for the rest of the hike.

If you would like to ride the Aeri up to the monastery instead of hiking, please reember to bring an extra 7.00 EUR for the Aeri ticket.

Trail Technical Data:
• Trail Type: Linear
• Technical Difficulty: Challenging
• Condition Required: VERY Fit    
• Distance: 13 km
• Estimated Duration: 6 hours hiking
• Highest Point: 960 meters
• Lowest Point: 110 meters
• Elevation Gain: 1450 meters
• Elevation Loss: 1425 meters
• Download trail on Wikiloc

Hike Schedule:
• 8:05-> Meet at Plaça Espanya FGC station, in front of ticket machines
• 8:15–8:25-> Purchase train tickets
• 8:36–9:37-> Train from Plaça Espanya FGC station to Aeri de Montserrat (R5)
• 9:37–11:30-> Hike first 3 km from the Aeri up to the Montserrat Monastery
• 11:30–12:00-> Breakfast break at the monastery
• 12:00–13:45-> Hike 5 km to Santa Cecília
• 13:45–14:45-> Lunch break at Santa Cecília
• 14:45–16:45-> Hike last 5 km down to Monistrol de Montserrat
• 16:45–17:25-> Time for a beer before catching the train!
• 17:41–18:45-> Train from Monsitrol de Montserrat to Plaça Espanya Barcelona (R5) (next train 18:41)

Tickets:
This is a pay-as-you-go event so don't forget to bring cash. This event is free for members and the ASB is collecting only 3.00 euros per person for non-members to help defray the cost of scouting the trails and organizing the hike. Train tickets are purchased separately and will cost about 10.00 euros roundtrip. (Alternatively, a multi-zone ticket can be purchased and shared by the group.) And, if you plan to take the cable car up to the monastery, please remember to bring an extra 7.00 EUR for the Aeri ticket.

ASB Members 0.00 EUR
ASB Friends 3.00 EUR (pay at event)

What to Bring:
• water – 2 liters is recommended
• lunch/snacks – we'll be eating a picnic lunch on the trail
• cash – for train ticket (& attendance fees for ASB Friends: 3 euros)
• clothing appropriate for cool-weather hiking
• hat, sunglasses & sunscreen
• waterproof jacket - as the weather can change in a moment
• hiking boots
• hiking poles
• first aid kit
• camera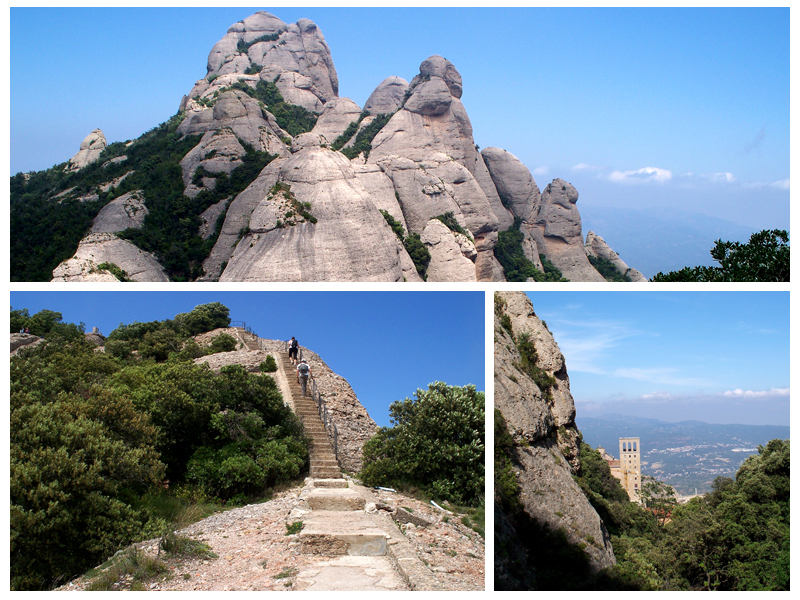 Personal Safety
You are wholly responsible for your health and safety at all times. You must be physically capable of participating in and completing this activity in order to attend. If you are for any reason doubtful of your ability to participate in this event you should NOT attend.

The American Society of Barcelona (ASB) does not provide liability or personal injury insurance for the protection of individuals, groups, organizations, business or others that participate in this, or any other ASB activity.

You should be aware that this event requires a high level of physical fitness and is physically testing. Be aware also that there is a risk of injury while participating in outdoor activities, such as hiking. In the unlikely event of an accident the ASB is not responsible for injury, loss or damage.

Attending this event signifies that you understand fully that you may be exposed to a variety of hazards and risks, foreseen or unforeseen, which are inherent in outdoor activities, such as hiking. You must exercise extra care for your own personal safety and for the safety of others around you in the face of such hazards.

By attending this event you are acknowledging that you understand the various risks involved in participating in this event and accept full responsibility for your safety, and the safety of any minors accompanying you, at all times and you agree to hold the ASB harmless for any accident, injury, loss or damage.
The American Society of Barcelona
www.amersoc.com
___________________________________________________________

Proud Partners with:
When & Where

Plaça Espanya FGC Station
Plaça Espanya
Barcelona
Spain


Sunday, April 24, 2016 at 8:05 AM (CEST)
Add to my calendar
Organizer
American Society of Barcelona
The American Society of Barcelona (ASB) functions as a non-political and non-profit organization and strives to be the focal point for people who are interested in developing and maintaining business and social relationships in an international environment.
The membership of the American Society of Barcelona is a wonderful mixture of nationalities; we are about half American and half European, the largest group of Europeans being Catalan. What draws most people to our organization is a desire to be involved in the English speaking community of Barcelona, both for social interaction and business networking. We sponsor a variety of gatherings throughout the year such as business networking, cultural outings, traditional American and local events and celebrations, informative speeches and much more.


ASB Hike: Aeri de Montserrat to Monistrol de Montserrat; 13 km