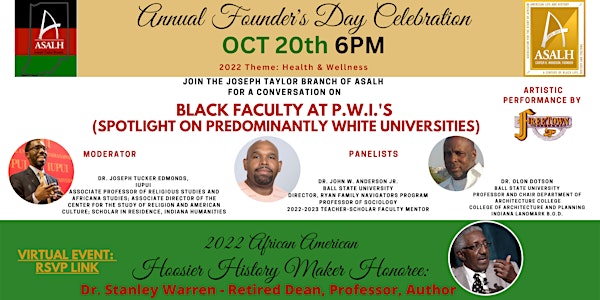 ASALH - Joseph Taylor Branch 2022 Founder's Day Virtual Celebration
Join the Joseph T Taylor Branch of ASALH as we host a conversation on Black Faculty at Predominately White Universities.
Refund Policy
Contact the organizer to request a refund.
Eventbrite's fee is nonrefundable.
About this event
The national Association of the Study of African American Life and History (ASALH) theme for 2022 is Health & Wellness:
Join the Joseph Taylor Branch of ASALH as we hear from Black Faculty at P.W.I.'s throughout Indiana and we honor our African American Hoosier History Maker during our Fourth Annual Founder's Day Celebration. The virtual celebration will feature a panel discussion with change agents and activists in politics and current community programs and projects, followed by recognition of our special honoree. We will honor the first African American Dean of Affairs Dr. Stanley Warren. Dr. Warren is a retired dean and professor, and writer of more than 100 journal, magazine, and newspaper articles sharing on education and Black history, as well as a published author.
Our Honoree:
Dr. Stanley Warren's books include "Black America Represented on United States Postage Stamps"; "Crispus Attucks High School: Hail to the Green, Hail to the Gold"; "The Senate Avenue YMCA for African American Men and Boys"; and "High Five: African American Institutions That Have Strengthened the Indianapolis Community."
Warren is a Carnegie Fellow, John Fellow, Lilly Fellow and National Endowment for the Humanities Fellow. He was a Gov. Evan Bayh appointee to the State Student Assistance Commission, has earned a Distinguished Alumnus award from the University of Indianapolis and is an inductee into the Indianapolis Public Schools Hall of Fame. Warren has been a board member of the Indiana Historical Society, board member of the Historic Landmarks Foundation and chair of its African American Landmarks Committee, board member of the Crispus Attucks Museum, life member of Indiana University Alumni Association, board member of the University of Indianapolis Alumni Association and member of 100 Black Men of Indianapolis.
Our Panelists:
Dr. John Anderson is an educator, mentor, and thought leader with over 25 years of experience and impact, working with people from all walks of life. Originally from the San Francisco Bay Area, Dr. Anderson has taught in higher education for the last 13 years. His own educational path in higher education has meant that he has studied at every level and has completed seven programs of study. He holds an EdD in Adult, Higher, and Community Education from Ball State University. Prior to his career in higher education, Dr. Anderson served as director at the Western Addition Beacon Center. He coordinated, supervised staff and programming that was part of a multi-agency partnership to deliver services to youth and families in the Western Addition neighborhood in San Francisco. He has also worked with youth and families in a variety of other settings including schools, family court, juvenile detention, the YMCA, parks and recreation, and AAU club basketball. Dr. Anderson currently resides in Muncie, Indiana.
Dr. Olon Dotson recently elected to the board of directors of Indiana Landmarks, serves as Associate Professor of Architecture at Ball State University. Throughout his career in academia as well as in professional practice, Olon Dotson's primary research interest and focus has been in the resurgence of severely distressed inner-city communities. Dotson became more philosophical and reflective with respect to the health and vitality of American cities and has elected to pursue a Ph.D. in American Studies at the Purdue University, College of Liberal Arts. Olon's primary research interests are to explore of the institutional abandonment and massive disinvestment of America's inner-cities. He aims to enhance students' sense of empathy for the citizens who choose or are forced to remain in these environments and to develop formal inquiry which will develop a further understanding of inner cities as a design professional and scholar. Olon has dedicated his life and career to improving the conditions of inner-cities by effectively developing, exploring, and communicating Fourth World Theory to a wider audience through lectures and publications.
Our Moderator:
Dr. Joseph Tucker Edmonds is an Associate Professor of Africana Studies and Religious Studies at Indiana University's School of Liberal Arts (IUPUI)and the Associate Director of the Center for the Study of Religion and American Culture (CSRAAC). He earned his Bachelor of Arts in Religious Studies from Brown University, his Master of Divinity from Union Theological Seminary in New York City, and his PhD in Religious Studies from Duke University. His research interests are Black theologies, alternative Christianities in the Black Atlantic, and the role of scripture in African and African American religious traditions. His book, The Other Black Church: Alternative Christian Movements and the Struggle for Black Freedom, was published in December 2020. Dr. Tucker Edmonds served as the former president for the Joseph Taylor Branch of ASALH.
Freetown Village, a living history museum, will provide an artistic performance during the program.
This is a free event and we welcome donations to continue the support of our year-round programming. Any donation of $20 or more will include the fee of your local dues. (See our website for more information on local and national dues.)
ASALH® or the Association for the Study of African American Life and History, was founded in 1915 by Dr. Carter G. Woodson - the father of Black History Month. The mission of ASALH® is to promote, research, preserve, interpret and disseminate information about Black life, history and culture to the global community.
The Joseph T. Taylor Branch, (JTB), is named after the World War II veteran and founding Dean of Indiana University school of Liberal Arts. JTB was charter in October of 2018. We meet every 2nd Thursday 6-7:30p virtually via Zoom until we regroup and meet at Marion University, Evans Center Rm 126.
The Association for the Study of African American Life and History (EIN: 53-0219640) is a tax-exempt 501 (c)(3) organization. Contributions to ASALH are tax-deductible to the extent permitted by law.