Join us for our second wine dinner in the vineyard during the West Elks Wine Trail weekend, featuring a high-elevation, asado-style menu!
About this event
The wineries of the West Elks AVA are celebrating the annual West Elks Wine Trail weekend, and we are throwing our second wine dinner of the season right in the middle of our ripening Riesling vines! We'll be pouring selections of our 2018 white wines and rosés with you over a four-course, asado-style, open-fire dinner, with your hosts, winemakers and sommeliers, Jayme and Steve.
Upon arrival, we will greet you at our tasting overlook and share wine and passed appetizers. From there, we will venture into the middle of our vineyard and be seated at one long, communal table, among the vines in our wind machine row, for an exciting and unique experience. Local chefs, farmers, and party-throwers, Nicole and Mirasol of Forage Sisters, will guide you through four, seasonal courses of rustic, Argentine-inspired, hyper-local cuisine, paired with our crisp, aromatic wines.
If you missed out on our first dinner, get after this exciting, last dinner of our season, centered around high-elevation food and wine, thoughtfully sourced from farms, located only minutes from where you're seated.
THE MENU
The Appetizer Hour
A surprise selection of light, seasonal, passed appetizers
2018 Rosé of Pinot Gris
Seasonal, Spiked Fruit Otter Pops
The Seated Vineyard Dinner
ON THE TABLE
Freshly baked sourdough with farm butter
COURSE ONE
Mini Empanadas | sweet corn, garden peppers, squash, with red chimichurri and microgreens
COURSE TWO
Summer Salad | farm greens, coal carrots, local soft cheese, toasted sunflower seeds, herbs and their flowers, and lemon vinaigrette
COURSE THREE
Grilled Whole Chicken | green chimichurri
Whole Citrus Rainbow Trout | chive lemon cream
Farm Vegetables | fire veggies, smashed garlic potatoes
COURSE FOUR
Vanilla Custard | burnt peach, caramel almond crumble, edible flowers
Cold Brew | fresh cream
NOTES
Please let us know in advance, if you have any allergies or dietary restraints.
Wear appropriate vineyard attire – no high heels. We will be walking and dining on semi-coarse terrain. We recommend bringing a light jacket, hat, and sunscreen.
Please be aware that Runzel Gulch Road has two dramatic switchbacks, and that parking at the winery is limited. We encourage locals to carpool, in order to save space.
Be respectful of our neighbors and yield to downhill traffic. Drive slowly and carefully, since there are blind spots along this dirt road.
This is a working farm, so we are unable to accommodate children or pets at this event.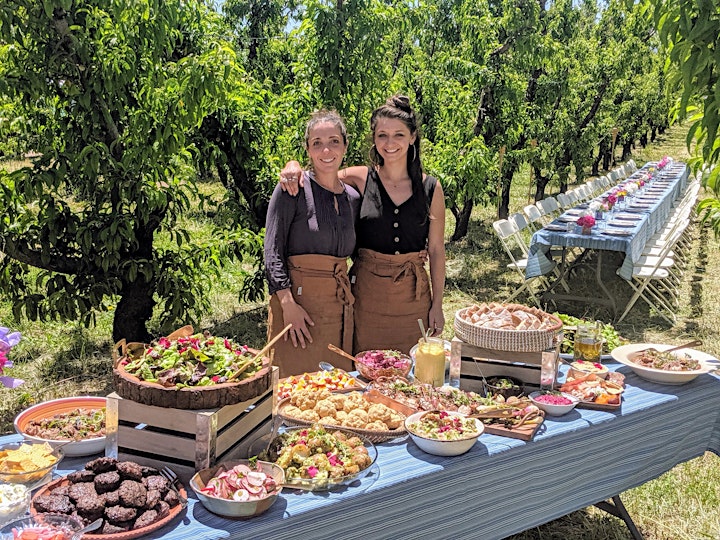 FORAGE SISTERS | Nicole Carrillo & Mirasol Gomez
Nicole and Mirasol formed Forage Sisters out of a shared love for curating events focused on food from local, Western Slope farms. Their "seed-to-farm-to-table" cuisine is inspired by their backgrounds of Italian and Argentinian earthen and simplistic styles of food, their love for sustainable living, and their love for people, community, and gathering.
In addition to crafting hyper-local, seasonally driven cuisine, these chefs are also skilled event planners and farmers. They source their products from Nicole and her husband's 18-acre farm, Deer Tree Farm & Agroforest, and other local farms, including Cedar Springs Farm and Gray Acres Farm. They enjoy cooking asado-style, an Argentine way of cooking food over an open flame, which you will enjoy with us at this outdoor dinner.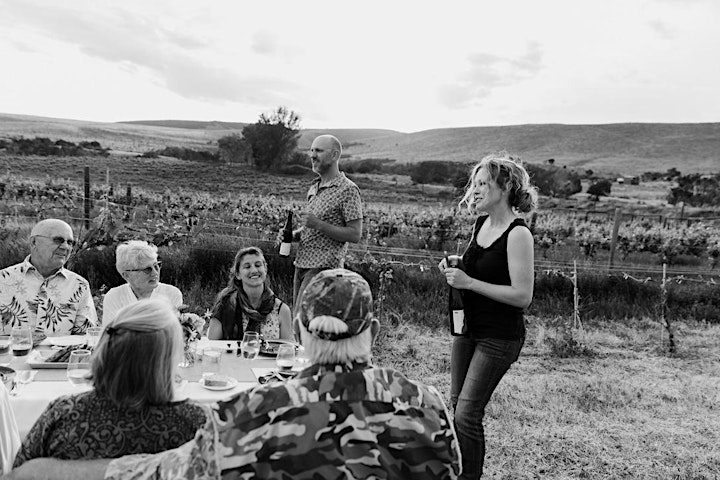 JAYME HENDERSON and STEVE STEESE | Sommeliers & Winemakers
Jayme and Steve spent many years in the Denver restaurant scene, as managers, sommeliers, mixologists, event planners, and wine directors. They have led wine dinners with world-famous producers, interned and studied throughout the broader wine world, written wine articles for numerous publications, and led workshops and tasting seminars throughout their careers. They were also selected together as members of the 2019 Colorado FIVE, a team of chefs and beverage professionals, who exemplify the passion, creativity, and purpose that have become the staples of Colorado dining.
In early 2017, they purchased the Redstone Vineyard in Hotchkiss and founded The Storm Cellar, at this breathtaking location on Sunshine Mesa. Together, they are rehabilitating 16 acres of grapevines and have already begun planting more. As a couple, they tend the vines and craft high-elevation white wines and rosés with a strong focus on quality. The Storm Cellar recently received the "Editors' Choice Award for Best Winery" by 5280 Magazine for their annaul Top of the Town feature.
SCENES FROM OUR LAST WINE DINNER IN THE VINEYARD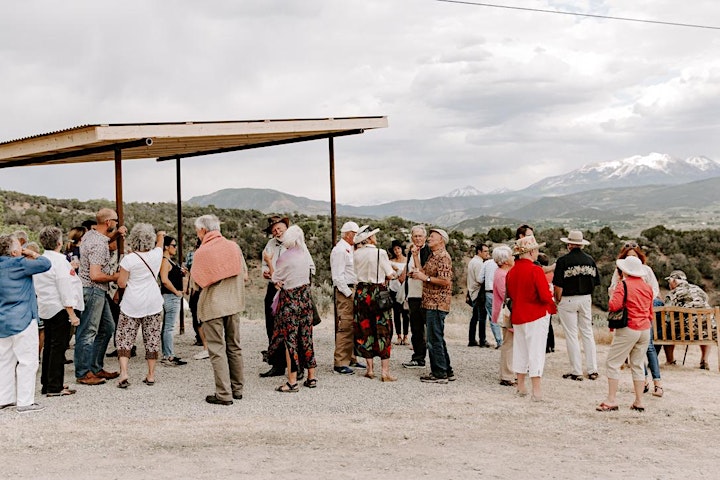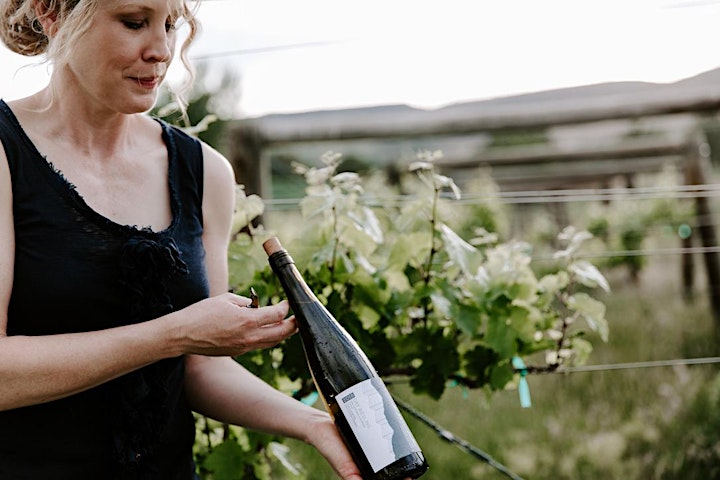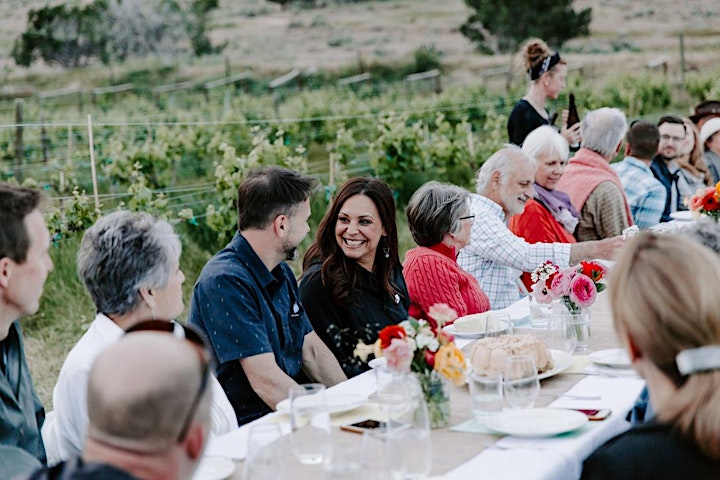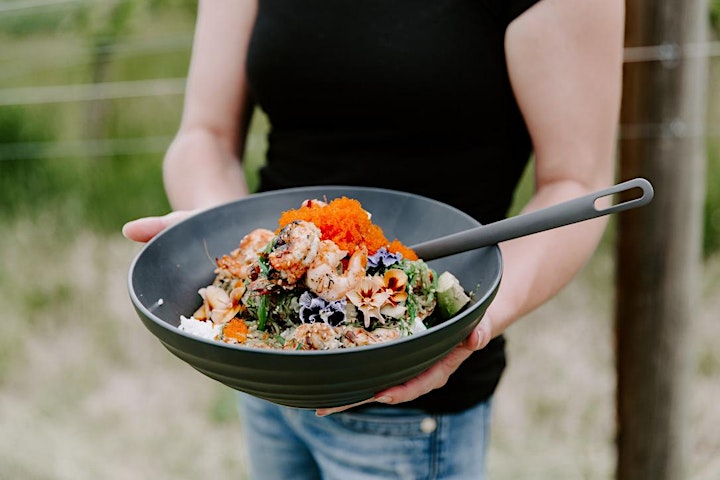 Organizer of Asado-Style Wine Dinner in the Vineyard with Forage Sisters