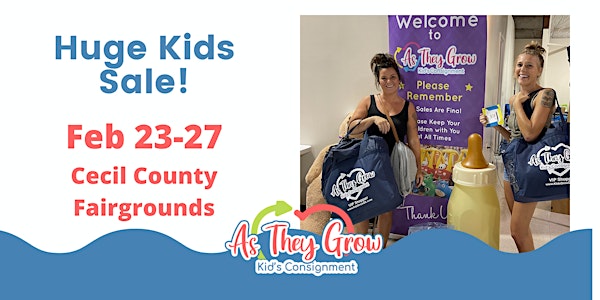 As They Grow Spring Sale Cecil County Fairgrounds
As They Grow Presales ** Please see order summary below for specific dates/time **
When and where
Location
E.L. Walls Activity Hall/ Cecil County Fair Grounds 4640 Telegraph Road Elkton, MD 21921
About this event
" Happy Days are here again!" We're back in ELTKON!! Join As They Grow and other smart Moms like you to shop for all the things your kiddos need, under 1 roof, for only a few days- at 50-90% off retail! PreSales Feb 23/24 Free admission Feb 25-27.
- - - - - - - - - - - - - - - - - - - - - - - - - - - - - - - - - - - - - - - - - - - - - - - - - - - - - - - - - - - - - - - - -
VIP Pre-Sale Ticket!
Get first dibs on the must haves your growing family needs at 50-90% off retail.
These tickets are REQUIRED to shop our Pre-Sales and and are limited to first come, first served.
Grab your ticket(s) today! All adults require a ticket to shop the Pre-Sale, with the exception of New Parent- 1 guest & Heroes- 1 guest. Children are not required to have a ticket, but do count in our headcount, so leave them with a sitter if you can.
What will you find??? Spring/summer clothing and shoes sizes preemie through juniors, maternity and women's, bassinets, strollers, swings, mamaroos, bottles, feeding supplies, nursing supplies, bathing, potties, hats, toys, bedding, books, outdoor play, bikes, ride ons, and more! We check all items for quality and recalls.
-----------------------------------------------------------------------------------------------
Presale Hours/Dates:
Wednesday, Feb 23 : Gold tickets 5pm-9pm
Thursday, Feb 24 :Silver tickets 9:00AM-7:00PM
: VIP Bag holders- 9:00AM-7:00PM
: New Parent/Grandparent 10:00AM-7:00PM
: Teacher/Hero 10:00 AM-7:00PM
Free Admission Sales Hours/Dates: NO Tickets needed
Friday, Feb 25 9am-7pm
Saturday, Feb 26 9am-3pm
Sunday, Feb 27 9am-2pm
---------------------------------------------------------------------------------------------
Frequently Asked Questions
Q. Who Can Shop at our sale? A. Everyone! Come one come all to shop- we do recommend a sitter during our Pre-Sale. Drop the kiddos at the sitter and grab your best shopping buddy! Children are welcome, please keep them with you at all times.
Q. What payment types do you accept? A. Cash is preferred, but we also accept all major credit cards (ID required for non-chip transactions) Checks are not accepted.
Q. Who can shop the PreSale? A. Consignors (sellers) shop first, followed by our VIP ticket holders, and New Parent/&Granparent/ Hero/ Teacher ticket holders. You are eligible for a New Parent/Grandparent pass if: You are expecting your first, or your first is under 1 yr.
Q. Do I need to print my ticket? A. You may either print your ticket, or we'll scan it on your smart phone.
Q. Do you have shopping bags available? A. Yes, we have Ikea bags to use while shopping. Please leave purses/diaper bags larger than a sheet of 8x11" in the car.
Q. Are you going green? A. YES!! We are super excited to announce that we are Going Green! Please bring reusable bags to carry out your purchases. (We ask that they are not used for shopping) We will also have our NEW As They Grow Vip Reusable Bags for purchase!
Q. What is your return policy? A. Due to the nature of our event, all sales are final. You are encouraged to inspect all items prior to purchase, and utilize our Test it station for electronics.
Q. Where can I get more information? A. check out our website www.KidsGrowDe.com, or email Cristy Galasso at info@astheygrowkids.com
Q. Can I get a ticket refund? A. We will honor refunds on tickets, if the event is cancelled due to Covid -19 or weather related issues. Eventbrite does not offer a refund on their handling cost.