Arya's 4th Birthday Party: Two Shepherds annual Humane Society Fundraiser!...
Description
It's our 4th annual birthday party for Arya!

This annual event has been a big hit for two and four legged wine lovers alike. Once again, the wine barrels will be pushed aside as the winery morphs into an indoor dog park. Dog party treats and edible dog birthday cake will be for the dogs and for our human friends, the only public pouring and sale of our Tribute wine dedicated to our first shepherd. A percentage of sale proceeds will be donated to the Sonoma Humane Society.


To mark the occasion, we'll be serving doggie birthday cake for our 4 legged friends and for our 2 legged friends, we'll be offering for sale (on this day only) our 2013 Flash wine, a single barrel lot, Grenache Syrah blend, made in honor of our beloved 15 year old Australian Shepherd. Only 180 bottles of this special wine were produced, and will be available during the event only.

Come, sit & stay!
Other Fun & Details

Take home doggie treat bags for all (dog) attendees, Nibbles for humans

A portion of sales that day will be donated to the Sonoma Humane Society


No tasting fee for anyone who brings a Sonoma Humane Society donation. Needed items: Dog and cat foods for Pet Pantry, and any kinds of dog treats that our volunteers can use while they work with the dogs, and Feline Greenies in particular for our cats. Equipment like harnesses (especially the M/L size Sensation harness) and martingale collars are always welcome, too. Toys for both cats and dogs are also always welcome, although we are full to the brim with tennis balls.Amazon wish list: https://amzn.to/2wQ08XZ


We will be pouring several new wines including our yummy winter comfort wine - 2014 Mourvedre, our 2015 Pastoral Blanc, Saralee's Vineyard - the perfect winter white and dungeness crab wine, 2016 old vine Carignan, and more.

Also enjoy wines from Unturned Stone productions, a small winery that makes wine onsite with us, similar style with 3 fun delicious wines.
Bring your friends & dogs and come celebrate as Two Shepherds Winery goes to the dogs!
Please RSVP: Registering helps us make sure we have enough nibbles, doggie bags, glasses and staffing.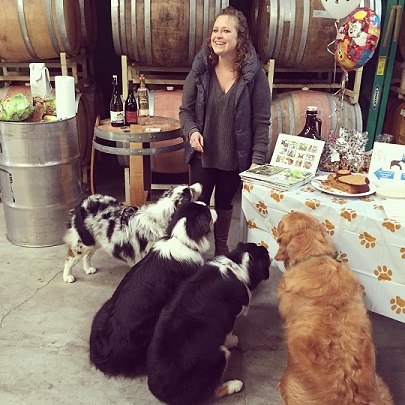 We hope to see our many 2 and 4 legged friends!
Make a Day of it: You may also visit our Artisan Alley neighbors and enjoy cider, beer, wine, AND the new $50M Russian River Brewing facility is just down the street.
Woof!

Arya, Karen, William