Aruba Soul Beach Music Festival 2013
When and where
Location
Oranjestad, Oranjestad Aruba
Description
ARUBA SOUL BEACH
MUSIC FESTIVAL
TRAVEL ACCOMMODATIONS ONLY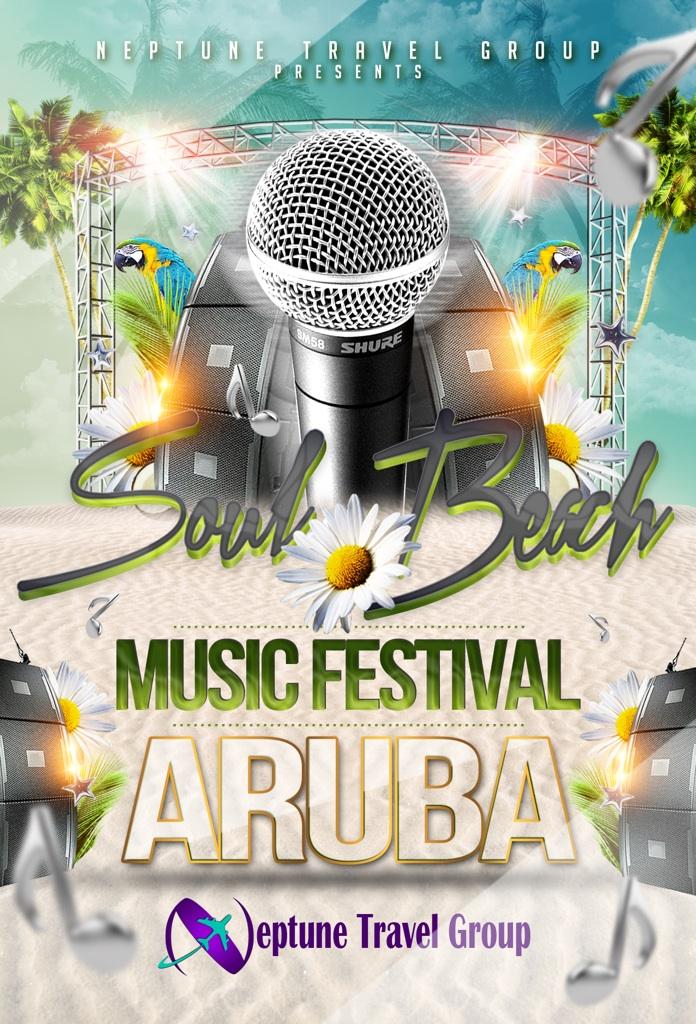 Memorial Day Weekend 2013
May 22-27, 2013
This is not the official website for the Aruba Soul Beach Music Festival. Neptune Travel Group is a full service licensed and accredited Travel Agency dedicated to making your dream to be in Aruba come true by booking your travel accommodations! We have convenient payment plans. Stay tuned to our site as we continue to provide updates on Soul Beach & Travel Accommodations.
ENJOY CLIPS FROM PRIOR YEARS OF THE SOUL BEACH MUSIC FESTIVAL
The 13th Annual Soul Beach Music Festival will fly into Aruba May 2013 for the most electrifying music festival event of the year. The 2013 Soul Beach Music Festival kicks-off Memorial Day Weekend, in Aruba's sun-kissed paradise, with five-days of power-packed events. Join Soul Music Lovers from around the world and take part in amped-up nightclubs, sizzling beach parties, music and comedy concerts. 2012's line up included R.Kelly, LL Cool J, Ledisi, Melanie Fiona, Atlanta's own Frank Ski, and more. The 13th Anniversary of the Soul Beach Music Festival will be more spectacular than ever!!!!
Hotel Only Rates* as of 11/19/12
Starting at $409 per person based on double occupancy
for 3 nights (May 24-27, 2013)
Rates and availability are subject to change until deposit is made.
Hotel Package Includes
Your choice of number nights at the Radisson*
Choice of 1 King Bed or 2 Double Beds
Roundtrip Airport Transfers
Resort activities and entertainment
Taxes, fees, & resort gratuities
*The Radisson does not offer all-inclusive. Trust us, it is not necessary to have an all-inclusive plan in Aruba, there are several places to eat near the Radisson, save your dollars!$!$!
*Want to book a different hotel, please feel free to contact us so that we can make those arrangements for you. 1-855-5NEPTUNE or 1-855-5NEPTUNE.
Not Included
MEALS & DRINKS
Flights
Travel Insurance, click here or call for rates
Excursions
Spa Services
Local ground transportation to the parties and concerts
Baggage fees
Gratuities to Bellman, Driver
Flights
Each individual is responsible for their own airfare. We can book your flight for an additional $150 per person. If you have 10 or more people travel from the same city, we can book a group flight which requires a deposit of $100 per person.
Hotel + ATL Flights Rates* as of 11/19/12
Starting at $899 per person based on double occupancy
for 3 nights (May 24-27, 2013)
Rates are subject to change until deposit is made.
*Rates are per person based on number of people in 1 room. Rates are subject to change until full $150 per person deposit is made.*
Payments Per Person*
Deposit Now $150 or more
Pymt#2 8/15/2012 $50 or more
Pymt#3 9/15/2012 $50 or more
Pymt#4 10/15/2012 $50 or more
Pymt#5 11/15/2012 $50 or more
Pymt#6 12/15/2012 $50 or more
Pymt#7 1/15/2013 $50 or more
Pymt#8 2/15/2013 $50 or more
Pymt#9 3/15/2013 Balance, if any...packages with flights not paid by this date, will be cancelled & all payments will be forfeited, NO EXCEPTIONS!!!
*Payment plans are provided as an extra convenience, please adhere to the payment schedule to avoid possible trip cancellation.
**Joining the trip after a payment deadline, pay the $150 deposit and continue payment as schedule and catch up payments. Please call to confirm your rate. Rates are confirmed upon date of deposit.
Easy Payment Methods
1.) Pay $150 or $250 Deposit Online ABOVE
2.) Pay Online on the Neptune Travel Group Site: pay a different by going to www.neptunetravelgroup.com and click on the "Make A Payment" button
3.) Bill Pay (through your bank): to Neptune Travel Group, P.O. Box, 311467, Atlanta, GA 31131
4.) Paypal direct to: payments@neptunetravelgroup.com
5.) Mail Check or money order payable to Neptune Travel Group, mail to:
Neptune Travel Group
Attn: Aruba 2013
P.O. Box 311467
Atlanta, GA 31131
POLICIES
Payments are non-refundable, which are the same policies of the airlines and for prepaid hotel rates.
Payments are non-transferable to another person already taking the trip nor for a different trip.
Name changes are allowed and may require a fee depending on the date the change is requested.
Travel insurance is available for purchase and it is highly recommended to purchase within 14 days of your initial deposit to be eligible for all insurance options such as "cancel for work related" reasons.
Travel insurance is to be purchased directly with Allianz Travel Insurance.
All travel insurance claims are administered by Allianz Travel Insurance and not Neptune Travel Group.
Full deposit of $150 per person is required to lock rate.
Rates are subject to change when payment schedule is not followed, call to confirm rate.
The payment schedule is provided as a convenience, failure to follow the schedule may result in cancellation of your reservation and you will forfeit all payments made. No refunds nor credits will be honored.
Final payment not received by the final payment date will result in a late fee of $50 starting 7 days from the due date.
No travel documents nor information will be released until full payment is completed, including late fees.
THESE POLICIES ARE STRICTLY ENFORCED.
Contact Us
Neptune Travel Group
P.O. Box 311467
Atlanta, GA 31131
MAIN 1-855-5NEPTUNE
1-855-536-7886
FAX 404-549-4392
EMAIL info@neptunetravelgroup.com
WEB www.neptunetravelgroup.com