ArtWorks ADL Chicago

Wednesday, October 2, 2013 from 5:30 PM to 11:30 PM (CDT)
Event Details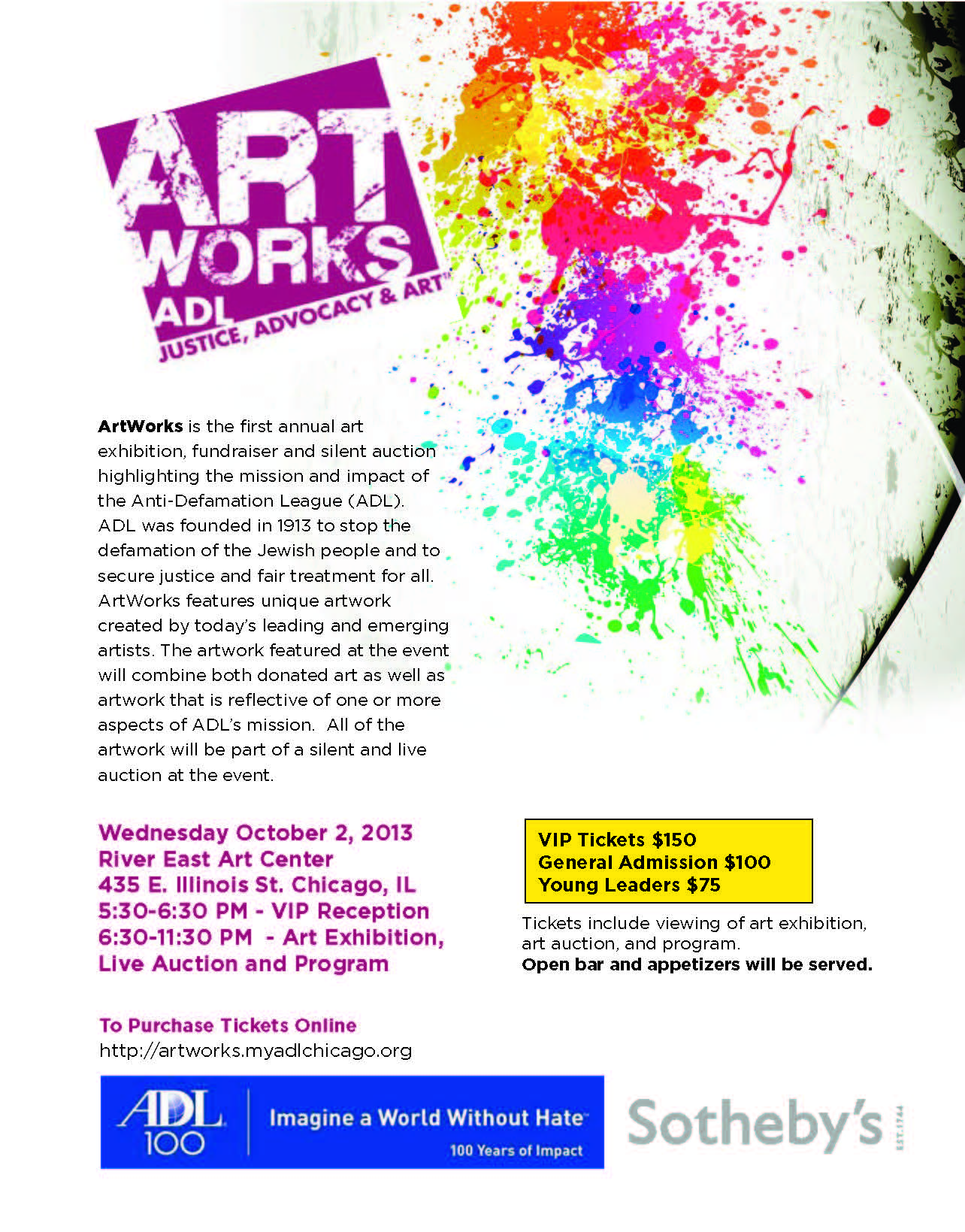 ArtWorks 
ArtWorks is the first annual art exhibition, fundraiser and silent auction highlighting the mission and impact of the Anti-Defamation League (ADL).  ADL was founded in 1913 to stop the defamation of the Jewish people and to secure justice and fair treatment for all. ArtWorks features unique artwork created by today's leading and emerging artists. The artwork featured at the event will combine both donated art as well as artwork that is reflective of one or more aspects of ADL's mission.   All of the artwork will be part of a silent and live auction at the event.
When and where is ArtWorks?
ArtWorks begins on Wednesday, October 2, 2013 at River East Art Center in Chicago, Illinois. The exhibition will begin with a VIP reception with the artists at 5:30 PM and the main event will be open to the public from 6:30 – 11:30 PM. ArtWorks will feature an open bar, hors d'ouevres and live music. Guests will have the opportunity to mix and mingle with the artists and learn more about their work. 
Please note that River East Art Center is wheelchair accessible. The elevator is located at 445 E. Illinois, Chicago. There is a 24 hour security guard that will be able to grant access to the building. 
What is the goal of ArtWorks?
The goal of ArtWorks is to engage, empower and educate the Chicago community about the mission and impact of ADL through art. We plan to host 300 and art enthusiasts and have the goal to raise $150,000 to support ADL's local efforts in the Chicago region. ArtWorks will celebrate ADL's achievements as the voice of justice and fairness for all who have faced injustice, hatred or bigotry.
Who are the ArtWorks artists?
Over 30 of Chicago's emerging and award winning artists and selected artists from Bezalel Academy of Art and Design in Israel will participate in JustArt.  The work of the ArtWorks artists will present ADL's mission and work over the last 100 years through a variety of mediums. Each artist brings a unique perspective and interpretation of ADL's mission.
Frequently Asked Questions
I am an artist and would like to participate in ArtWorks. How do I submit my RFP?
All RFP's should be sumbitted to Jenna Benn, Associate Regional Director. Our chairs and host-committee will review your materials and get back to you in a timely fashion.
How do I bid on artwork if I am not in Chicago?
Some of the artists will have their artwork available for bidding online. Please check back here to learn more about the online auction.
How do I get involved with the event?
If you are interested in furthering your involvement with ArtWorks please contact Laura Layfer, ArtWorks Co-Chair.
How much are tickets for ArtWorks opening exhibition, fundraiser and silent auction?
VIP Tickets- $150
General Admission- $100
Young Leaders- $75 
What are sponsorship opportunities for ArtWorks?
ArtWorks is the first event of its kind for ADL's young philanthropic community. The goal is to raise $150,000 for ADL's local efforts. Sponsors have the opportunity to provide founding financial support and are fully integrated into the evening. Please see the sponsorship guide to learn more about multiple level event, product and media sponsorship opportunities.I have more questions about ArtWorks.
Whom do I contact?
For additional information about ArtWorks and how to get involved, contact  Jenna Benn, Associate Regional Director.
Check out Just Art's Debut in New York
When & Where

River East Art Center
435 E Illinois St
Chicago, IL 60611


Wednesday, October 2, 2013 from 5:30 PM to 11:30 PM (CDT)
Add to my calendar
Organizer
ADL Chicago
The Anti-Defamation League was founded in Chicago in 1913. Today, the Greater Chicago/Upper Midwest regional office continues to carry out its original mission -fighting anti-Semitism and all forms of bigotry, securing justice and fair treatment for all. With an array of educational, legislative, diplomatic, and interfaith initiatives, our office acts as an important resource for the community at-large.
Our staff of 18 represents both regional and national personnel. We are supported by a regional board of 220 members, various committees members, volunteers and educational professionals, who regularly work with us to help carry out our mission. Under the leadership of Regional Director, Lonnie Nasatir, we provide programs and services to the diverse and dynamic citizens of Illinois, Indiana, Wisconsin, Minnesota, North Dakota and South Dakota.
Contact Us
Phone: (312) 533-3939
Fax: (312) 533-3940