Actions and Detail Panel
ARTWAVE FESTIVAL 2017
Fri, Apr 28, 2017, 10:00 AM – Sun, Apr 30, 2017, 12:00 AM MYT
Description
KALER FEST 2017 dengan sukacitanya menganjurkan acara komuniti seperti yang dinyatakan dalam cadangan acara untuk rakyat Pulau Pinang. Acara ini berkolaberasi dengan Northsantara Artwave dan akan dianjurkan bersama oleh Kerajaan Negeri Pulau Pinang. Festival ini adalah yang pertama kali dianjurkan di Pulau Pinang dan akan menjadi festival tahunan mulai tahun ini.
Festival peringkat antarabangsa ini bercadang untuk berkongsi maklumat dan pengetahuan tentang pelbagai jenis seni dalam usaha untuk mengukuhkan hubungan di antara penduduk negara-negara ASEAN dan juga untuk memberi pendedahan mengenai seni dan budaya latar belakang yang berbeza kepada penduduk tempatan terutamanya golongan belia Malaysia.
.
Festival ini akan berlangsung selama tiga hari ( 3 ) bermula hari Jumaat dan berakhir pada hari Ahad.
Dengan berkonsepkan seni, acara festival terbahagi kepada enam ( 6 ) seksyen iaitu ;
✔Art of Creative ( Kraftangan seni tradisional dan moden )
.
✔Art of Fashion ( Percetakan, pakaian, produk lokal ) - Kaler Fest
.
✔Art of Culinary ( Makanan dan minuman )
.
✔Art of Sounds ( Musik dan kebudayaan tempatan )
.
✔Art of Mech ( Kereta klasik, Vespa, Seni mekanikal )
.
✔Art of Vintage ( Barangan vintaj, antik dan bundle )
Terdapat juga persembahan grafiti dari artis grafiti tempatan, battle of the buskers, pertandingan skate dan BMX, pemeran lukisan kanvas, lelongan barangan antik dan kesenian, persembahan kebudayaan dari negara Thailand dan Indonesia.


Berminat? ...hubungi kami sekarang..!
WhatsApp
012-4760334 | 017-5794225 | 019-2155392

---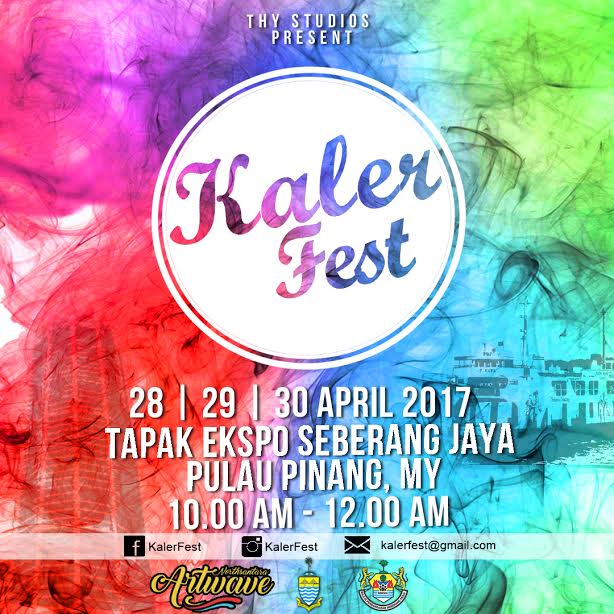 Date and Time
Location
Tapak Ekspo Seberang Jaya, Pulau Pinang
Jalan Jelawat
Seberang Jaya, Pulau Pinang 13700
Malaysia