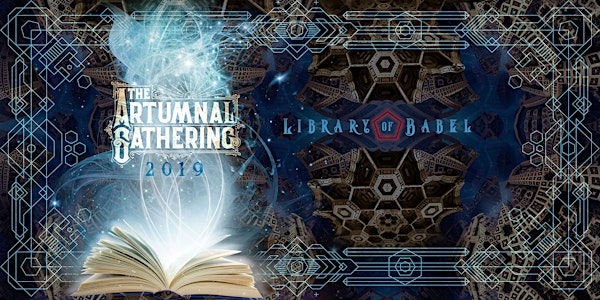 Artumnal Gathering Dinner & Auction
When and where
Location
Terra Gallery & Event Venue 511 Harrison Street San Francisco, CA 94105
Description
Burning Man Project cordially invites you to The Artumnal Gathering Library of Babel Dinner and Auction, an annual celebration of collaborators, artists, makers, creators, and inspirational communities of the worldwide Burning Man culture.
"Tis strange--but true; for truth is always strange; stranger than fiction." - Lord Byron
Step onto the page. It shifts below your feet and springs vibrantly to life around you! What technicolor place is this? What just happened and where exactly have you stumbled into!
Every story has a protagonist, setting and some kind of plot and unexpected twist. Some have villains, accomplices, and heroes. Some haunt us...others inspire and entrance us, but there is no escaping the fact that stories shape how we think and experience the past, present and future.
Come as a favorite character, the character you truly are, or someone entirely new. Join us in a living plot twist and shape the evening's narrative with your creative presence and participation. This will be a night where fairy tales, history, poetry and mythology co-exist; where plots cross and twist like neural networks and overlapping commuter lines to strange destinations; an evening where the normal rules of grammar and reality are made to blush and shatter. Dress for the occasion and let your imagination speak in tongues!
This year's Artumnal Gathering is a celebration not only of books, but of the stories that make us who we are and those we have yet to live out and create together! Just don't expect anything particularly normal to happen.
Please bring one or more new books for our children's literacy book drive, benefitting Gerlach schools. The more inspiring and imaginative, the better! All languages welcome.
Library of Babel Dinner and Auction
Saturday, November 16, 2019
5:00 p.m. - 12:30 a.m.
Terra Gallery, 511 Harrison Street, San Francisco
A fundraiser to benefit Burning Man's Art and Civic Engagement programs

Make it A Weekend
Consider making it a weekend to support Burning Man Project's Art and Civic Engagement programs by attending both Artumnal events: the Artumnal Gathering Celebration on Friday, November 15, 2019 and the Library of Babel Dinner and Auction on November 16, 2019.
Artumnal Gathering Celebration
Dance the night away Burning Man style on Friday, November 15, 2019! The Artumnal Gathering Celebration deserves its own night for revelers to connect, dream, and imagine in a spectacular setting. This experiential event will kick off a weekend devoted to Artumnal celebrations.
Storytime Speakeasy - Artumnal Gathering Celebration
Presented by Pink Mammoth
Friday, November 15, 2019
Great Northern, 119 Utah Street, San Francisco | 9:00pm-4:00am
A fundraiser to benefit Burning Man Project and Pink Mammoth
Tickets: $40-$60 (available soon)