ART+TECH Rendezvous @GeekdomSF

Monthly Event - Third Friday of every month: 7:00 PM to 9:30 PM (PDT)
Event Details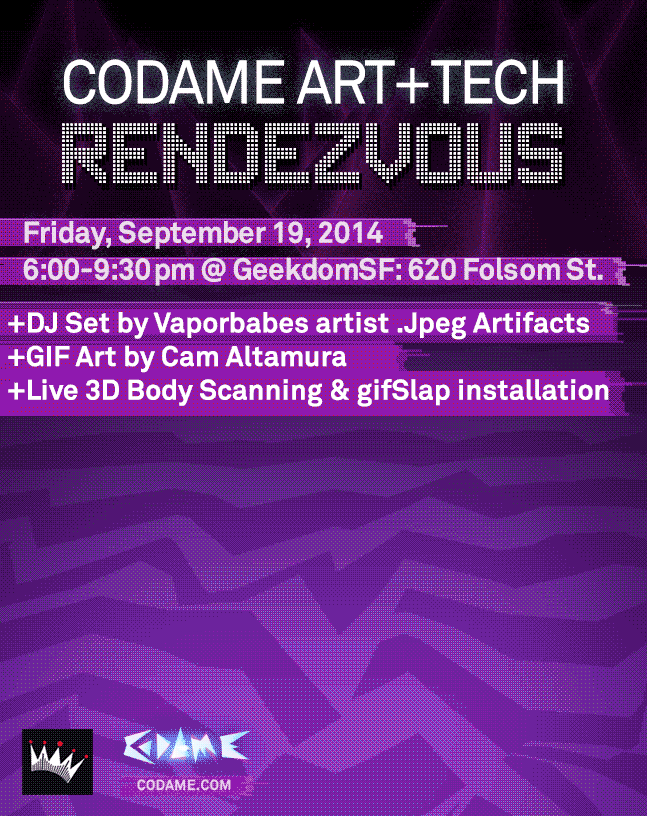 ART+TECH Rendezvous is CODAME's monthly series curated by CODAME staff, happening @GeekdomSF. The series focuses on contemporary art and tech artists, electro-music and performance, mixing and networking, electronic improvisation, artistic inspiration, and play time.
Limited quantity available, so reserve yours before they're gone!
/// SCHEDULE
6pm: GIF Happy Hour feat. GIF art by Cam Altamura co-creator of #naughtbothered
7pm: Art+Tech enlightening talks with:
8pm: Play time with CODAME Projects open for Adoption:
9pm: DJ Set by .Jpeg Artifacts + Networking / Social / Music
/// CONNECT
#CODAME • CODAME ART+TECH Facebook • @CODA_ME
/// ADOPT US
If you like what you see, Adopt a Project for your events! Create unique, educational, and inspirational community outreach events. Display original installation works on site.Choose your favorite project at this event or on our site and contact us!
Any bit or pix counts!
Where

Geekdom
620 Folsom St. #100
San Francisco, CA 94107


Monthly Event - Third Friday of every month: 7:00 PM to 9:30 PM (PDT)
Add to my calendar
Organizer
CODAME
ART+TECH projects and nonprofit events, to inspire through experience. 
50+ projects built in collaboration with tech+artists around the globe
60+ events since 2009
200+ tech+artists featured
20k+ top-industry community of engineers, designers and artists 
/// MISSION
Embracing innovation through creativity, play, and collaboration between artists and technologists. We build immersive, engaging, out of the ordinary experiences by:
Playing together with artists, coders, designers, game developers, creators, performers and musicians.
Celebrating creativity by curating magic-inspiring experiences that combine art with technology.
Inspiring entrepreneurs, innovators, startups and companies by injecting creativity into organizations. 
/// NON PROFIT
As members of Intersection for the Arts, a 501(c)(3) org. we are accepting tax deductible donations. 
// SUPPORT ART+TECH
With the support of like-minded partners we plan to triple our numbers and bring the San Francisco innovative, independent, and creative spirit of CODAME around the world. Support us or just Get in touch
/// CORE TEAM
Commodore (in-Chief) @BrunoFonzi
Amiga (Guru Meditation Handler) @staRpauSe
Atari (Artist Canvas) @Mexist
Spectrum (Ultimate Disco) @Irene86g 
Cray1 (TechArt Ninja) @KKoechley
Gravis Ultrasound (Media Munger) @AniMusicSF
JUNO-60 (Markup Master) @Gridwalk 
Beta-23 (Ops Guru) @Al_Dominguez
… and more than 100 amazing artists and volunteers…
ART+TECH Rendezvous @GeekdomSF