Description
ARTSPRESSO – Artworks from Mark Charlton, Cassette Lord and Parky Doodles
Exhibition Dates: Saturday 6th May – Wednesday 31st May 2017
Private View: Friday 5th May 2017
Opening Times: Monday - Sunday: 7am - 7pm
Trading Post Coffee Roasters, 36 Ship Street, Brighton, East Sussex - BN1 1AB www.tradingpostcoffee.co.uk
We are delighted to invite you to a private view of work by Mark Charlton, Cassette Lord and Parky Doodles on 6th May 2017 at 36 Ship St, Brighton BN1 1AB.
After a successful opening group show 'Christmas goes POP!' at Vine Street Studios, Space Invader Crew are proud to launch 'ARTSPRESSO' at Trading Post Coffee Roasters a joint art exhibition with Mark Charlton, Cassette Lord and Parky Doodles. This exhibition will show new and original works from the artists. In addition, exclusive limited edition collages, paintings and posters will be available only at the Trading Post Coffee Roasters. Opening on Friday 5th May at 8pm with refreshments courtesy of our sponsors Trading Post Coffee Roasters. Space Invader Crew aims to make their art available to everyone.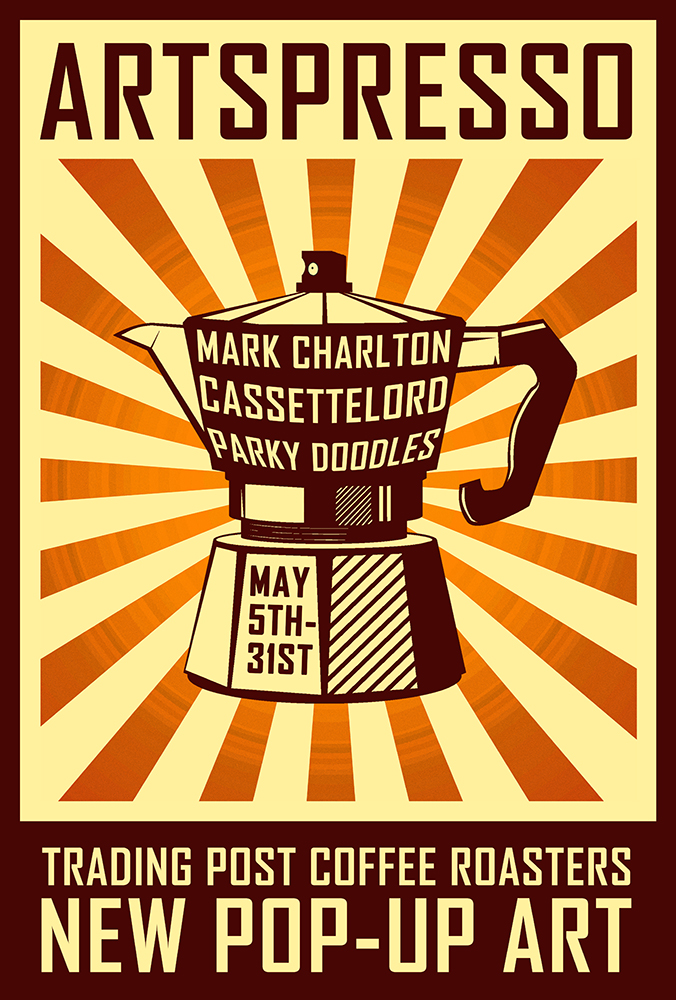 Mark Charlton
Mark Charlton was born in Margate in 1976. He studied at the North-East Wales Institute of Art and Design, gaining a BA Hons in Animation Design in 2001.
After spending many productive years working as a freelance animator and motion designer primarily in the music industry, he has devoted his time to developing his own style in mixed media art.
His work is an abstract combination of screen print, painting and collage technique, which allows the exploration of surface texture and graphical composition.
He takes inspiration from space exploration and science fiction from the 1950s and 1960s in which he embraces colour and shape and amalgamates with a contemporary gritty urban feel.
The work is energetic and spontaneous, using multiple layers, which are built up over a substantial period of time, until a final composition is realised and refined. He finds a unique excitement in this layered approach which sees screen print forced to react with painted and collaged surfaces. Multiple techniques are used to decay and age the surface, which culminates in a final piece that has a striking first impression and a gentle beauty within its close-up detail.
Works created are meant not only as a piece of art solely made for display purposes but also represent a found fragmented piece of archaeological relic that has been discovered with its own history and sense of use.
Mark currently resides in West Sussex and works in his Brighton based studio.
Cassette Lord
The cassette has transformed over the years from a functional music medium into a visual pop art object. The home recorded cassette mix tape was a revolution in editing and personalising of music and became a deeply intimate object passed between millions of friends with hand written inlays, stickers and painted covers. This capacity for personalization and re-recordable function helped embed the cassette tape into people's hearts allowing it to transcend its simple functionality. Some think it has a face. The cassette tape now invades a variety of formats including clothing, jewellery and of-course graffiti art.
The idea to stencil the junction boxes started when I finished painting a mural with a youth group, I noticed that the only part of the mural that wasn't covered was the ubiquitous green boxes in front of our piece. I asked my contact on the council to see if I could carry on with the art over the boxes-she said, 'do you want to do them all?' she didn't have to ask me twice...
The boxes were mainly ignored and often a bit scruffy, we agreed this would be a great way to liven them up and give people something cool to look at and add to Brighton.
As an artist, I work with a variety of youth groups and needed to think of a shape to demonstrate how an image could be effectively stencilled on to the boxes as part of a youth arts project. The cassette was a natural choice and has been a reoccurring theme in my artwork over the years, I've made cassette furniture sculptures, paintings, and even a cassette super hero costume for a house party we threw – that's where the name cassette lord came from. Most super heroes can command something useful like fire or animals, I thought it would be a laugh to be the lord of cassettes.
Parky Doodles
The artist known as 'Parky Doodles', will be displaying his new artwork at Trading Post Coffee Roasters. Parky enjoys filling our streets, galleries and skateboards with wild artworks that explore abstract, retro chaos, collage and doodles...
Parky started off painting stencils onto his skateboards when he was a lot younger. In the school library he discovered books on street art and graffiti and from then he started painting on bits of wood in his garage at home trying to paint letters and work freehand.
Works on display at Trading Post Coffee Roasters will include large scale canvases, limited edition prints and collages.
All his works display an energy that is certainly without precedent and the outcome will, of course, be a totally refined artistic chaos.