Description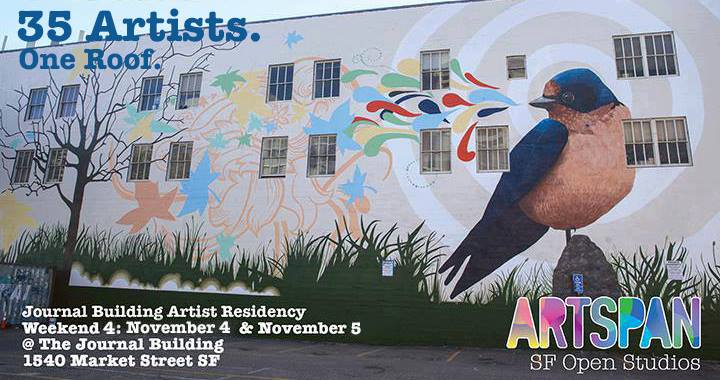 The Journal Building SF Open Studios
35 Artists Under One Roof
1540 Market Street, SF, CA 94102
Saturday, November 4th, 11AM-6PM
Sunday, Novermber 5th, 11AM-6PM
The ArtSpan's Journal Building Artist Residency Program invites you to our Open Studios weekend! We have 17 resident artists and 18 guest artists exhibiting their work!
Resident Artists:
(3rd Floor) Pod 1
Addendum24: www.addendum24.com
Carmela Cucueco: www.carmelacucueco.com
Shane Izykowski: www.shaneizykowski.com
Tisha Kenny: www.artspan.org/artist/Tisha%20Kenny
Uma Rani iyli: www.umaraniiyli.com

(2nd Floor) Pod 2
Ariel Gold: www.arielgoldart.com
Eliot Rattle: www.eliotrattle.com
Jane Gehrke: www.janegehrke.net
Keith Spencer: www.keithbeneath.com
Lexie Bouwsma: www.lexiebouwsma.com
Taiko Fujimura: www.taikofujimura.com

(2nd Floor) Pod 3
Denise Laws: www.deniselaws.com
Kecya Felix: www.babalawolab.com
LE BohemianMuse: www.lebohemianmuse.com
Nancer LeMoins: www.artspan.org/artist/Nancer
Rachel Styer: www.rachelstyer.com
Sophie Lee: www.barkingowls.com

Guest Artists:
(3rd Floor)
Christo Braun: www.christobraunfineart.com
Kim Uno: www.kunodesign.com
Mikey Elliott: www.redbubble.com/people/mikeelliott42
Rose Heineman: www.roseheineman.com/art

(2nd Floor)
Ben Collison: www.bencollison.com
Malisa Suchanya: www.malisasuchanya.com
Mainy Martinez: www.instagram.com/mainyartaholic
Sarah Delson: www.instagram.com/delsonics
Sylvia Paret: www.sylviaparetphoto.com
Taiko Mai Roskothen: www.tmrjewelry.com
Tiffany Conway: www.projectgetfree.com
Journal Building Mural Image: Artwork by Joshua Coffy
About ArtSpan's Studio Residency Program:
ArtSpan offers below market-rate studio rentals to artists in San Francisco as part of a cooperative residency program. Artists must be new or existing ArtSpan Artist Members ($50 annual) to be eligible to apply. Click here for membership information.
Studio space is offered to artists who have recently been displaced from their San Francisco studios, those who have never had a studio (outside of home or school), and those with a project-based need for work space. The selected artists are expected to contribute as cooperative and collaborative members of the studio community, to volunteer with ArtSpan, and to participate with SF Open Studios in the fall. Click here for each studio residency location and application details.
Organizer of ArtSpan's Journal Building - SF Open Studios 2017
ArtSpan, a 501(c) (3) nonprofit organization, is committed to cultivating a vibrant, accessible, and world-class art community in San Francisco and to promoting the city's unique creative energy locally and globally. We champion an inclusive art experience by providing hundreds of local artists with the equal opportunity to showcase their work and make direct connections to diverse audiences and patrons. We are guided by the belief that artists play a vital role in society and that broad public engagement with their work is essential to defining a new cultural environment for our changing city. Visit www.artspan.org to learn more. Contact info@artspan.org or (415) 861-9838 for more information.