Description
ArtSpan's Benefit Art Auction 2013
When: Saturday, April 13, 2013
Where: SOMArts Cultural Center, 934 Brannan Street, SF
Bid on 100+ artworks by Bay Area artists in juried live and silent auctions. Proceeds benefit ArtSpan's mission to build community through year-round educational programs for working artists, under-served youth, and the public.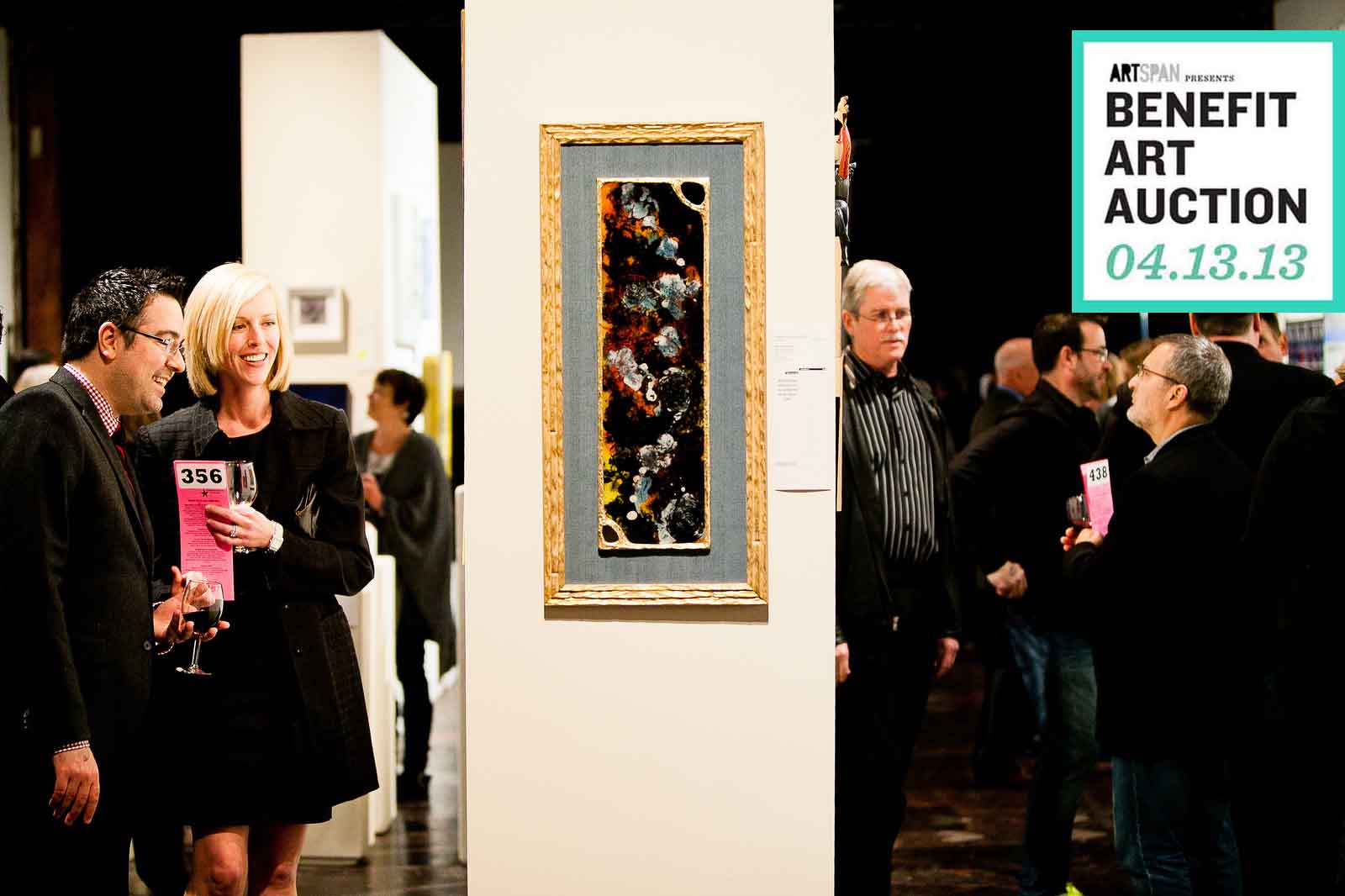 Pictured left: ArtSpan Benefactor Members Andre Gharakhanian & Amanda Rickel. Photo credit: 555 Photography

VIP PREVIEW: 5:30-6:30pm
Includes advance admission, complimentary valet parking, wine tasting, gourmet hors d'oeuvres, live music & seating for live auction.
$125 in advance; $150 at the door

GENERAL ADMISSION: 6:30-9:30pm
Includes hors d'oeuvres, open bar & wine tasting!
$50 in advance; $65 at the door
PREVIEW AUCTION ARTWORK IN THE ONLINE GALLERY!

First silent auction section will close at 7:15pm
Live auction will begin at 8:00pm
Creative cocktail attire encouraged.

PARKING: Valet parking available.
ART PURCHASES: Use PayPal to process your Auction art purchases for quick and easy check out! Plus PayPal™ will donate $20 to ArtSpan for each Benefit Art Auction payment made using the PayPal mobile app!
ArtSpan is pleased to have PayPal as a partner and mobile payment provider for this year's Benefit Art Auction.

Using PayPal's innovative mobile app, winning bidders will be able to pay for their art using their iPhone®, Android™ and Windows® smartphones.
You can download the app now or when you arrive at the SOMArts Cultural Center on April 13th.

Use the Check-In feature to let us know you're there and one of our volunteers will find you to collect your payment via PayPal.
AUCTIONEER: John Glines, Central Coast Auction Services, Inc

AUCTION ARTISTS:

Diane Abt, Jack M. Androvich, Alexis Arnold, Ned Axthelm, Suzy Barnard, David Barnett, Nancy Blum, Calvin Bohner, Yuri Boyko, Michelle Brandemuehl, Liz Brozell, John Bucklin, Ray Buffalo, Monique Castiaux, Frederic Choisel, Sidnea D'Amico, Jason D'Aquino, Herb Dang, Flora Davis, Monica Denevan, Robin Denevan, Fernando Diaz, Jennifer Ewing, Fong Fai, Tess Felix, Lisa Fernald Barker, Linda J. Fitch, John Fitzsimmons, Kat Flyn, Rebecca Fox, Jenne Giles, Tara Gill, Katie Gilmartin, Matt Gonzalez, Peter Gray, Jane Grimm, Tracy Grubbs, Matthew Scott Gualco, Andréa D. Guerra, George F. Gund, dk haas, Ed Handelman, Jeanne Hauser, Audrey Heller, Britt Ivy, Valerie Jacobs, Martine Jardel, Philippe Jestin, Renee DeCarlo Johnson, Phylis Johnson-Silk, Eric Joyner, Soad Kader, Russel Kiehn, Mike Kimball, Oliver Klink, Katherine Hisako Kodama, Carol Koffel, Barbara Kronlins, Jander Lacerda, Richard Lang, Linda Larson, Hap Leonard, June Li, Jeffrey Long, Steven Lopez, Ytaelena Lopez, Leslie Lowinger, Monica Lundy, Derek Lynch, Paul Madonna, Neeley Main, Susan Mall, Maggie Malloy, Erin K. Malone, Danny Manniche, Kirk Maxson, Kristine Mays, Alan Mazzetti, Marti McKee, Saundra McPherson, Erika Meriaux, Haris Měsić, Victoria Miller, Beverly Mills, Leslie Morgan, Michael Murphy, Kelly Nedderman, Ben Needham, Deneane Niebergall, Hadley Northrop, Ramekon O'Arwisters, Annie O'Dorisio, Jean Oppermann, Mark Paron, Ruy Pereira, Jennifer Perlmutter, Silvia Poloto, Mark Powers, Lucky Rapp, Barbara Ravizza, Eric Rewitzer, Samuelle Richardson, Carol Rienecker, Karl Roeseler, Ian Ross, Kimberly Rowe, William Salit, Irene Schlesinger, Marcia Schneider, Manu & Greta Schnetzler, Valerie Scott, Janet Seifert, Ann Simms, Kathryn St. Clair, Todd Standish, Charles Stinson, Raissa Trend, Trish Tunney, Victoria Veedell, Gregory Vernitsky, Sylvia Vientulis, Jennifer Wasson, Kay Weber, Hilary Williams, John Wood, Rene Yañez, Alberto Ybarra, and Elena Zolotnitsky
AUCTION JURORS:
Alessia Armeni, Artify.it Co-Founder and Chief Art Officer
Jan Casey Bertrand, Owner and Art Consultant at Casey & Associates
Hal Fischer, Hal Fischer Associates
Mario Lemos, Art Consultant at Restoration Hardware
Tom O'Connor, Art Advisor and Appraiser at O'Connor & Associates
Michael Purdy, Owner and Creative Director at Cavalier by Jay Jeffers
Cecilie Starin, President at Cecilie Starin Design Inc.
AUCTION COMMITTEE:
Virginia Cheung, Casey Colsworthy, Thelema Dietler, Colleen Fiaschetti, Jill Manthei, Matt McKinley, John F. Melvin, Mitch Schneider
HONORARY HOST COMMITTEE:
Sabrina Braham; MD, Ben Fong-Torres, George Gund, Stanford Hughes, Julie Kuschke, William Meyer, Sarah Nelson, Lindsay Hurtt Olshan, Paul Weaver

ARTSPAN BOARD OF DIRECTORS:

William Gilmartin III, Sevilla Granger, Carol Koffel, Leslie Lowinger, Joen Madonna, Matt McKinley, John F. Melvin, Brian Owens, Eric Rewitzer, Rick Taipale, Dan Teree; Chairman
ARTSPAN STAFF:
Lindsay Barrick; Associate Director of Communications & Operations
Cristina Ibarra; Program Manager for Youth & Adult Education and Community Partnerships
Heather Holt Villyard; Executive Director
Linda Zweig; Benefit Art Auction Coordinator

THANK YOU TO OUR AUCTION SPONSORS:
ArtSpan's Benefit Art Auction is supported by the SOMArts Cultural Center's Affordable Space Program, which provides subsidized, large-scale affordable space and technical assistance to nonprofits. SOMArts receives support from the San Francisco Arts Commission's Community Arts and Education Program with funding from Grants for the Arts/The Hotel Tax Fund.
The mission of SOMArts is to promote and nurture art on the community level and foster an appreciation of and respect for all cultures. To find out about SOMArts classes, events and exhibitions, please visit www.somarts.org.
ABOUT ARTSPAN:
ArtSpan, a 501(c)(3) nonprofit organization, builds community by connecting the public to visual arts in San Francisco. Through SF Open Studios, youth and adult education, and art-centric events, ArtSpan creates a platform for artists to thrive, fostering a Bay Area that values the arts.
Organizer of ArtSpan's Benefit Art Auction 2013
ArtSpan, a 501(c) (3) nonprofit organization, is committed to cultivating a vibrant, accessible, and world-class art community in San Francisco and to promoting the city's unique creative energy locally and globally. We champion an inclusive art experience by providing hundreds of local artists with the equal opportunity to showcase their work and make direct connections to diverse audiences and patrons. We are guided by the belief that artists play a vital role in society and that broad public engagement with their work is essential to defining a new cultural environment for our changing city. Visit www.artspan.org to learn more. Contact info@artspan.org or (415) 861-9838 for more information.