Description
ArtSpan Volunteer Orientation Mixer

ArtSpan depends on the enthusiasm and advocacy of our volunteers.
Whether they're installing an exhibition, taking tickets at the door, writing up an art sale or distributing SF Open Studio guides…
everyone of our volunteers are integral to the success of our organization.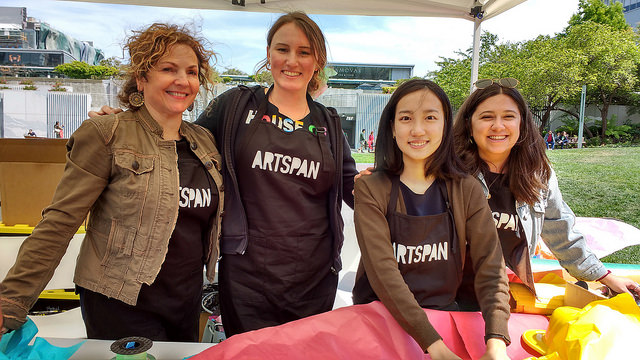 We would like to welcome and introduce our
New and Returning volunteers to ArtSpan,
our staff and the rest of our volunteer team.
Learn how you can play a vital role
in cultivating a vibrant, accessible,
and world-class art community in San Francisco!

We are rolling out a NEW Volunteer Program that will track
and quantify volunteer hours to qualify to win prizes
and special recognition in return for their service and support.

At our Volunteer Orientation Mixer you'll learn
What is Artspan? Why is ArtSpan important to the Bay Area art scene?
What is ArtSpan's mission and how can you advocate for ArtSpan?
Who are the ArtSpan staff and what do they do?
How does ArtSpan's programs benefit the SF art community?
Where is the ArtSpan office?
Where do the different types of ArtSpan events take place?
What are ArtSpan's volunteer policies and procedures?
What are the perks and rewards for volunteering with ArtSpan?
Learn more about available volunteer shifts and sign up!
Drinks & light snacks will be served before and after the orientation
giving everyone a chance to meet one another,
find out what brought them to ArtSpan,
when their next volunteer shift is,
how many volunteer points they've earned,
what their most rewarding volunteer experience has been and
what advice they might offer to new ArtSpan volunteers.


We Look Forward To Meeting YOU!