Description
CounterPulse and ArtSpan present
REBECCA WALLACE & CAMILA MAGRANE
AUGUST 30–OCTOBER 6
GALLERY OPEN 45 MINUTES BEFORE SHOWTIMES
Join us for a reception with artists Thursday, October 5, 5pm-7pm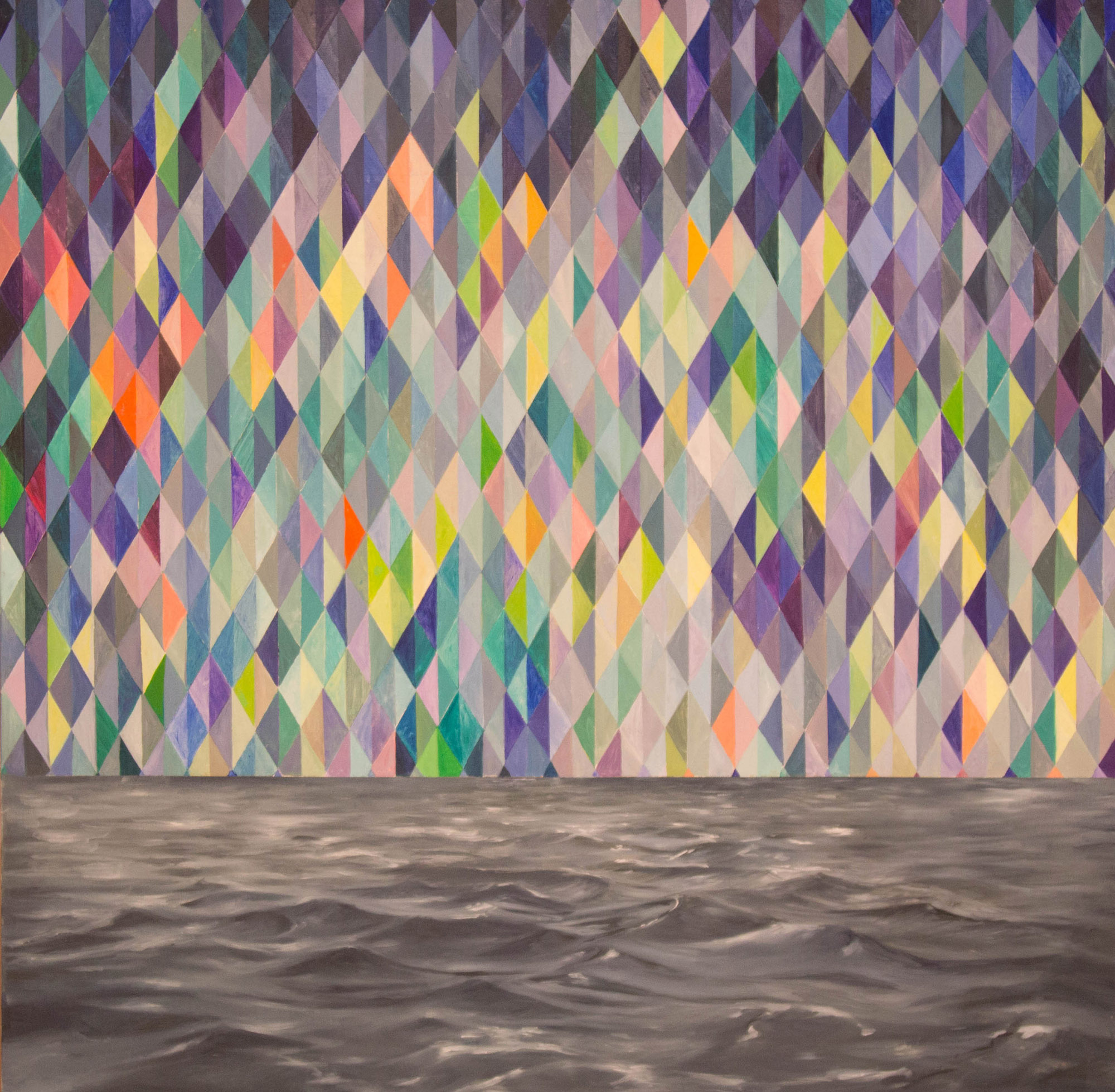 Somnium, Rebecca Wallace, Oil on Canvas, 4′ x 4′,
Rebecca Wallace received her MFA in Painting and Drawing from the California College of the Arts in San Francisco. She currently resides in Northern California where she works as an Adjunct Professor at Yuba Community College.
REBECCA ON HER WORK
The concept of fragmentation and longing has been a steady thread throughout all of my work. Particularly how the fragment can function to recall the idea of the whole and at times becomes bigger than that from which it came. In this rupture lies the potential for infinite completions. I am interested in creating spaces within my work that continue to expand. They are for me symbolic of our inner and outer worlds, representations of our experience of the real and unreal—both have equal validity. I am intrigued by the collision and overlap that occurs within these spaces, as well as the interconnective quality that recalls Romantic notions of landscape and the spiritual. These spaces are personal and emblematic of our collective understanding of space. For me, they are an exploration of how that understanding continues to evolve. I like to think of each piece as a portal, an entry point or bridge. I draw much of my inspiration from nature and scientific studies of the nature of space. We are met constantly with bits and pieces of images and stories on the Internet. Cyberspace has expanded our understanding of space, creating a murky boundary between where it ends and reality begins. Many of the discoveries within quantum physics similarly dispel the boundaries between anything, and in fact we are learning more and more that we are less solid that we are empty space. Simultaneously our universe continues to expand itself daily, growing infinitely at a faster and faster speed. These are the ideas that drive the exploration within my work.
Camila Magrane is a multimedia artist originally from Caracas, Venezuela. Having a father from the US and a mother from Venezuela, she grew up alternating between both countries. Being fully exposed to two different cultures gave her a greater understanding of what it means to have various perspectives.
After graduating from film school in Caracas, she moved back to San Francisco where she freelanced as an editor and camera operator, working on a wide range of fictional films, documentaries, and music videos. During this time, she earned an associate's degree in photography from City College of San Francisco and has since been exhibiting her work around the Bay Area. Camila has been most noted for the creation of her "Digital Photogram Collages" where she has established a postmodern aesthetic by combining traditional darkroom techniques with the use of digital tools.
Most recently, Camila has been exploring the involvement of technology and interactivity in art. This has driven her to obtain a bachelor of science in computer science with a concentration in game development. She continues to hone her skills as a creative coder through the creation of interactive videos, installations and games. Camila is currently working as a cinematic artist at Telltale Games in San Rafael.
CAMILA ON HER WORK
My work is a visual journey in time which embraces modernity and fosters a new age. As advancing technologies overwhelmingly challenge and baffle the life styles of people on the planet it has changed social rituals and created new symbolic representations of a homogeneous modern culture. In the midst of these transformations I use technology as a means of human expression rather than focusing on its utilitarian function. In this context I'm determined to convey that the spirit of man prevails, since we are the source and not the object of creation.

/////

About CounterPulse:
CounterPulse is building a movement of risk-taking art that shatters assumptions and builds community. They provide space and resources for emerging artists and cultural innovators, serving as an incubator for the creation of socially relevant, community-based art and culture. CounterPulse acts as a catalyst for art and action; creating a forum for the open exchange of art and ideas, sparking transformation in our communities and our society.

/////

About ArtSpan's Art-in-Neighborhoods Program:
ArtSpan's Art-in-Neighborhoods program serves the city of San Francisco by connecting communities with local artists while activating spaces with vibrant, locally-made artwork. ArtSpan partners with local businesses and building owners to bring art exhibitions and art events to businesses, dormant storefronts, and empty spaces for lease that seek artwork for their blank walls. Local artists who are ArtSpan members are given the opportunity to display, promote, and sell their artwork in these diverse venues. All aspects of the program allow otherwise unused walls, spaces, or properties to become creative arenas for celebrating local arts.

The Art-In-Neighborhoods program strives to create visibility and accessibility for local arts in San Francisco. ArtSpan provides the public with free, high quality arts exposure. Simultaneously, local ArtSpan artists are given the opportunity to promote and sell their artwork. Each of the Art-In-Neighborhoods exhibitions and community events will provide clear, consistent information about ArtSpan programing to educate the public about ArtSpan's goals and how to become a supporter – by attending our events and buying artwork from local artists!