Description
ArtSmart Office Hours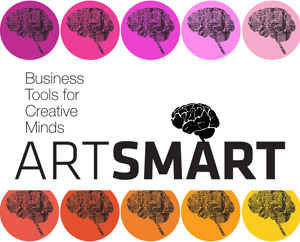 ArtSmart is an affordable, cloud-based inventory and accounting program for artists, gallery owners, art collectors, arts institutions, designers and architects. Use ArtSmart to present work, track inventory, record purchases, catalogue images, generate invoices, draft agreements and reconcile accounting data, all in one location.
Meet with the folks from ArtSmart, and get a demonstration of how to use this powerful tool, and hear about how they created solutions for artists and other creative professionals.


Bring your questions about running your business! ArtSmart founder and CEO, Amy Davila and her team will be around to answer.
This ticket is for the ArtSmart demo and office hours only. If you would like to attend more of the Vibrant Future of the Creative Economy please visit the event site. Or RSVP at the other amazing sessions here to save your place.

Nathan Shedroff's Workshop: SciFi Your Thing http://vibrantfuture-scifi.eventbrite.com

Adrienne Leban's Originality Workshop http://vibrantfuture-originality.eventbrite.com

Meet the social entrepreneurs of RUNA http://vibrantfuture-runa.eventbrite.com

3D Printing Doodle Bar with Digital SL8 http://vibrantfuture-digitalsl8.eventbrite.com

The entire day of talks and hands on activities: http://vibrantfuture.eventbrite.com
More about the program: http://www.openinvo.com/vibrantfuture
Organizer of ArtSmart Office Hours at The Vibrant Future of the Creative Economy
OpenInvo is a culture-driven innovation company. We are a team of innovators and futurists; thought leaders and artists; business consultants and product developers who combine our skills for greater impact. 

We offer clients a unique perception of their business: cultural view points, creative insights, executive training, and business strategy to deliver market growth. We also give ideators a digital framework to help them develop their intellectual content.