Sales Have Ended
Ticket sales have ended
We're sorry, advanced ticket sales have ended. We will have some $15 at the door tickets available tonight. Please come on by!
Sales Have Ended
Ticket sales have ended
We're sorry, advanced ticket sales have ended. We will have some $15 at the door tickets available tonight. Please come on by!
Description
WOW, AUSTIN YOU'RE AMAZING! WE'RE SOLD OUT OF ADVANCED TICKETS, BUT WILL HAVE A LIMITED AMOUNT AVAILABLE AT THE DOOR FOR $15. THANK YOU FOR YOUR GENEROUS SUPPORT!
Art.Science.Gallery. is proud to invite you to our 5th Birthday party celebration benefitting Girlstart, a non-profit dedicated to increasing girls' interest and engagement in STEM. Our independent art gallery was founded by local scientist and artist Dr. Hayley Gillespie in July 2012 and is the nation's first art gallery dedicated exclusively to science-inspired artwork.
Tickets: $10 advance (SOLD OUT) / $15 door

We've got great stuff planned for our 5th birthday bash:
A silent auction benefitting Girlstart and featuring gifts and art by Art.Science.Gallery., Texas Coffee Traders, and more!

FREE color-changing Art.Science.Gallery. party favor cup with every ticket

Beat the heat with River City Frozen Beverages margaritas and piña coladas!
Yummy Birthday Cake at 7pm! (obviously!)
Live music presented with our neighbors at Sa-Tén Coffee & Eats! Pulsar Rendezvous at 6pm, Casie Luong at 7:30pm and The Cherry Pickers at 8:30pm.

5th Anniversary limited edition bananas by Austin's RawPaw are available to the first 60 ticketholders. ($9 early bird with your ticket / $12 at the door)

Remarks at 7pm by Dr. Tamara Hudgins, Executive Director of Girlstart, which is celebrating its 20th anniversary this year.

Be the first to become a card-carrying member of Art.Science.Gallery. as the gallery's new membership program launches at the birthday party.

A brief awards ceremony at 7pm during the party will recognize outstanding contributions and support by individuals and organizations to the gallery in its first five years of operation

See our current exhibit, Far Out, inspired by NASA's James Webb Space Telescope!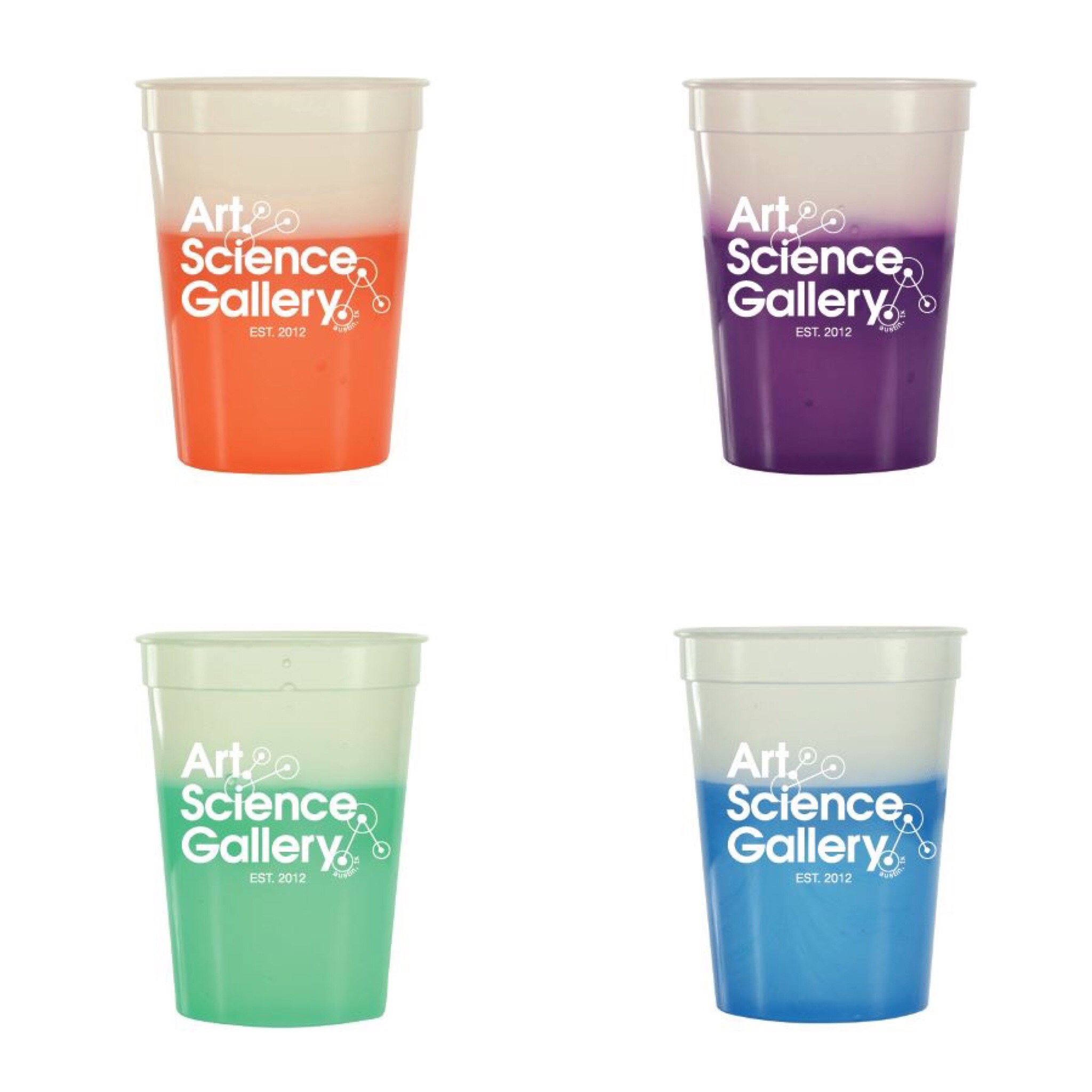 WHAT OTHERS SAY ABOUT ART.SCIENCE.GALLERY.
"Congratulations to Art.Science.Gallery for five wonderful years! At a time when arts budgets are being slashed, A.S.G. is needed more than ever to help convey the beauty and wonder of science in a way that takes visitors out of their usual thinking caps and places them into the nanoworld, or ferrys them to the depths of outer space. When I curated "Go Ahead and Do It," featuring portraits of women in the sciences, in 2014, it was incredibly powerful to see young women and men being moved by the stories of the unsung pioneers represented on the gallery walls. This is the power of art, and another reason why I'm looking forward to the next five years at A.S.G." – Maia Weinstock (@20tauri), science communicator at MIT, creator of women-in-STEM minifigs, and guest curator of women in STEM exhibition at Art.Science.Gallery. in 2014
"There is no other place like it that celebrates the fusion of art and science! The Art.Science.Gallery has been a big part of my journey as a creative scientist and I'm honoured to have my work represented at the Gallery Gift Shop. High Five for a fantastic five years and looking forward to sharing the next five with you!" –Rovena Tey (@thechemisttree), creator of The Chemist Tree greeting card company and represented in the gallery's gift shop since 2013
"Art.Science.Gallery lets artists explain the world of science, beautifully, magically -- who knew it would be so important right now?" – Laurie Frick, data artist at www.lauriefrick.com, exhibited in X Marks The Spot exhibition in 2014.
Organizer of Art.Science.Gallery.'s 5th Birthday Party benefitting Girlstart
Located in the Canopy fine arts complex in East Austin at 
916 Springdale Rd Building 2 #102, Austin TX 78702
Visit our art exhibits and gift shop of science-inspired art! An art space exclusively dedicated to science-art fusion, Art.Science.Gallery. has exhibited over 500 science-inspired artists since it was founded in 2012 as part of its mission to support the growing SciArt movement. 
Art.Science.Gallery. hosted over 50 free public events in 2016 alone including lectures by artists and scientists, classes & workshop, exhibits, film screenings, art projects, demos and science fairs. Our crowd-funded gallery relies on support from generous supporters like you to keep these events free and frequent. Thank you!