About this Event
Dear valued and beloved community,
As Arts-Us prepares for our annual Sankofa: Spirit Of The Ancestors 2019 Fundraising Celebration coming up on April 13, 2019, we reflect on the support of our beloved community for the past 26 years. That's what we mean by Sankofa. It is with profound gratitude that Arts-Us reflects on the history of the many lives we've touched in our beloved community that brings the spirit of our ancestors into the space where we will celebrate our youth and families that we serve.
ARTS-Us seeks to develop young leaders in and through the arts, culture, and sciences of the African Diaspora through an interactive set of youth and community programs. ARTS-Us provides opportunities for youth exposure, instruction, mentoring and service learning in a rich range of arts rooted in the culture of the African diaspora. This year's fundraising gala invites the community to honor the spirit of our ancestors by joining us to launch and support our new vision for a Center for the African Diaspora at our 2019 annual Sankofa: Spirit Of The Ancestors Fundraising Celebration as a chance to learn about Arts-Us, see young performers in action, and pledge your support for a bold new vision for youth in St. Paul.
Date: Saturday, April 13, 2019Time: 5:00pm – 8:00pm
Location: Concordia University Buenger Center, 275 Syndicate Street North, St. Paul, MN. 55104
Keynote Speaker: Melvin Carter, Mayor of St. Paul, Minnesota
ARTS-Us appreciates the support from the community and hopes that you will consider helping us to raise critical funds to increase our capacity to serve more youth and families in our community as we develop the Center for the African Diaspora.
Please register today and help us share our great news by raising awareness and support for our work on behalf of the youth enrolled in Arts-Us cultural edutainment programs. Sponsorships are welcomed and encouraged.
With love, hope and gratitude,
Anthony Galloway
Executive Director
ARTS-Us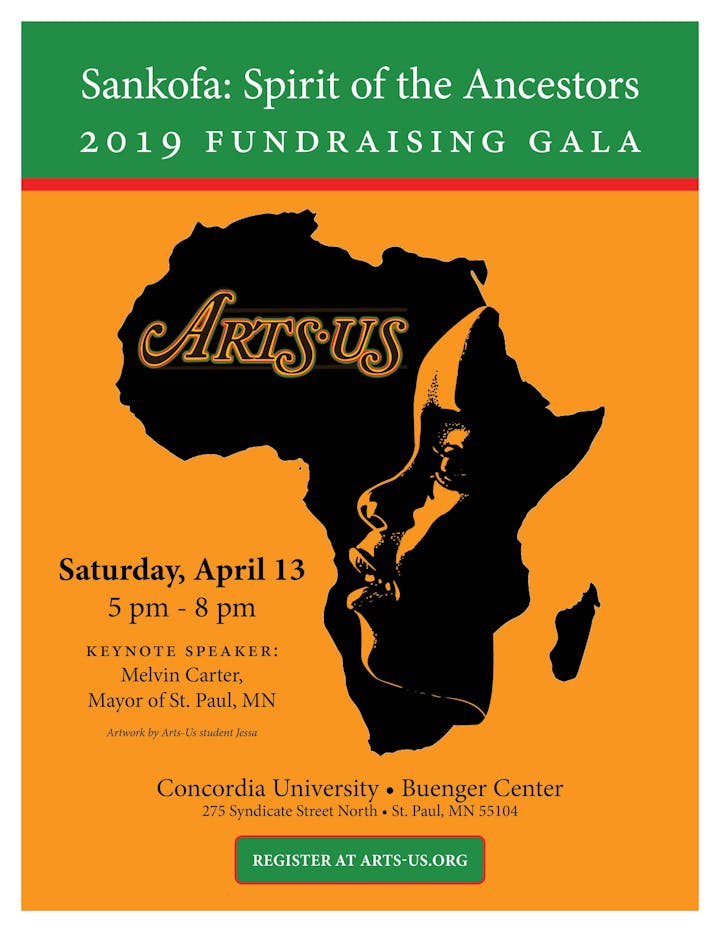 Sanfoka: Spirit of the Ancestors 2019 Celebration Commemorative Flyer