Description
Join the Arts and Education Council for Arts Marketers: Finding your folks using email acquisition. Julia Zasso of Less Annoying CRM will teach us the tools of the trade for using email acquisition to get people in your seats and at your events. She'll cover why email marketing is important, how to acquire email addresses and innovative ways to motivate people to sign up for your email list. Julia will even walk through how to draft your own email acquisition workflow so you'll leave with a plan in place to build your list.
Presenter Bio: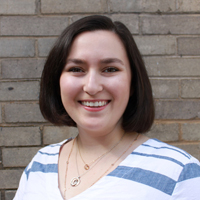 Julia Zasso runs many of Less Annoying CRM's content and marketing initiatives, including email marketing, webinars, social media, landing pages and blogging. Over the past three years, she has helped grow their newsletter audience to over 13K subscribers and implemented several blog series and webinar programs to keep current customers engaged. Her goal is to systematize, automate, and optimize LACRM's marketing strategy and share what she's learned with you!
In-kind support for this session of Arts Marketers is provided by Less Annoying CRM.

To learn more about Less Annoying CRM, visit lessannoyingcrm.com.