Description
Data and Your Audience: using data and digital tools to retain your existing audience and attract new audiences
At A&E, we know that keeping your audience engaged is key to your arts organization's success, because - let's face it - even the best, most well thought-out exhibitions, performances and events are only as good as the people who come out to enjoy them!
Join Julia Zasso of Less Annoying CRM for a discussion about how data and digital tools can be used to help sell out shows and keep your audience coming back for more.
The discussion is free and open to the public, and will be held Thursday, November 16, from 3-5pm in the brand new Catalyst Innovation Lab in the Centene Center for the Arts.
---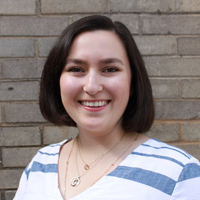 Julia Zasso runs many of LACRM's content and marketing initiatives, including email marketing, webinars, social media, landing pages, and blogging. Over the past two years, she has helped grow their newsletter audience to over 7K subscribers and implemented several blog series and webinar programs to keep current customers engaged. Her goal is to systematize, automate, and optimize LACRM's marketing strategy, and share what she's learned with you!
To learn more about Less Annoying CRM, visit lessannoyingcrm.com.

---