Description
UPDATE: Due to the weather forecast, the Arts & Jazz Festival scheduled for Saturday, Sept. 15, has been canceled.
A day not to be missed at The Freeman Stage at Bayside! Stroll the green and enjoy previewing the artwork of Delmarva's finest artists. Pull up a chair and groove to some of the most talented jazz artists to ever play at the shore — Joe Baione, The Lao Tizer Quartet and Kat Edmonson.
Taking the stage at 11:30 a.m., Joe Baione has a passion for all things jazz. While he is making his mark on the jazz scene with his powerful and energetic performances in the vibes, he is also ensuring the future of jazz through his teaching and producing projects that make jazz more accessible in his community. Baione has won several awards including "Teacher of the Year," in 2003, "Emerging Jazz Artist, " in 2005 by Philidelphia Weekly and "Rising Star of Tomorrow," by Jazz at Lincoln Center.
Up next, at 1:30 p.m., is Kat Edmonson. Kat is an American vintage-pop vocalist, songwriter, and actress. She has released three albums to date, two of which debuted and peaked at No. 1 on the U.S. Billboard Heatseekers chart. Her fourth studio album, "Old Fashioned Gal" will be released on April 27, under Spinnerette Records. While typically associated with the jazz genre, Kat Edmonson's compositions incorporate traditional pop, chamber pop, early Rock 'n' roll, blues, bossa nova, country pop and folk, as well as more traditional jazz and swing styling. Edmonson coined the term "vintage pop" to describe the type of music she makes and defines it as being reminiscent of "popular music from bygone eras." This performance will feature a pre-performance discussion with the artist. This engagement of Kat Edmonson is made possible through the Special Presenters Initiative program of Mid Atlantic Arts Foundation with support from the National Endowment for the Arts and the Delaware Division of the Arts.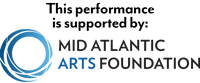 The final performance of the day, "Jazz Group of the Year" nominee, The Lao Tizer Quartet, returns to The Freeman Stage in support of their brand-new CD/DVD combo-pack release, "Songs From The Swinghouse." The new release was recorded all live in the studio with simultaneous 8-camera HD video shoot, directed by the acclaimed music-film director, Andy LaViolette (Snarky Puppy, David Crosby). Please join us as the quartet takes you on a journey through their diverse World Jazz Fusion influences featuring an all-star cast of musicians!
BYOC- Bring Your Own Chair
For more information, please visit https://freemanstage.org