Description
A day not to be missed at The Freeman Stage at Bayside! Stroll the green and enjoy previewing the artwork of Delmarva's finest artists. Pull up a chair and groove to some of the most talented jazz artists to ever play at the shore — Joe Baione, Ryan Kerberle + Catharsis, and Melissa Aldana.
We are no longer accepting artists and vendors for this event. Thank you for your interest!
Taking the Stage at 12pm, Joe Baione has a passion for all things jazz. While he is making his mark on the jazz scene with his powerful and energetic performances in the vibes, he is also ensuring the future of jazz through his teaching and producing projects that make jazz more accessible in his community. Baione has won several awards including "Teacher of the Year," in 2003, "Emerging Jazz Artist, " in 2005 by Philidelphia Weekly and "Rising Star of Tomorrow," by Jazz at Lincoln Center.
Taking the Stage after Joe is Ryan Keberle and Catharsis. Recently named the #1 Rising Star Trombonist in Downbeat's annual critics poll and hailed by the New York Times as "a young trombonist of vision and composure", few musicians have managed to navigate the richly varied avenues of New York City's abundant music scene with the same passion and adaptability as trombonist and composer Ryan Keberle including extensive time spent recording and performing with Maria Schneider, Sufjan Stevens, and David Bowie, to name a few. This performance will feature a pre-performance discussion with the artist. This engagement of Ryan Keberle is made possible through the Special Presenters Initiative program of Mid Atlantic Arts Foundation with support from the National Endowment for the Arts and the Delaware Division of the Arts.

Taking the Stage after Ryan Keberle and Carthasis is acclaimed tenor saxophonist Melissa Aldana. Melissa follows up her 2014 Concord release "Melissa Aldana & Crash Trio" with the explorative and deeply swinging "Back Home," this time released on the Wommusic label. Pablo Menares, Aldana's fellow native of Santiago, Chile, is again on bass. On drums is the in-demand Jochen Rueckert, bringing a supple and unpredictable rhythmic élan to the session. This engagement of Melissa Aldana is made possible by the Mid Atlantic Arts Foundation Mid Atlantic Tours program. Mid Atlantic Tours is made possible through the generous support of the National Endowment for the Arts' Regional Touring Program with additional funding provided by the Delaware Division of the Arts. This performance will feature a pre-performance discussion with the artist.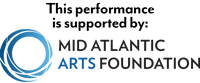 This performance is free for all to attend. Please BYOC- Bring Your Own Chair. Children age 12 & under must be accompanied by an adult. Register for tickets AND attend the event to be entered into a drawing for a pair of tickets to a future performance!
What's the refund policy?

The Freeman Stage at Bayside is an outdoor venue and inclement weather may result in the cancellation of events. All ticket sales are final, nontransferable and nonrefundable, even in cases of inclement weather, unless the area is officially closed due to public safety reasons. Umbrellas of any size are prohibited. For the most updated information, visit our website (freemanstage.org), Facebook page (facebook.com/freemanstage), Twitter feed (twitter.com/freemanstage) or call The Freeman Stage Box Office (302-436-3015). Events are subject to change without notice.
Beware of third party ticket vendors.
Only those tickets purchased directly through freemanstage.org (through our ticket vendor Eventbrite) or the Eventbrite App will be supported and/or honored for performances held at The Freeman Stage at Bayside. Individual reselling of tickets is also prohibited.
House & Ticket Policies: https://freemanstage.org/visit/venue-policies
Need help? We're here for you!
Call The Freeman Stage Box Office at 302-436-3015 or email info@freemanfoundation.org
Seating Map illustration for this performance