Arts in Health and Wellbeing: State of the Field & Innovations in Practice
About this Event
Jill Sonke is Director of the Center for Arts in Medicine at the University of Florida (UF) and Assistant Director of UF Health Shands Arts in Medicine.
She joins the Arts in Health and Wellbeing Initiative at Johns Hopkins University and Hospital for a discussion on the state of the field and its implications for work across the Hopkins community.
Art and design have been used as tools for healing, understanding and communicating since the beginning of humankind. Today, across the world, a diverse array of clinicians, researchers, caregivers, practitioners and community members are using the arts to promote faster healing, healthier minds and bodies and better performance. Research is catching up to provide the "why" for an arts-based approach, and initiatives are taking root.
A recent environmental scan shows that Johns Hopkins University and Hospital benefits from a variety of compelling assets in arts, health and wellbeing.
Building on these assets, a cross-university steering committee is launching a conversation about the potential for a large-scale initiative in Arts in Health and Wellbeing at the university. Led by expert Jill Sonke, this effort will begin with a review of the current state of the field including innovative new practices.
Please join us for this exciting kickoff presentation as we build a collective vision on the role of the Arts in Health that benefits our patients, families, staff, students, artists and surrounding community.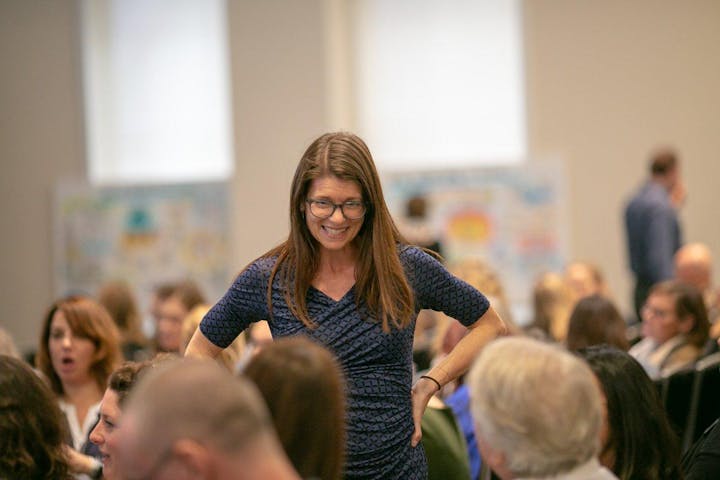 About Jill Sonke
Jill Sonke is Director of the Center for Arts in Medicine at the University of Florida (UF) and Assistant Director of UF Health Shands Arts in Medicine. She serves on the faculty of the UF Center for Arts in Medicine, and is an affiliated faculty member in the School of Theatre & Dance, the Center for African Studies, the STEM Translational Communication Center, the One Health Center, and the Center for Movement Disorders and Neurorestoration. Jill is an Entrepreneurship Faculty Fellow in the UF Warrington College of Business, and serves on the editorial board for Arts & Health journal and the board of Citizens for Florida Arts. She is also director of the national initiative, Creating Health Communities: Arts + Public Health in America, in partnership with ArtPlace America.
Jill studied dance at Interlochen Arts Academy, the Florida State University, in London, Paris and Athens with teachers of the Horton and Duncan techniques including Bella Lewitsky, Lynda Davis, Milton Meyers, Joy Kellman, Lori Belilove, Julia Levine and Hortense Koluris. She has been a principle dancer and soloist with Lori Belilove & the Isadora Duncan Dance Company in New York and a guest performer and choreographer with Dance Alive! and Stuart Pimsler Dance and Theatre.
Jill holds an MA in Human Services from the University of Illinois, and is a PhD candidate in Arts in Public Health at Ulster University in Northern Ireland. With 25+ years of experience and leadership in arts in health, Jill is active in research, teaching, and international cultural exchange. Her current research focuses on the arts and health communication, the arts in public health, and the effects of music on cost and quality of care in emergency medicine. Jill is the recipient of a New Forms Florida Fellowship Award, a State of Florida Individual Artist Fellowship Award, an Excellence in Teaching Award from the National Institute for Staff and Organizational Development, a UF Internationalizing the Curriculum Award, a UF Most Outstanding Service Learning Faculty Award, a UF Public Health Champions award, a UF Cross-Campus Faculty Entrepreneur of the Year Award, and over 200 grants for her programs and research at the University of Florida.