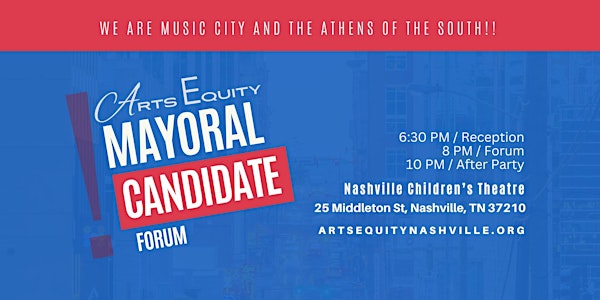 Arts Equity Mayoral Candidate Forum
Arts Equity Mayoral Candidate Forum moderated by Judge Sheila Calloway
Date and time
Wednesday, June 14 · 6:30 - 11pm CDT
Location
The Nashville Children's Theatre 25 Middleton St Nashville, TN 37210
About this event
4 hours 30 minutes

Mobile eTicket
Arts Equity Mayoral Candidate Forum
moderated by Judge Sheila Calloway
Mayoral Candidates: Natisha Brooks, Fran Bush, Heidi Campbell, Jim Gingrich, Sharon Hurt, Stephanie Johnson, Freddie O'Connell, Vivian Wilhoite, Matt Wiltshire, and Jeff Yarbro
6:30 PM reception
8 PM forum start
10-11 PM after-party
Reception and after-party DJ is Jason Eskridge
Local artists and organizations join in asking our next mayor to equitably fund the arts.
We are Music City and the Athens of the South!
Cosponsors (this list is growing daily):
abrasiveMedia, Actors Bridge Ensemble, April Gloaming Publishing, Art & Soul Nashville, Arts & Business Council of Greater Nashville, Arts Bellevue, Belcourt Theatre, Chinese Arts Alliance of Nashville, COOP Gallery, Creative Girls Rock®️, Dewey Comedy Productions, 80/20 Fitness, Elmahaba Center, FALL, Found Movement Group, Free Nashville Poetry Library, Global Education Center, Inglewood Centre for Contemporary Art, International Black Film Festival, Kindling Arts, Lambert Clark LLC, Liberated Grounds, Mind Your Creative Business, Music for Seniors, Nashville Area Hispanic Chamber of Commerce, Nashville Arts Coalition, Nashville Children's Theatre, Nashville Creative Group, Nashville Dance Collective, Nashville Filmmakers Guild, Nashville in Harmony, Nashville Musicians for Change, Nashville Opera, Nashville Repertory Theatre, Nashville Shakespeare Festival, Nashville Women in Jazz, Native American Indian Association of Tennessee, North Nashville Action, North Nashville Arts Coalition, OZ Arts Nashville, One Drop Ink Tattoo, Poboys & Poets, Queen Bee Ink LLC, Southern Word, Street Theatre Company, Sylvan Heights Neighborhood Association, Tennessee Art League, Tennessee Craft, Tennessee Craft Midstate, Tennessee Pride Chamber, TMProductions, TPAC, The 37208, The African American Cultural Alliance, The Museum of Presence, The Packing Plant, The Porch, The Radicle, The Upcoming Artist Organization, Thornton Metals Studio, We Keep The Faith Corp, Noel Marie Alexander, Audra Almond-Harvey, Alayna Renae Anderson, Marie Cecile Anderson, Ellen Angelico, Rebekah Hampton Barger, Gina Carrillo, Twyla Lambert Clark, Telisha Cobb, Alexis Colbert, Jo Collins, Chris Crofton, LeAndra Crystal, Jasmine Dominique, Susannah J. Felts, Reza Filsoofi, Alison Fullerton, Collier Goodlett, Christine Hall, Cynthia C. Harris, Michelle Harris, Shayna Hobbs, Amy Hoskins, Beth Inglish, Perris (Spoke) Johnson, Courtney Adair Johnson, Megan Jordan, Hazel Joyner-Smith, Leslie LaChance, Candace-Omnira LaFayette, Matthew Ezell "Honest" Lewis, Leah Light, Dana Malone, Barton Mangrum, Tosha Marie, Elisheba Mrozik, Stephanie Pruitt-Gaines, Matthew Robinson, Andee Rudloff, Landrew Sevel, Thandiwe Shiphrah, Susan Thornton, Abby Whisenant, Rev. Dr. Donna Krupkin Whitney, Caroline Randall Williams, Robin Wolfenden, and Alex Wong
Join as a cosponsor: https://forms.gle/V9upBNd6t3VDQVog6
There is no cost associated—we only ask you sign onto the call for arts equity. We will share mayoral candidates' statements with our cosponsors for the opportunity to prepare questions ahead of the forum.