Arts District Best of 2011 CALL-FOR-ENTRY Juried Exhibition

Friday, December 2, 2011 at 10:00 AM

-

Saturday, January 7, 2012 at 10:30 AM (MST)
Event Details
Art District Best of 2011 Art Exhibition     Jan. 20 - Mar. 10    eventgallery 910Arts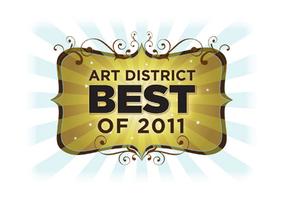 Art District Best of 2011
Awards Gala and Juried Exhibition
It's TWO events in ONE!
1. Juried Exhibition by Westword's Art & Culture Editor Susan Froyd,
open to all works shown in the Art District during 2011.
2. Awards Gala where YOU, the public, get to nominate and vote online
for your favorite Art District galleries, artists and shows of the year. FREE Admission, awards announcement at 9pm and People's Choice voting for Best in Show.
CALL FOR ENTRIES
EXTENDED TILL 10:30AM JAN.7
 To All Artists who've shown work in the Santa Fe Art District or on Santa Fe Drive this year:
Whether you've shown one piece, had your own solo show, or shown work in your studio -- all artwork shown in Denver's Art District on Santa Fe Drive during 2011 is eligible! That includes the District's side streets.
This special juried show is designed to acknowledge the variety and quality of art being created and shown in Denver's Art District on Santa Fe Drive! We're accepting work in all mediums.
 Art District Best of 2011
Awards Gala and Juried Exhibition
celebrating Denver's Art District on Santa Fe
sponsored by Denver's Art District on Santa Fe and Interstate Kitchen & Bar
Juror:
Susan Froyd
 Westwords Arts & Culture Editor
The exhibition runs for two full months in 2012: January 20th to March 10th, 2012 at the EventGallery 910Arts at 910 Santa Fe Drive in Denver. 
2d and 3d works welome as long as each piece was or will be shown in the District during 2011. Entry fee is $15.00 per piece with no limit on how many times you may enter. No works larger than 2' in any direction. Entry fees do not guarantee acceptance into the show, which will be determined by our juror.
ALL entries are to be submitted electronically, emailed as .jpegs and paid for using eventbrite.com
EventGallery 910Arts and curator reserve the right to reject ANY work(s) chosen by our juror.
To submit: (Please read carefully)
Visit http://sfadbestof2011.eventbrite.com to fill out your information and pay for entry fees.
Email images to sarah@sarahquinlan.net
Please format ALL images as .jpgs, with a 72dpi max; images are to be no larger than 1920 pixels in ANY direction. If your files are not formated or labeled correctly they will be rejected. Please use the example below to name your images; You may submit more than one image per entry at no extra cost.
your first name_last name_title of work_dimesnsions_media.jpg
Example: John Smith_Title of my work_Dimesnsions(inches)_media.jpeg 
Artist Notification:       
Both accepted and unaccepted artists will be notified via email and url beginning on Tuesday, January 10th, 2012 or sooner.
Requirements of accepted work:
All work must be dry and ready to hang. A set-up diagram must accompany multiple-piece work. All work(s) selected must remain in place for the duration of the exhibition. EventGallery 910Arts retains the right to reject ANYwork(s) that are not as represented in the submitted image(s), or work(s) that do not have the appropriate hanging materials.
Delivery of accepted work:
Only local works will be accepted. Accepted work(s) are the artist's responsibility to both drop-off and pick-up from EventGallery 910Arts. Drop-off is on Monday, January 16th from 4:00-7:00pm, work(s) not received by 7:00pm will be rejected.  Pick-up is Monday, March 12th from 4:00- 7:00pm; work(s) not picked-up by 7:00pm will be donated to charity.  If special arrangements need to be made for drop-off or pick-up please contact Sarah Quinlan at sarah@sarahquinlan.net 
Upon arrival all work(s) must be clearly labeled with the artists first and last name, title of work, price$, contact phone number & email.
Commission:
EventGallery 910Artswill retain a 35% commission on ALL sold artwork(s).
Liability:
EventGallery 910Arts takes every precaution to protect art but is not responsible for LOSS DUE TO DAMAGE OR THEFT or for POOR CRAFTSMANSHIP or CONSTRUCTION.  
Jpeg submissions, entry forms and payment are due by Friday, Dec. 6 at midnight.
To enter, please make your submissions at www.sfadbestof2011.eventbrite.com and email jpegs to sarah@sarahquinlan.net 
Extended Exhibition! This year's exhibition will be up for two months, and will include First Friday Art Walks on Feb. 3rd and Mar. 2nd, as well as Third Friday Collector Preview nights on Jan. 20th (Opening Gala) and Feb. 17th, 2012
Timeline:
Jan. 6 - Deadline for submissions at midnight
Jan. 10 - Notify artists of acceptance status
Jan. 16 - (Tuesday) -  Artists deliver work to EventGallery 910 Arts between 4-7pm
Jan. 20 - (Third Friday) - Opening Gala 7-10pm; Awards Ceremony at 9pm
Mar. 12 - Artists pick up work 4-7pm
When & Where

EventGallery 910Arts
910 Santa Fe Dr.
Denver, CO 80204


Friday, December 2, 2011 at 10:00 AM

-

Saturday, January 7, 2012 at 10:30 AM (MST)
Add to my calendar
Organizer
Event planner for the 2011 Arts District Best of 2011 Juried Exhibition and Gala Event