Arts & Business Partnerships: Increase Productivity and Profits
About this Event
At this strategy-focused session, expert speakers will identify ways to benefit from arts and business partnerships as well as increase productivity and profits.
They include Jessica Stern from Americans for the Arts; photographer Brian Rose who recently published Atlantic City and appeared on NJTV's "State of the Arts"; 1776 CEO Jennifer Maher; and Vincent D'Alessandro, president of the southern region at OceanFirst Bank.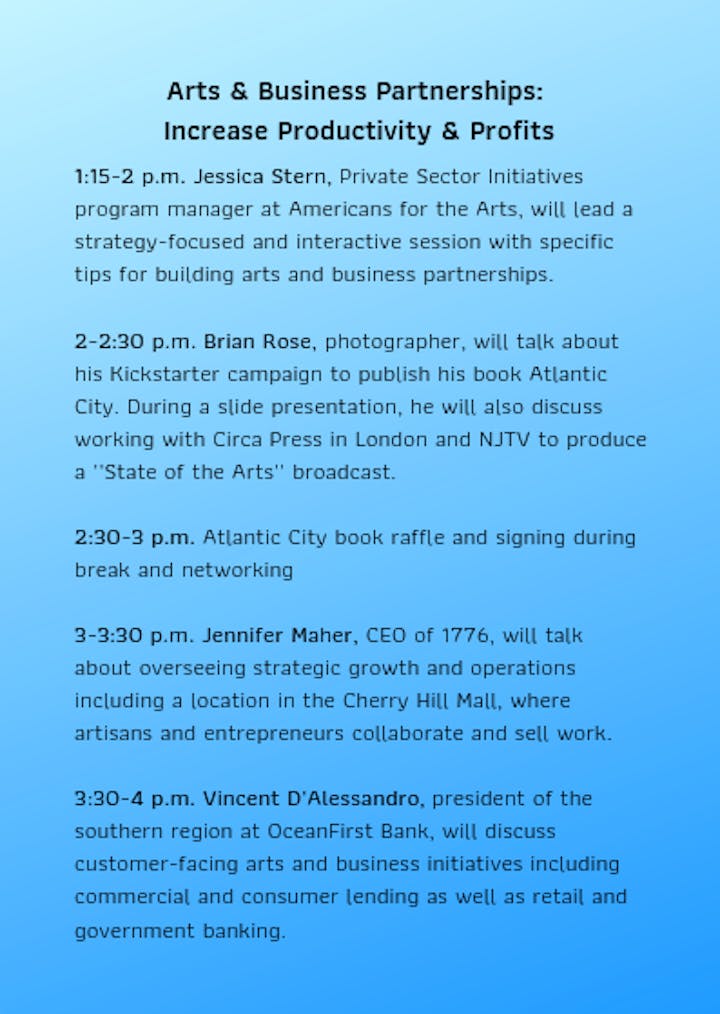 ADDITIONAL PERKS
Raffles for guest passes to Grounds for Sculpture in Hamilton, New Jersey, and copy of Atlantic City by Brian Rose as well as book signing
Affordable sponsor seats with the opportunity to display promotional and sale items
Networking and media exposure for your creative work, business or organization
Register now for this event on Oct. 16, from 1 to 4 p.m., at Stockton University in Atlantic City. You will learn great tips for building arts and business partnerships while increasing productivity and profits.
Then, check out the details for "Arts and Business Partnerships: Creative Strategies for Community Service," from 10 a.m. to noon, on Oct. 16. Take advantage of two strategy-focused sessions during the same day at Stockton University in Atlantic City, New Jersey!