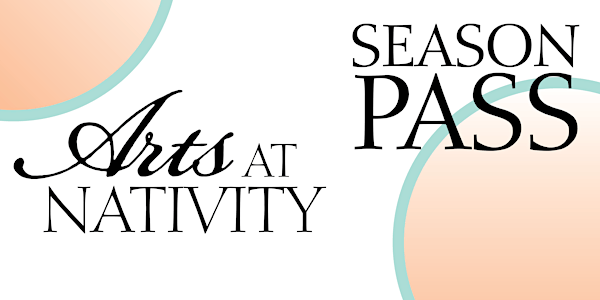 Arts at Nativity 2021-2022 SEASON PASS
Arts at Nativity presents its 2021-2022 season: nine paid concerts and two by donation. Save $45!
When and where
Location
Episcopal Church of the Nativity 22405 North Miller Road Scottsdale, AZ 85255
About this event
Save $45 when you purchase a season pass. You'll have admission to eleven in-person concerts.
You'll have two options: A season pass for $135, or for $165, get a season pass and make a $50 donation to our Community Engagement program. A five-concert pass for the Celebrating Women in the Arts series within a season is also available.
SUN | OCT 31 | 2 PM | Dionysus
THU | NOV 11 | 1 PM | Veteran's Day Concert (by donation)
SAT | DEC 11 | 7 PM | A White Elephant Concert with Salonnieres
MON | JAN 17 | 7 PM | Martin Luther King Jr. Day Concert (by donation)
FRI | MAR 25 | 7 PM | Celebrating Women in the Arts: Le Voyage Autour du Monde
SAT | MAR 26 | 5 PM | Celebrating Women in the Arts: Reeds + Wires
SAT | MAR 26 | 7 PM | Celebrating Women in the Arts: Beyond Ourselves
SUN | MAR 27 | 2 PM | Celebrating Women in the Arts: The Feminine Voice
SUN | MAR 27 | 4 PM | Celebrating Women in the Arts: Duo Odéon
SUN | APR 24 | 2 PM | Passage of Time
SUN | MAY 15 | 2 PM | El Recuerdo