Arts and Culture Discussion Series #2: Art and Green Infrastructure | 1.29.18

Monday, January 29, 2018 from 9:30 AM to 11:30 AM (EST)
Event Details
Arts and Culture Discussion Series

#2: Art and Green Infrastructure
A collaboration between the New England Foundation for the Arts (NEFA) and the Metropolitan Area Planning Council (MAPC)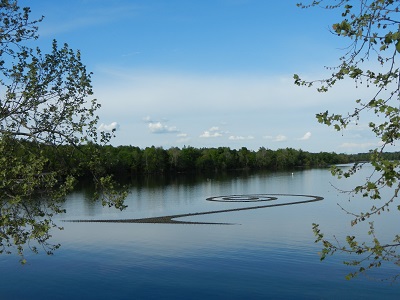 You are invited to a discussion about Art and Green Infrastructure, featuring a presentation by EcoArtist Stacy Levy. This is the second in a three-part series of discussions that explore how public art can address a range of planning goals and objectives related to green infrastructure, community building, economic development, and public health. Designed to build more cohesion among artists, arts administrators, and municipal planners, this series is co-hosted by the New England Foundation for the Arts (NEFA) in partnership with the Metropolitan Area Planning Council (MAPC).

We are thrilled to host Stacy Levy, a Pennsylvania-based environmental sculptor who uses art as a vehicle for translating the patterns and processes of the natural world. In this discussion, Levy will explore her projects in which she harnesses natural forces including rainwater, plants, and microbes to help create sculptural solutions for storm-water and water pollution issues. Levy's collaborative and multi-disciplined approach to solving environmental problems leads her to engage with architects, landscape architects, civil engineers, the Coast Guard, the Army Corps of Engineers, city and state municipalities, scientists, hydrologists, fluid dynamic engineers, geologists, zoologists, and ecologists. Levy will discuss this intersectionality of civic engagement, science, art, and design, and how she finds ways to express and improve the workings of natural systems along waterways, in streets, parking lots, airports and nature centers. More info at www.stacylevy.com.

Monday, January 29, 2018 | 9:30 AM – 11:30AM
Breakfast and Registration start at 9 AM.
NEFA |145 Tremont Street, 7th Floor, Boston, MA 02111 
directions & parking
COST: Free admission; registration required.
CONTACT: Carolyn Lewenberg, clewenberg@mapc.org
---

The event space is accessible for individuals using wheelchairs. The front entrance has a double door vestibule without power operated doors. If you need assistance for entry or if the elevators are locked, please call 617-423-1390 to contact NEFA staff. Please contact Daniela J. Plotkin (617.951.0010 x528) by Monday, January 8, if other accommodations are needed.
When & Where

New England Foundation For the Arts
145 Tremont Street
Boston, MA 02111


Monday, January 29, 2018 from 9:30 AM to 11:30 AM (EST)
Add to my calendar
Organizer
NEFA invests in artists and communities and fosters equitable access to the arts, enriching the cultural landscape in New England and the nation. To learn more about NEFA please visit our website, www.nefa.org.