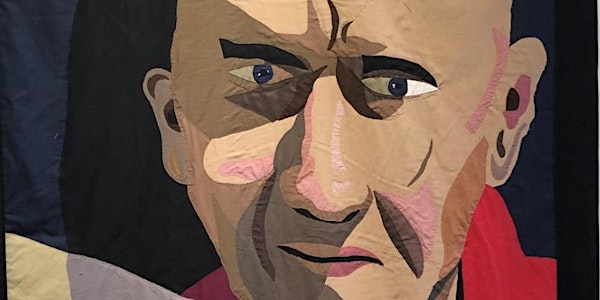 Artrageous: Creating Art for Social Justice IN PERSON
This 4 week multi-media class will enable participants to create art about specific political, social or emotional issues
When and where
Location
The Tacony LAB Community Arts Center 6918 Torresdale Avenue Philadelphia, PA 19135
About this event
This 4 week multi-media class will enable participants to create art about the specific political, social or emotional issue that is important to them. Issues discussed will include justice, equality and human rights. Students will spend each class creating mixed media works using any or all of the following: drawing, painting, collage, photography and writing. These works will showcase the artists' ideas, translating the issues they are passionate about into works of art.
About the teacher:
Carolyn Harper is a Philadelphia based artist who creates large scale textile portraits of people who have been abused, discriminated against, and forgotten. The works provide faces to those who are faceless, nameless and powerless, and bear witness to those who are suffering. She exhibits locally and nationally.
Four 2 Hour Sessions
October 5th, 12, 19 and 26th from 6:00pm-8:00pm
Tacony LAB Class Enrollment and Attendance Policy
The Tacony LAB's classes are unique in Philadelphia: we do not charge tuition or any sort of fees for any of our classes. 
Our classes are popular and often have wait-lists. If you enroll in a class, please commit to attending it! 
How to enroll in a Tacony LAB class:
• You may enroll IN PERSON at the LAB beginning 3 weeks before a class first meets. Please check the "About" section of the LAB's Facebook page for open hours or call the LAB at 267-686-7420 to hear the hours.
• You may enroll online using Eventbrite beginning one week before a class first meets (provided there are still spaces) by visiting our Eventbrite page: www.eventbrite.com/o/the-tacony-lab-community-arts-center-1…
• You may come to the first class and enroll at that time, providing space is available. For same day enrollment, please arrive 15 minutes prior to the start of the class. 
Only one registration per person will be accepted. Each student attending the class must register with their name and email address. Multiple registrations under the same name will not be honored.
If you enroll ahead of time and do not attend the first class, you will be removed from the roster and your place will be offered to another student. 
If you need to miss subsequent classes or decide you no longer wish to attend, please notify the LAB by phone call or email ahead of time. 
If you do not notify the LAB of absence or withdrawal, you will not be able to enroll in another class until 3 months have passed.