Description
We are at capacity for tonight and invite you to join us for open gallery hours on the following days.

Friday, February 8
"After Hours" gallery opening from 7:30 to 9:30 p.m. (no host bar)
Follows Arizona Governor's Arts Awards Nominee Reception

Saturday, February 9
Open gallery Hours from 11:00 a.m. to 2:00 p.m.

More dates to be announced!
You're Invited! Thirty Exceptional Works by Arizona Artists to be Shown at 19th Artlink Juried Exhibition Presented by True North Studio
Esteemed Jurors Gennaro Garcia, Jennifer McCabe and Lisa Sette selected from nearly 450 Works from 151 Submissions
Feb 7 Opening Reception is the First Arts & Culture Event at the New Park Central
Thirty artworks by 30 Arizona artists will be presented in the 19th annual Artlink Juried Exhibition presented by True North Studio. The exhibition's opening reception will take place 6 to 9 p.m. Thursday, Feb. 7, at the newly renovated Park Central, 3121 N. 3rd Ave. in midtown Phoenix. All are invited to attend and RSVP at artlinkphx.org.
A panel of three esteemed jurors from the Arizona arts community chose the 30 exhibition pieces from 151 submissions and nearly 450 works. The jurors were these prominent members of the Phoenix arts community: Lisa Sette, owner of Lisa Sette Gallery, artist Gennaro Garcia, and Jennifer McCabe, director and chief curator of SMoCA.
The artists featured in the exhibition are as follows: Kit Abate, Malena Barnhart, Jose A Benavides, Laura Spalding Best, Bob Booker, Diana Calderon, Christine Cassano, Antoinette Cauley, Jake Fischer, Dani Godreau, Helmut Hammen, Tawny Kerr, Kimberly Lyle, Abbey Messmer, Ann Morton, Tess Mosko Scherer, John Randall Nelson, Ronna Nemitz, Ryan Parra, Diego Perez, Rembrandt Quiballo, Patricia Elizabeth Sannit, Melissa Sclafani, Diane L. Silver, George Strasburger, Lisa Von Hoffner, Wendy Willis, Danielle Wood, Denise Yaghmourian, and Bobby Zokaites.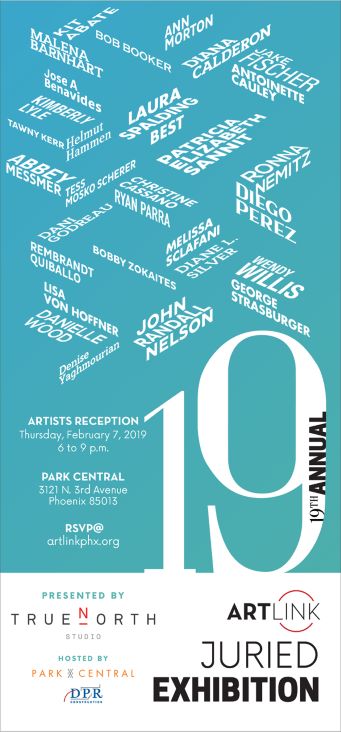 The artists of the three outstanding works as selected by the jurors will receive cash awards. The first place award of $5,000 will be given to a jury-selected artist for an original work. The winning artwork will be on public display as part of True North Studio's permanent collection
*The first runner-up will receive $1,500
*The second runner-up will receive $750.
Winners will be announced at the exhibition's opening reception on February 7.
The Juried Exhibition is made possible through the support of these partners:
Presenting Partner: True North Studio
Venue Hosts: Park Central, DPR Construction
Arts Partner: Arizona Citizens of the Arts
Catalogue Design: Clyint
Catalogue Printing: ON Media