Description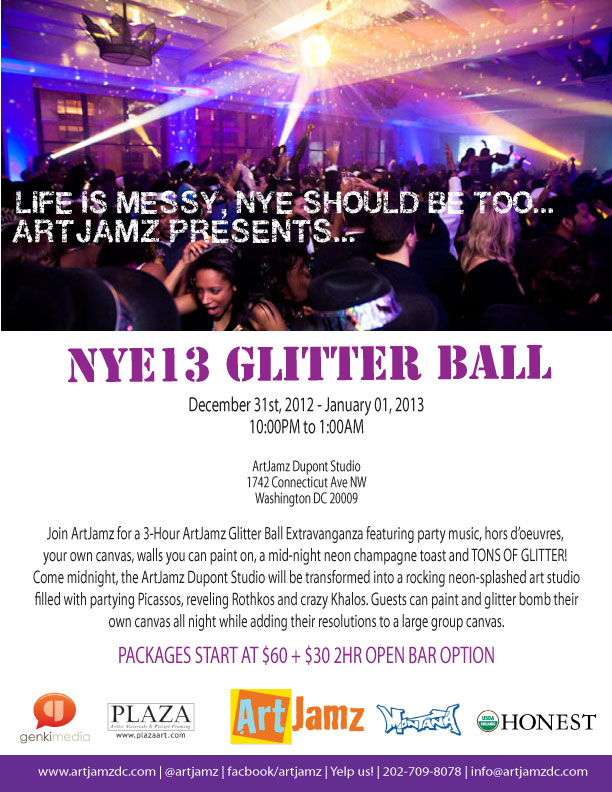 Break from tradition, sparklers and bottle service and do something arty and unique to ring in #NYE2013. Order the nicest tuxedo tshirt you can find, throw on your formal converse and get ready to start 2013 with a splash!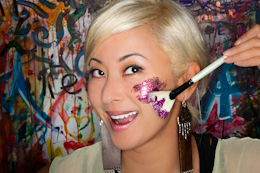 UNLEASH YOUR INNER ARTIST!®
Questions? Email info@artjamzdc.com or call 202-709-8078.
:::::::::::::::::::::::::::::::::THE NITTY GRITTY::::::::::::::::::::::::::::::::
ARRIVE
Metro: Red Line. Dupont. North Exit. 3-4 minute walk.
Bike: Capital Bike Share (20th St & Florida Ave NW) is block away from Connecticut and there is a station at Dupont Circle.
Parking: One and two-hour metered street parking is available but limited on Connecticut Ave. It's free after 630PM South-bound and free after 830PM North-bound. Neighborhood and side-street parking is available as well. There are parking garages in the area, closest being on S Street next to Thaiphoon Restaurant.
BRING
ID (we are serving alcohol).
You don't need a printed ticket. Save a tree.
WEAR
We have smocks! However we are painting in a live studio environment, so wear things you don't mind getting paint on, ergo, leave the Louboutins at home, ladies. We use water-based acrylic paints, but still, we don't want any nice stuff to get paint on it … although, that would be very fashion forward if you did. Paint splats are so in!!
TAKE
We get asked a lot if people can leave their canvases at the studio. Unfortunately, our studio is small and we don't have storage space (Dupont is expensive!). We ask that you plan to take your canvases with you. You do have the option to leave them at the studio to dry and pick them up later but by doing so you accept that ArtJamz is not responsible for damage or loss of canvas left at the studio. We reserve the right to re-use or re-sell left canvases after one-week.
VOUCHERS AND GIFT CARDS
Please present your gift card or voucher in digital or print format. We prefer digtal though. Please note that we don't accept vouchers, coupons or gift cards at special events such as this.
RELAX
No one expects you to paint the Mona Lisa. In fact, there is a painting underneath the Mona Lisa, meaning even da Vinci at one point thought "this stinks, I think I'll paint over it." Some people come with ideas, pictures, concepts, etc. some people free style. Up to you. Either way our Creative Enablers are there to help you execute. There are no mistakes, just "evolution." Think of it more as "designing" a canvas as opposed to creating a painting.
GET INSPIRED
We have lots of sketch and art books at the studio and you can access our PINTEREST PAGE for ideas ... or just ask our awesome Creative Enablers, who are always there to help guide you -- the wine and beer help too...
SOCIALIZE
Tweet @artjamz
Check-in FourSquare | Yelp | Facebook
CONTACT
202-709-8078 | info@artjamzdc.com | artjamzdc.com
REFUND POLICY
ArtJamz has a 48-hour refund policy. Please email info@artjamzdc.com in writing to cancel your ticket. By purchasing this ticket you agree to this policy.
ArtJamz is a GenkiMedia® LLC production

Organizer of ArtJamz NYE 2013 Glitter Ball