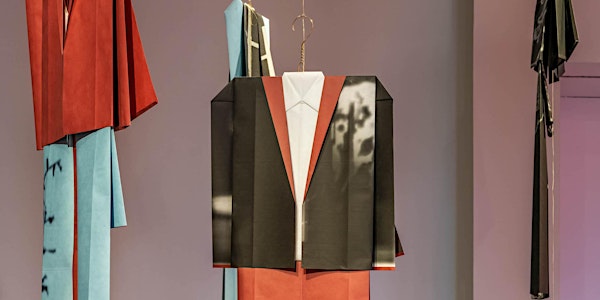 Artists Talk: The Hybrid Body & Brendan Fernandes' Stand Taller II
Panelists | Brendan Fernandes, Naama Tsabar, and Sif Itona Westerberg
When and where
Location
Kasmin Gallery 509 West 27th Street New York, NY 10001
About this event
Join three artists included in the group exhibition Shades of Daphne for a discussion about how their work approaches the body's suspension in transitional states of nature. Through the lens of myth, culture, and history, this talk will trace their approaches to figuration through sensations of touch and sound. The panel will be moderated by Stephanie Cristello.
The program will be accompanied with an activation of Inversion #4 by Naama Tsabar.
A coffee reception is to follow the discussion alongside a performance in the Kasmin Sculpture Garden of Brendan Fernandes' Stand Taller II (2022).
Learn more about the exhibition here.
_____
ABOUT THE ARTISTS
Brendan Fernandes (b. 1979, Nairobi, Kenya) is an internationally recognized Canadian artist working at the intersection of dance and visual arts. Currently based in Chicago, Fernandes' projects address issues of race, queer culture, migration, protest and other forms of collective movement. Always looking to create new spaces and new forms of agency, Fernandes' projects take on hybrid forms: part ballet, part queer dance hall, and part political protest, they are always rooted in collaboration and fostering solidarity. Fernandes is a graduate of the Whitney Independent Study Program (2007) and a recipient of a Robert Rauschenberg Fellowship (2014). In 2010, he was shortlisted for the Sobey Art Award, and is the recipient of a 2017 Canada Council New Chapters grant. His projects have shown at the 2019 Whitney Biennial, New York; the Solomon R. Guggenheim Museum, New York; the Museum of Modern Art, New York; the Getty Museum, Los Angeles; the National Gallery of Canada, Ottawa; and MAC Montreal, Canada, among a great many others. He is currently Assistant Professor at Northwestern University in the Department of Art Theory and Practice and represented by Monique Meloche Gallery in Chicago. Recent projects include performances and solo presentations at the Noguchi Museum, New York (2019); the Art Gallery of Ontario, Toronto (2020); the Museu de Arte de São Paulo, Brazil (2020); Mass MoCA, North Adams, MA (2022); and the Munch Museum, Oslo (2022), among many others.
Naama Tsabar (b. 1982, Israel) lives and works in New York. Her practice fuses elements of sculpture, music, performance, and architecture to expose hidden spaces and systems, reconceive gendered narratives, and shift the viewing experience to one of active participation. Tsabar received her MFA from Columbia University in 2010. She has recently been the subject of solo exhibitions at the Wadsworth Atheneum Museum of Art, Hartford, CT (as a MATRIX artist in 2022) and the Bass Museum, Miami Beach (2021-22). Additional recent solo exhibitions and performances have been presented at KinoSaito, Westchester County, NY (2022) and the Nasher Museum of Art, Durham, NC (2019), among many others around the world. Tsabar's first institutional exhibition in Germany will open at the Hamburger Bahnhof, Berlin, in October 2023 and will include a newly commissioned performance assembling female-identifying and gender non-conforming musicians with members of the museum community. Her work is included in such collections as the Bass Museum, Miami Beach; Centre Georges Pompidou, Paris; the Israel Museum, Jerusalem; the Los Angeles County Museum of Art, California; the Pérez Art Museum Miami, Florida; the San Francisco Museum of Modern Art, California; the Seattle Art Museum, Washington; the Solomon R. Guggenheim Museum, New York; and the Tel Aviv Museum of Art, Israel.
Sif Itona Westerberg (b. 1985, Copenhagen, Denmark) lives and works in Copenhagen. She graduated from the Royal Danish Academy of Fine Arts in 2014. Her most comprehensive exhibition to date was mounted at ARoS Aarhus Art Museum in Denmark in 2022, following a solo exhibition at Tranen, Hellerup, in 2019, among other venues. She has participated in group exhibitions at institutions across Denmark including the Arken Museum of Modern Art, Den Frie Udstilling, Museet for Religiøs Kunst, Bornholms Kunstmuseum, Oluf Høst Musset, and the ARoS Triennial. She has also participated in group exhibitions at Malmö Konstmuseum, Sweden; PERMM Museum of Contemporary Art, Russia; the Latvian Center for Contemporary Art, Latvia; and the State Museum and Exhibition Center ROSIZO, Russia. Westerberg's works can be found in the collections of ARoS Aarhus Art Museum, Denmark; Malmö Konstmuseum, Sweden; and Ny Carlsbergfondet, Denmark.
ABOUT THE CURATOR
Stephanie Cristello (b. 1991, Toronto, Canada) is a contemporary art critic, curator, and author based in Chicago, IL. Her work focuses on artists who critically engage with the image and its role in visual culture. Through the lens of Classics and mythology, her writing concentrates on the intersection of ancient narratives and conceptual practice post-1960. Her research is motivated by contemporary works that interrogate how language, text, and the use of poetic devices influence and shape the cultural and historical structures that surround us. She has worked internationally across a variety of platforms, including exhibitions, panels and symposia, editorial and publishing, and writing on practices of art and architecture. She graduated from the School of the Art Institute of Chicago in 2013 with a Liberal Arts Thesis in Visual Critical Studies.
Cristello was previously the Senior Editor US for ArtSlant (2012–18) and the founding Editor-in-Chief of THE SEEN, Chicago's International Journal of Contemporary & Modern Art (2013–20). Her writing has been published in ArtReview, BOMB Magazine, Elephant Magazine, Frieze Magazine, Mousse Magazine, OSMOS, and Portable Gray. From 2020–21 she was a Guest Curator at Kunsthal Aarhus (Denmark) and the Malmö Art Museum (Sweden), as well as a Curatorial Advisor to the 2020 Busan Biennale (South Korea). In 2017, she was part of the collaboration for the first US-based Hors les Murs satellite of the Palais de Tokyo. Cristello has contributed to numerous exhibition catalogues nationally and internationally, including monographs on the work of Lap-See Lam (Bonniers Konsthall / Lenz Press, 2021), Mamma Andersson and Tal R (Kunsten Museum / Malmö Art Museum, 2022). She is the author of Theodora Allen: Saturnine (Motto / Kunsthal Aarhus, 2021), Sustainable Societies for the Future (Motto / Malmö Art Museum, 2021), and Barbara Kasten: Architecture and Film 2015–2020 (Skira, 2022). In 2020, she was awarded a publication grant by the Graham Foundation for Advanced Studies in the Fine Arts.