Description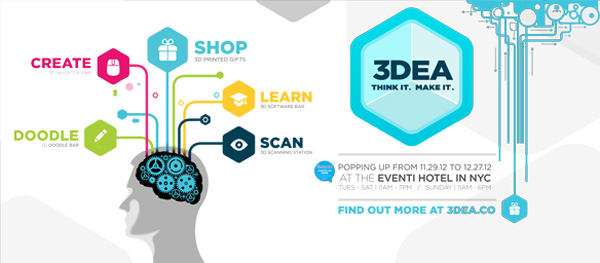 3D printing pioneer Josh Harker, will discuss his Crania Anatomica project, a prime example of the creation of new markets with 3D printing, and preview his latest work, Anitomica di Revolutis.
NYC-based sculptor and painter Micah Ganske will be discussing his most recent large-scale 3D printed piece exhibited at Art Basel. His current work involves representing the current state of destruction within our environment with a process that withholds the promise of change. He uses two Makerbot Replicator desktop printers to produce his work.
Ana Marva will delve into the intrinsic relationship of politics and the state of society within her powder prints. Her work will be on exhibit through the duration of 3DEA at the consultant counter. Her work are full-color Zcorp powder composite which she has accentuated into faux marble.
RepRap builder and RepRap bot farmer, Shane Hope will be introducing his assemblages of scaled-up microorganism forms in compilations of wide color arrays.
Doug Bucci will introduce his work from the point of view of his struggles as a diabetic. His fine art wearable pieces take on the form of his own glucose levels. He will explain his interest in looking at life-threatening diseases as an opportunity to translate data into physical form.


Organizer of ARTISTS: Josh Harker, Micah Ganske, Ana Marva, Shane Hope + Doug Bucci
Few subjects are more addictive than innovation. Specifically, world-improving, industry-changing,  personally-revolutionary innovation like 3D printing. Did you know you can create a heart cell with a 3D printer? Or an ice sculpture? Or custom iPhone cases, espresso cups, high heels, lingerie, masks, toys, jaws, bones, cufflinks? Or bacon.