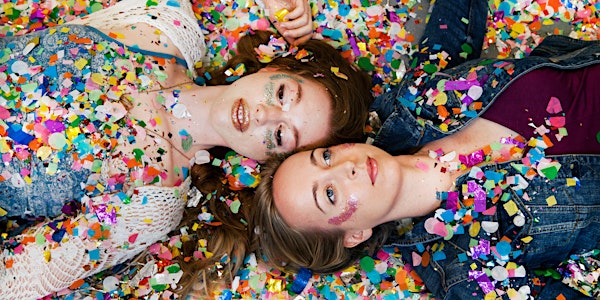 Artists & Fleas x The Confetti Project Fall Pop-Up!
When and where
Location
Artists & Fleas 568 Broadway New York, NY 10012
Description
Grab your favorite humans, play with confetti and explore the world of Artists & Fleas at their new Soho location! Artists & Fleas and The Confetti Project are teaming up (again!) for a week-long pop-up event this fall to commemorate the new season and their new space in downtown Manhattan. While we all know confetti is fun, we're going a little bit deeper and want to know: what do you celebrate in your life?
Please join us during this exclusive week-long celebration with an interactive confetti installation (that's Instagram friendly of course), confetti swag, and a pre-registered confetti photo-shoot of your own! During a three-hour block each day, the creator of The Confetti Project will be exploring what you celebrate through a brief Q+A followed by a series of photos taken as you douse yourself with confetti - so be sure to snag your tickets for those limited spots! Plus, you'll be able to explore and discover the entire Artists & Fleas market that is uniquely created and curated with new, emerging artists and merchants.
---
See the schedule below to book a slot for your own confetti photo-shoot with the creator of The Confetti Project:
MONDAY (10/16): Bosses Day / 3-6pm
You're a total badass. Celebrate yourself by stepping up your headshot game with some sparkle.
TUESDAY (10/17): 12-3pm
WEDNESDAY (10/18): 1-4pm
THURSDAY (10/19): Sip & Shop Party / 5-8pm
Join us for drinks, shopping, activities, prizes and more! RSVP required + available registration on-site for your confetti shoot.
FRIDAY (10/20): 5-8pm
SATURDAY (10/21): 2-5pm
SUNDAY (10/22): 1-4pm
---
Note: Once you book your slot, you are welcome to come at any point during the three hour time-frame that day. If you purchased a confetti shoot, you are guaranteed a confetti shoot but please come during the time frame that day. Afterwards, the top photos from your shoot will be edited and sent to you within week from the event via e-mail. All children under 16 are free so if you want to come with your little ones - it is strongly welcomed and encouraged:) For anyone who hasn't booked a slot, The Confetti Project installation is open all week to the public where you can snap your own photos and take some confetti home!
P.S. Join the official Facebook event group below for the latest updates!