Description
Did you know that the Bible uses the word "artisan" over 35 times?
Did you know that the Bible says God would raise up an army of artists at the end of the age?
If you want to know more about these questions and more about God's plan for art and creativity you won't want to miss hearing the teaching ministry of Christ (rhymes with "wrist") John Otto.
Otto's teaching is aimed at artists and creative people who sense a call from God to help build a throne for Jesus in the earth. Topics will include:
How to study the Bible for artists.
What it means to be the Image of God.
Understanding grace.
Overcoming fear.
How to listen to God.
How the Bible issues an amazing call for artists in this day and age.
Our sessions are geared toward all who are creative, whatever your medium.
Conference Registration is free, but registration is required. An offering will be received to cover costs, recommended donation is 30 pounds.
In order to keep costs down, catering will not be provided. Bringing a lunch is recommended, tea and coffee breaks will be provided and included in the conference registration.
Conference Schedule:
Friday 17 November 2017:
9:00-12:00 Session One "How Artists need to Study the Bible."
Lunch (on your own)
1:30-4:00 Session Two "The Army of Artists"
Saturday 18 November:
9:00-12:00 Session Three "Bezalel and the Call of God for Artists"
Lunch (on your own, bringing a bag lunch is recommended)
1:30-3:00 Session Four "Bezalel, continued."
3:00-4:00 Commissioning
---
Your Hosts Jerry and Elizabeth Averill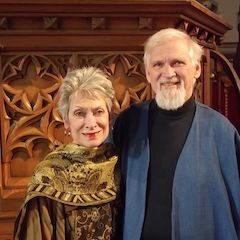 The Averills are GEM missionaries to Scotland. For many years they have been on the forefront of Christians in the arts through their career with A.D. Players, one of the top Christian Theatre companies in the U.S. Jerry is a gifted playwrite who has contributed to the Edinburgh Fringe. He is closely associated with New Scottish Arts and has written and directed the Dundee Nativity for several years in a row. Elizabeth is a gifted actress, Bible teacher, and champion of Christians in the arts. The Averills have recently begun to see their ministry increase and advance into Spain.
---
About Christ John Otto
In 2006, Christ "rhymes with wrist" John Otto was called by God to begin writing, leading worship, and hanging out in a local coffee shop.
His adventure, and the people who joined him, eventually took the name Belonging House. Today after lots of coffee, 6 books, and thousands of emails, Belonging House has become an international "house" for creative culture shapers. Through it all he has learned to be a son, and bring others into a relationship with God.
Christ Otto holds degrees from Houghton College and Asbury Theological Seminary. Since 1986 he has worked in a variety of media as a freelance artist including decoupage, faux finishing, mural work, sign painting, commercial and retail design, and pastry. He is a classically trained tenor and vocal coach.
---