Artistic Nude Photography - w/Paul Hu

Sunday, October 23, 2011 at 9:00 AM (EDT)
Event Details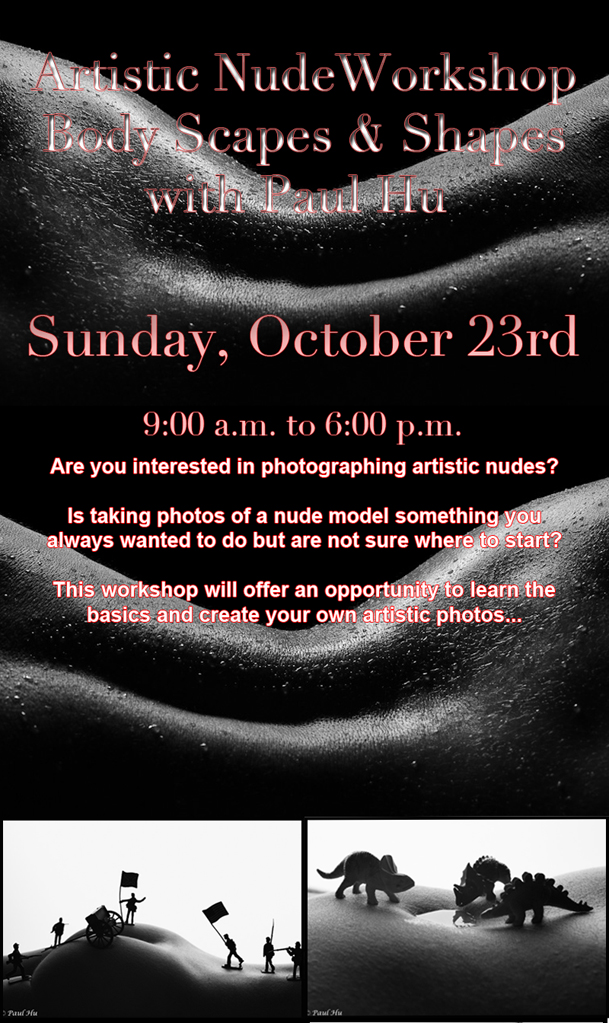 Are you interested in photographing artistic nudes? Is taking photos of a nude model something you always wanted to do but are not sure where to start? This workshop will offer an opportunity to learn the basics and create your own artistic photos...
WHEN: October 23, 2011 - 9:00AM to 4:00PM (additional one on one shooting time with the models will be available (till 6:00) 
WHERE: Photoplex Studios
PRICE: $149.00
INSTRUCTOR:Paul Hu
CLASS DESCRIPTION:
This workshop will be presented in two parts: a discussion of lighting and compositional theory. Followed by a demonstration and a practical, hands-on, studio photo session where participants will be guided through the finer point of artistic nude photography with models.
This workshop is limited to 12 participants so that personal attention can be given to each participant. Participants will need to be at least 21 years of age and bring along their own camera (DSLR).
During this workshop you will learn about...
·      Working with the model
·      Nudity as an art form
·      Visualizing: light and shadow, lines and curves
·      Creative poses
·      Exposure controls
·      Lighting control and modification
·      Composition and creative decisions
Paul Hu will lead this workshop. Paul is an experienced professional photographer who often shoots models for commercial fashion clients and magazines.
As a participant of Paul's workshop, you can look forward to an intense and inspiring photographic experience! You will learn how to fine-tune your creative ideas and techniques so that you'll leave with a strong collection of amazing images.
Prerequisites: Know the basic functions of your camera. An understanding of aperture, shutter speed, and ISO is also very helpful.
Equipment to bring:
Camera (DSLR)
Memory card & fresh batteries for the camera and flash unit
Creative mindset
This will be a very popular class and fill up quickly!
Sign Up Today!

When & Where

Photoplex Studios
1005 Alderman Drive
Suite 101
Alpharetta, 30005


Sunday, October 23, 2011 at 9:00 AM (EDT)
Add to my calendar