artist21 with Brenda Petrakos

Saturday, May 12, 2012 from 7:00 PM to 11:00 PM (PDT)
Event Details
On Saturday, May 12 at 7pm, we will be hosting another short talk and a facilitated conversation at our gallery space in the Brewery (600 Moulton Ave, Suite 204 - link to map), and invite you to soup before and after and plenty more spontaneous conversation throughout the evening.
The conversation will be ignited by storyteller, performance artist and  writer Brenda Pertrakos.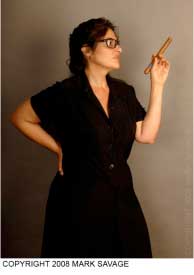 A dynamo on the stage she takes no prisoners. Her tell it all approach has won over audiences in California, Chicago, New York, London, and Edinburgh. Her stories find the raw emotion and inspiration in our daily attempts at humanity.
With a compassionate heart, a darkly comic approach, and an ear for local dialect, Petrakos weaves your gut right into the fabric of her world.
She recently published her second book with Sybaritic Press, a graphic novel entitled Country Fixins (2011). Her first book, Stories From The Inside Edge (2007), featured a limited-edition companion CD with readings by Petrakos and actors and poets including John Burton, Jr., Diane Gaidry, Judy Holiday, and Stosh Machek.
Stories from the Edge, an evening of solo pieces from the book, premiered in May 2007, featuring the short film "Cop" which has since screened at Cinema Slam in Park City. With John Burton, Jr., Petrakos reworked the show into Inside Edge, and took it to the Festival Fringe Edinburgh 2007.
Welcome to Heaven, a feature screenplay she co-wrote with Joel Stein is currently in development.
She continues to co-host the venerable Los Angeles Friday night reading The Rapp Saloon.
With a background in stand-up and writing sketch comedy for Showtime, CBS and Fox, she volunteers her experience and time leading comedy improv workshops for at-risk youth.
When & Where

Brewery
600 Moulton Ave
Suite 204
Los Angeles, CA 90031


Saturday, May 12, 2012 from 7:00 PM to 11:00 PM (PDT)
Add to my calendar
artist21 with Brenda Petrakos