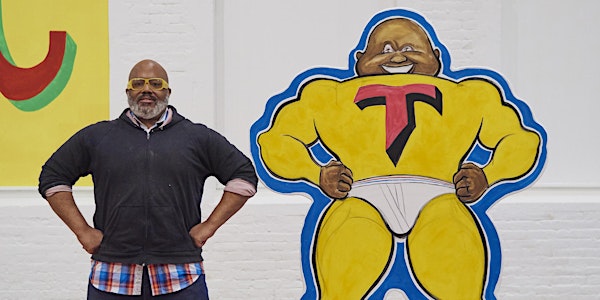 Artist Trenton Doyle Hancock, a Jean S. and Fred M. Braun Memorial Lecture
Oakland University Art and Art History presents a free public lecture by renowned contemporary American artist Trenton Doyle Hancock
By Oakland University Art and Art History
Date and time
Monday, March 27 · 6 - 7pm EDT
Location
Meadow Brook Hall 350 Estate Drive Rochester, MI 48309
About this event
The Oakland University Department of Art and Art History presents the Jean S. and Fred M. Braun Memorial Lecture with artist Trenton Doyle Hancock.
Free and open to the public, the lecture will be held in historic Meadow Brook Hall. A cocktail reception of light refreshments and hors d'oeuvres will take place at 5pm, followed by the lecture at 6pm.
This event has been co-sponsored by Art Bridges.
Please RSVP for this event as seating is limited.
About the Speaker
For almost two decades, Trenton Doyle Hancock has been constructing his own fantastical narrative that continues to develop and inform his prolific artistic output. Part fictional, part autobiographical, Hancock's work pulls from his own personal experience, art historical canon, comics and superheroes, pulp fiction, and myriad pop culture references, resulting in a complex amalgamation of characters and plots possessing universal concepts of light and dark, good and evil, and all the grey in between. Hancock transforms traditionally formal decisions—such as his use of color, language, and pattern—into opportunities to create new characters, develop subplots and convey symbolic meaning. Hancock's works are suffused with personal mythology presented at an operatic scale, often reinterpreting Biblical stories that the artist learned as a child from his family and local church community. His exuberant and subversive narratives employ a variety of cultural tropes, ranging in tone from comic-strip superhero battles to medieval morality plays and influenced in style by Hieronymus Bosch, Max Ernst, Henry Darger, Philip Guston and R. Crumb. Text embedded within the paintings and drawings both drives the narrative and acts as a central visual component. The resulting sprawling installations spill beyond the canvas edges and onto gallery walls.
Hancock's mythology has also been translated through performance, even onto the stage in an original ballet, Cult of Color: Call to Color, commissioned by Ballet Austin, and through site-specific murals for the Dallas Cowboys Stadium in Dallas, TX, and at the Seattle Art Museum's Olympic Sculpture Park in Seattle, WA.
Trenton Doyle Hancock was born in 1974 in Oklahoma City, OK. Raised in Paris, Texas, Hancock earned his BFA from Texas A&M University, Commerce, and his MFA from the Tyler School of Art at Temple University, Philadelphia. Hancock was featured in the 2000 and 2002 Whitney Biennial exhibitions, at the time becoming one of the youngest artists in history to participate in the prestigious survey. In 2014, his exhibition, Skin & Bones: 20 Years of Drawing, at the Contemporary Arts Museum in Houston traveled to Akron Art Museum, OH; Studio Museum in Harlem, NY; and Virginia Museum of Contemporary Art, VA. In 2019, a major exhibition of his work, Mind of the Mound: Critical Mass, opened at MASS MoCA, North Adams, MA. In November 2020,the Museum of Fine Arts, Houston unveiled Color Flash for Chat and Chew, Paris Texas in Seventy-Two, Hancock's monumental tapestry commission, which will remain on permanent display in the Museum's new Kinder Building. His work has been the subject of solo exhibitions at Locust Projects, Miami, FL; Menil Collection, Houston TX; Temple Contemporary, Philadelphia, PA; the Contemporary Art Museum St.Louis, MO; the Ringling Museum of Art, Sarasota, FL; the University of South Florida Contemporary Art Museum,Tampa, FL; the Savannah College of Art and Design, Savannah and Atlanta, GA; The Weatherspoon Museum, Greensboro, NC; The Modern Art Museum of Fort Worth. TX; The Museum of Contemporary Art, North Miami, FL; Institute for Contemporary Art at the University of Pennsylvania, Philadelphia, PA; Olympic Sculpture Park at the Seattle Art Museum, Seattle, WA;The Fruitmarket Gallery, Edinburgh; and Museum Boijmans Van Beuningen, Rotterdam, The Netherlands. Hancock's work is in the permanent collections of several prestigious museums, including the Museum of Modern Art, New York, NY; Whitney Museum of American Art, New York, NY; the Metropolitan Museum of Art, New York, NY; the Studio Museum, New York, NY; Brooklyn Museum, Brooklyn, NY; San Francisco Museum of Modern Art, CA; Dallas Museum of Art, TX; Detroit Institute of Arts, Detroit, MI; the Menil Collection, Houston, TX; Morgan Library & Museum, New York, NY; Museum of Fine Arts,Houston, TX; Modern Art Museum of Forth Worth, TX; Akron Art Museum, OH; Museum Boijmans Van Beuningen, Rotterdam, The Netherlands; and il Museo di arte moderna e contemporanea, Trento, Italy. The recipient of numerous awards, Trenton Doyle Hancock lives and works in Houston, Texas. He is represented by the James Cohan Gallery, New York.
Agenda
5:00 PM - 6:00 PM
Cocktail Reception
---
Light refreshments and hors d'oeuvres served in the Meadow Brook Hall Fountain Room
6:00 PM - 7:00 PM
Artist Lecture
---
Held in the Meadow Brook Hall Ballroom
About the organizer
ABOUT US
Our goal is to cultivate a global understanding about art and visual culture through the acquisition of visual literacy, production techniques, and transferable skills. Our internationally active faculty aspire to produce culturally informed citizens. We value broadening the traditional art historical and design disciplines by offering diverse and innovative approaches to research and art making. Our top priority is to produce highly competent graduates with versatile creative proficiencies congruent with the marketplace.