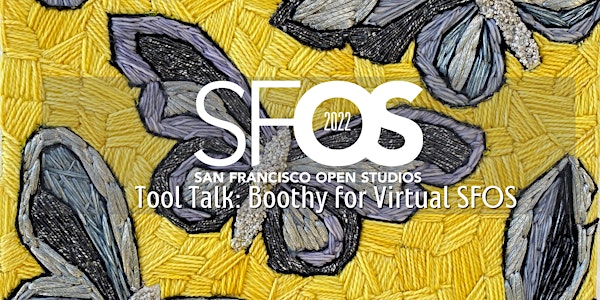 Artist Tool Talk: Boothy for ArtSpan's 2022 Virtual SFOS
Registered SF Open Studios artists are invited to learn how to utilize the "Boothy" platform to host their Virtual SFOS event
About this event
As a benefit of registering to participate in ArtSpan's 2022 SF Open Studios season, artists are eligible to participate (at no additional cost) in ArtSpan's Virtual SFOS event that will take place on Wednesday, October 26 from 5-7pm PT hosted on Boothy, BoothCentral's updated platform.
Wednesday, September 28 from 6:30-7:30pm, ArtSpan will host an Artist Tool Talk held on Zoom that will cover what Boothy is and how to create your Boothy account to participate in Virtual SF Open Studios. The presentation will begin promptly at 6:30pm.
In this Tool Talk, artists will hear from Ben Wong, Co-Founder and CEO of Boothy (& BoothCentral) about:
What Boothy is
How it differs from BoothCentral (formerly used by ArtSpan for Virtual SFOS)
How to open your Boothy account and create your virtual Booth
Tips & tricks to creating a successful booth
The Boothy platform connects artist "vendors" with customers in a face-to-face interaction using live video and text chat. Visitors have the opportunity to browse through multiple SFOS artist booths on a single event page. They can click to enter any booth of their choosing to connect directly with the artist.
We are excited to be able to continue to offer the latest technology to seamlessly connect artists with a greater network of admirers.
About SF Open Studios: A beloved annual tradition since 1975, SFOS offers the public an opportunity to directly engage with the hundreds of local artists responsible for the unique creative culture and vibrance that attracts admirers from all over the world. This year, ArtSpan's SF Open Studios (SFOS) program will run from Thursday, October 20 through Sunday, November 13. Our 48th season will include the return of ArtLaunch, our in-person kick-off celebration in the SFOS Exhibition at the SOMArts Cultural Center; as well as 4 weekends of artist-hosted studio events.
About ArtSpan Tool Talks: Interpersonal networking and conversation with fellow creatives can be highly beneficial for professional and social connection. We champion an inclusive art experience by providing supportive and informative opportunities that encourage community between fellow artists and the public. Through these educational events ArtSpan creates a platform for artists to thrive, share and relate with each other.
Artist Mixers and Tool Talks are free to attend for ArtSpan Artists. Members are provided a promo code in their weekly Artist Opportunities newsletter to apply at registration and receive their membership discount.
Non-members of the General Public are welcome to join these events for a $10 single-event fee or become an Artist Member to attend all our Artist Programs throughout the year for the annual fee of $50.