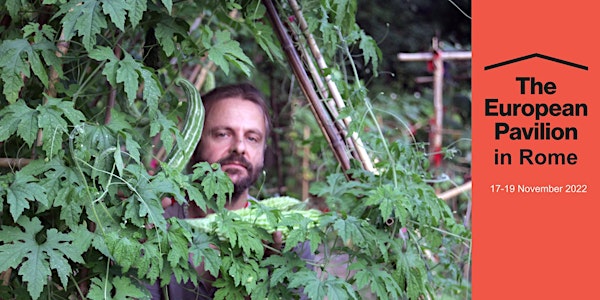 Artist talk: Unexpected Landscapes
Italian artist
When and where
Location
Villa Medici 1 Viale della Trinità dei Monti 00187 Roma Italy
About this event
During his talk, Italian artist 𝗟𝗲𝗼𝗻𝗲 𝗖𝗼𝗻𝘁𝗶𝗻𝗶 reflects on Europe and the European landscape and explores questions such as: To whom does the land belong? How can we broaden the notion of landscape and include the new biodiversity brought about by migration?
Organised in collaboration with State of Concepts Athens and in partnership with Académie de France à Rome Villa Médicis, Unexpected Landscapes is presented as part of 𝗧𝗵𝗲 𝗘𝘂𝗿𝗼𝗽𝗲𝗮𝗻 𝗣𝗮𝘃𝗶𝗹𝗶𝗼𝗻 𝗶𝗻 𝗥𝗼𝗺𝗲: a three-day artistic programme taking place in Rome from 17 to 19 November 2022. The programme brings together artists, thinkers and researchers from across the continent and offers panel discussions, talks and workshops, music performances, a virtual reality environment, as well as sculptural and multimedia installations.
𝗔𝗕𝗢𝗨𝗧 𝗧𝗛𝗘 𝗔𝗥𝗧𝗜𝗦𝗧
Leone Contini studied philosophy and cultural anthropology at Università degli Studi di Siena. His artistic research focuses mainly on intercultural frictions, conflict and power relations, displacement, migration, diasporas and borrows the tools of contemporary anthropology in order to short-circuit spheres of shared feelings and significance through the use of lecture performances, collective interventions in public space, textual and audio-visual narratives, blogging and self-publishing.
𝗔𝗕𝗢𝗨𝗧 𝗧𝗛𝗘 𝗘𝗨𝗥𝗢𝗣𝗘𝗔𝗡 𝗣𝗔𝗩𝗜𝗟𝗜𝗢𝗡
The European Pavilion is a programme by the European Cultural Foundation that provides spaces for experimentation and reflection on Europe. It stems from the conviction that we need a European art platform to continuously think and challenge what Europe means today and what it can become tomorrow.
Every two years, together with foundation partners, the European Cultural Foundation supports cultural organisations across Europe that are developing new artistic programmes and commissions offering fresh perspectives on Europe and imagining our shared future. All projects are then presented on the occasion of a major art event, which is happening this year in Rome across six different venues.
𝗧𝗵𝗲 𝗘𝘂𝗿𝗼𝗽𝗲𝗮𝗻 𝗣𝗮𝘃𝗶𝗹𝗶𝗼𝗻 𝗶𝗻 𝗥𝗼𝗺𝗲 is organised in collaboration with Fondazione Studio Rizoma, and generously hosted by Bibliotheca Hertziana – Max Planck Institute for Art History, Goethe-Institut Rome, German Academy Rome Villa Massimo, Académie de France à Rome Villa Médicis, Istituto Svizzero (Swiss Institute), Museo delle Civiltà, and NERO.
Co-curated by European Cultural Foundation Programme Manager Lore Gablier and Ukrainian curator Lesia Kulchynska, in close collaboration with all p, Neroarticipating organisations:
Ambasada Kultury (Berlin-Vilnius), ARNA (Harlösa, Sweden), Brunnenpassage (Vienna), EUPavilion (Rome-Zürich), Fondazione Studio Rizoma (Palermo-Rome), Iniva (London), L'Internationale (Antwerp, Barcelona, Eindhoven, Ljubljana, Istanbul, Madrid, Warsaw), OGR (Turin), State of Concept (Athens) and Studio Wild (Amsterdam).